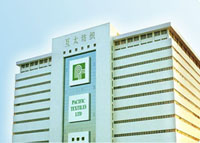 29 November 2010, Hong Kong – According to a report from China Knowledge, Pacific Textiles Holdings Ltd, a leading manufacturer of customized knitted fabrics, recently said that its net profit rose 16.5% year on year to HK$453 million in the six months ended 30 September 2010.
Earnings per share were said to be 32 HK cents and an interim dividend of 14 HK cents was declared.
The company's turnover for the six months jumped 21% year on year to HK$3.68 billion, boosted by an 8.2% rise in average selling price and a 12.1% increase in production capacity.
However, the company's gross profit margin dropped to 18.2% during the period, due to rising labour and raw material costs.
The company's net profit is said to have reached HK$803.19 million in the fiscal year ended Mar. 31, 2010, sharply up 113.32% year on year, according to an earlier report from China Knowledge.
Source: chinaknowledge.com
This article is also appears in...