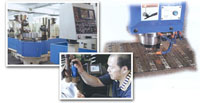 7 June 2010, Taipei - Leading Taiwanese circular knitting machine builder Pai Lung will be introducing its latest innovations in circular knitting at ITMA Asia + CITME later this month as well as showing the latest versions of its recently introduced flat knitting machines for sweater production. The exhibition runs from 22 to 26 June at the Shanghai New International Expo Centre in Shanghai.
The company's circular knitting innovations for ITMA Asia + CITME 2010 are:
Striper innovations
Model X72FX4C is a single jersey fine gauge multi-feeder four colour striper machine, and will be exhibited in 30 inch diameter in 36 gauge.
Also in the striper area will be the new vertical striper feeder in single jersey six colour striper X54FX6C model which will be shown in 30 inch in 28 gauge. The company describes this development as "a breakthrough in 6 colour striper design limit to reach 1.8 feeders/ inch system for an unbelievable high production rate."
Latest value added models
Model X96F, eight lock (2+6 tracks) circular knitting machine, 34 inch in 28 gauge. The aim of this model is to create pattern capability to replace majority of mini-jacquard in terms of fabric versatility, especially in sports and athletic wear.
Model 90F, ultra high speed single jersey open width in 30 inch, 28 gauge. The machine speed factor is up to 1050, 35 rpm and has the latest central rolling take up system to be able to offer better fabric tension control and even courses and wales in the whole fabric roll.
New evolutionary E series
Model 90F, 30 inch in 28 gauge. A new series for economic and basic fabrics markets.
Pioneering home textiles models
Model PL-KDDSCJ with individual dial and cylinder jacquard selection system. According to Pai Lung this model is able to offer a variety of high quality patterns on each side of double face fabrics. "The beauty of this model's product is beyond comparison with the weaving dobby system or single face electronic jacquard machines' performance," the company says.
High speed single jersey by Vanguard Pai Lung
In addition to the above, Pai Lung's new partner, Vanguard Pail Lung is to show its high speed single jersey model in 22 gauge, 24 inch diameter at the Pai Lung booth.
Computerized flat knitting machines
Pai Lung will also be showing the latest versions of its PLF-KS132 flat knitting machine which was first shown as a prototype at ITMA Asia + CITME in 2008.
The company's PLF-KS132 machines are now available in single carriage three systems and two carriage double system variants. 2008's prototype was a single carriage double system machine. According to Pai Lung, standard machine features now include set-up comb with gripper and cutter, and sub-roller and sinkers. Pai Lung has also broadened the gauge range for its flat knitting machines from the 7 to 14 gauge to 5 to 16 gauge and says it now offers a multi-gauge option.
Plaiting and intarsia options are also said to be available according to customers' requests and the company says this demonstrates its commitment to developing more advanced computerized flat knitting machines.
This article is also appears in...