Taiwan based knitting machinery manufacturing giant Pai Lung Machinery Mill Co., Ltd, reports that it successfully attracted significant numbers of highly interested visitors at this month's ITMA 2015 in Milan. With new technology in 13 different circular and flat knitting machines and a display of hundreds of roles of fabric, Pai Lung presented its capabilities in line with the ITMA 2015 theme of 'Sustainability.'
Combining spinning and knitting
According to the company, the most exciting development was its SPINIT technology, an advanced concept and revolutionary technology combining spinning and knitting. It commences with a stream of parallel slivers that are fed through a drawing frame via a spinning unit into a single jersey knitting machine. Three steps of roving frame, ring spindles and winding frame in the traditional spinning process can be replaced with this new Pai Lung development.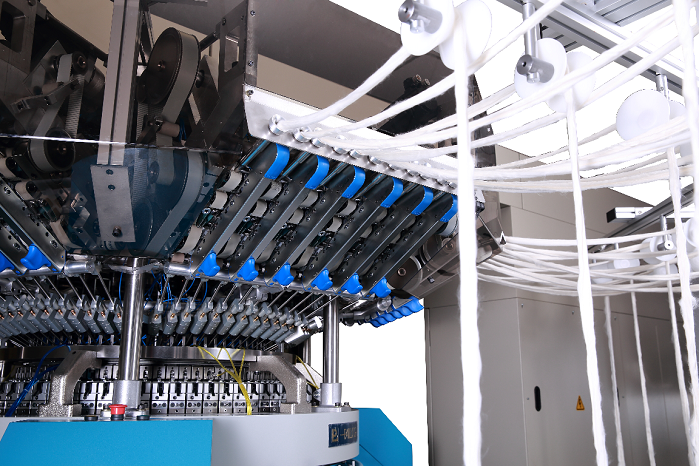 So called 'false twist' is applied to spin the yarn in Pai Lung's SPINIT system and due to the absence of conventional coned yarns in knit feeding, the final knitted fabric is very soft with with silky brightness, the manufacturer says. Additionally, the cost of knitted fabric from SPINIT is significantly lower than traditional processes, Pai Lung estimating that savings of up to 37% can be made in equipment costs, power supply and labour costs.
Flat knitting innovation
Another new technology introduced by Pai Lung at ITMA was its 'inverse plating' on its PLF-IP132 flat knitting machine. "This is a non-intarsia framework but plaiting work with Pai Lung's unique yarn separation system. Pai Lung's inverse plating can produce two-tone jacquard, cable, mesh pattern or more design in single jersey knitwear," Pai Lung's Vincent Fang told Knitting Industry.
"Amazing intarsia like or color jacquard knitwear inspire European designer's interest. Pai Lung announces this plating technology is exclusive and not same to other intarsia machine made as people knew. In fine gauge single jersey jacquard, we can see Pai Lung's inverse plating is able to knit very accurate pattern silhouette even just one or two needles plating color change without fault."
Circular knitting innovations
However, innovative circular knitting technology is always the key attraction at Pai Lung's booth and the company introduced its new circular knitting technologies under new fabric designations as follows:
Active mesh
Active mesh is a single jersey with eyelet jacquard fabric made by a full jacquard rib-mesh machine. Different sizes of eyelet holes are able to be knitted by the machine's pelerine needles system on the PL-KRN2.5CJ with 28 gauge dial and 14 gauge cylinder knitting platform.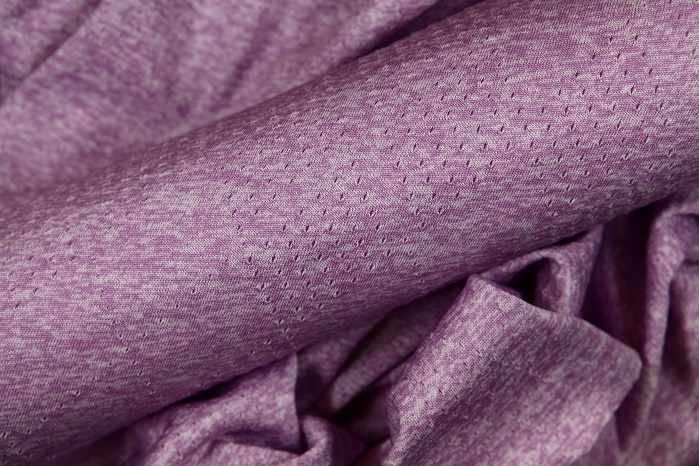 The machine is able to produce a bigger and more regular shape of mesh hole when comparing to the holes made by normal transfer spring needles, according to Pai Lung. "With better performance in ventilation and moisture control, it will be a new trend in body mapping application or active wear design. This machine also can be converted to be transferred or double jersey jacquard knitting work," Pai Lung's Jack Wang said.
3D embossing
'3D embossing' is a new yarn inlay knitting technology on Pai Lung's PL-KD2.5CJ multi-feeder double jacquard machine or dial selection added to its PL-KDDSCJ, which are used in mattress ticking but now give new life in 28 gauge knits for excellent touch and more colour selection. The fabric has a quilting effect and 3D jacquard on the knitting face, which is said to be good for keeping warm or home decoration.
Duplexknit
'Duplexknit' is Pai Lung's PL-KD2.5D 4 track dial and 6 track cylinder machine, which can make two different mini patterns or bi-colour on each fabric face for brushed fleece performance. This single layer reversible knit fabric is able to replace partial laminating work, or two faces of different colours or pattern design with a huge view contrast, the company says.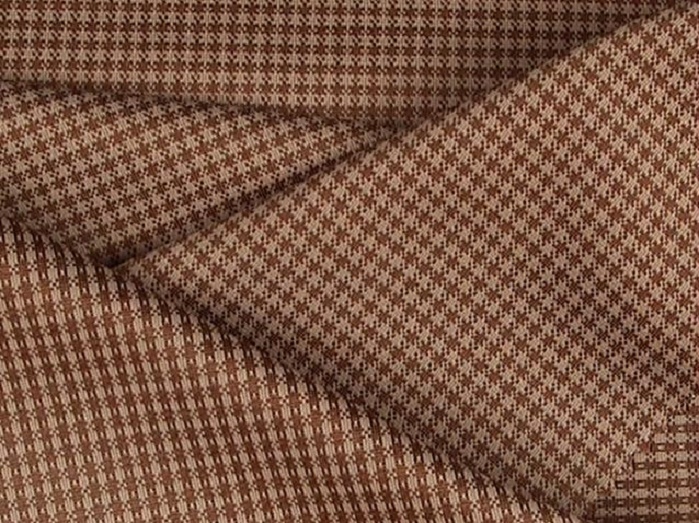 Multi-fleece
'Multi-fleece' is produced on Pai Lung's PL-KFCJ 34", 28GG, 72 feeders machine. "A unique three end jacquard fleece can be knitted in this machine to present one side full jacquard or logo design for loop brush, and the other face is with a different jacquard pattern," Jack Wang explains. The light and single layer fabric development is not only for warmth in sportswear but allows differently adorned patterns on each face.
Warm terry
'Warm terry' is made on Pai Lung's PL-KDPS-HP high pile shearing machine in 36-inch diameter with 14 gauge on the dial, and 28 gauge in the cylinder, with 56 feeders for high volume pile fabric production. The machine can knit 4-12mm pile length fabrics and the loop can be cut by dial elements directly for processes saving. You can also adjust loop length on machine. Pile loops are locked into the ground yarn and can be selected depending on the brush. Long pile fabrics from the machine are for fake furs used in coats, blankets or carpets in home textiles.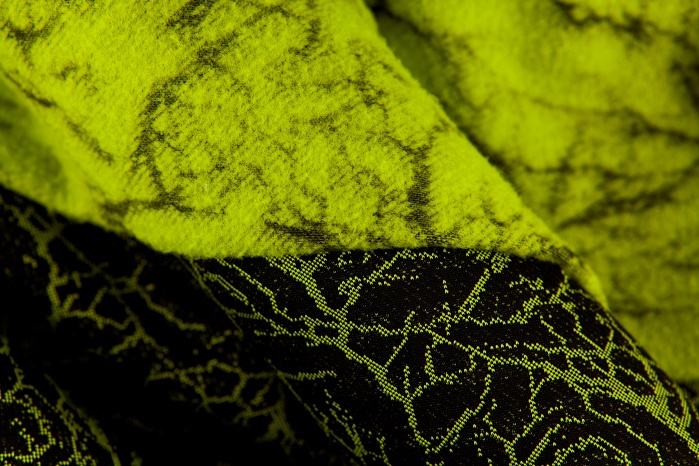 Many more attractive developments and fabric applications were also shown on Pai Lung's 880 square metres booth. Pai Lung said it welcomes potential customer collaborations with its new 'Open Innovation Lab' development department.
Pail Lung has also just launched a new version of its website at www.pailung.com.tw .
This article is also appears in...