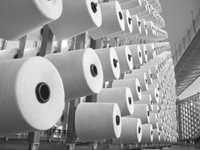 According to industry leaders, Pakistan's textile industrialists who have achieved economies of scale through consolidation are no longer under threat from the effects of the global recession, unlike their smaller rivals who are still under pressure.
According to Pakistani newspaper The News, larger companies in the spinning, weaving and clothing sectors have sustained robust growth during past three years although overall growth in the industry has declined."Clothing units with less than one hundred stitching machines stand no chance to survive in the current scenario," Shahkam Textile's Managing Director Adil Butt, told The News. Shahkam, with knitwear exports of over $250 million, is a vertically integrated unit which does not have a spinning facility.
Mr Shahkam told The News that despite high yarn prices the company managed to post growth due to economies of scale. The largest clothing exporter Masood Textiles with clothing exports of over US $350 million was basically a spinning unit that has systematically added value first by weaving and knitting and then made the resultant fabrics into garments, the article said.
18,000 knitting machines
According to the report, the second largest clothing exporter with exports of over US $300 million is Komfort Knitwear, a company which started off as a clothing exporter which then developed into a vertical business by adding dyeing, finishing and finally spinning to its set-up.The News goes on to say that, according to the Textile Commissioner's statistics there are 18,000 knitting machines and 450,000 sewing machines in the country and that industry sources say that almost one third of the total clothing export of around US $3.2 billion is in the hands of only three vertical units. Government data on industrial growth is said to suggest that the best performing sector in textiles is still the spinning sector.
"The APTMA chairman Gohar Ejaz said that more than 55% of the US $5 billion investment in textiles during past seven years was made in spinning and that this has made the difference. According to the records of the Textile Commissioner of Pakistan in 2003-04 each mill in the spinning industry had 14,000 spindles on average, which has now increased to 31,000 spindles per mill for APTMA members and 25,000 spindles per mill for the total spinning industry," the report said.
Source: The News - International
This article is also appears in...