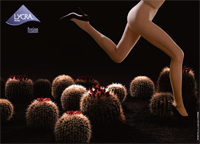 Invista, owner of the Lycra fibre brand, has published details of the pan-European brands that are showcasing its ground-breaking Lycra Fusion fibre in their latest and up-coming collections.
"Invista's most recent innovation in hosiery offers wearers the ultimate in comfort, fit and freedom coupled with the added benefits of greater durability and longer aesthetic life – a must-have of any fashionista. Lycra Fusion fibre is a revolutionary patent-pending technology that provides an ultimate run-resistant quality to any hosiery product thus preventing scratches which can result in damaging runs," the company said in a statement today.
Brands that have already launched Lycra Fusion fibre in collections or have imminent launches are:
Aristoc (UK ), Cecilia de Rafael (Spain), Dim (France), Esda (Germany), Filodoro (Italy), Gatta (Poland), Golden Lady ( Italy), Marie Claire (Spain), Marylin (Poland), Nur Die (Germany), Omsa (Italy), Pierre Mantoux (Italy), Philippe Matignon (Italy).
In its drive to lead the textiles industry, Invista has introduced Lycra Fusion fibre as an alternative solution to the other run-resistant options available on the market. The innovation is based on bi-component technology that allows the outer layer of the fibre to 'fuse' during the stockings' thermo fixation process. Invista says this occurs without affecting the inside components that provide extraordinary resistance to the product and also maintaining the stretch and recovery quality that has given Lycra fibres its' reputation for the past 50 years.
Consuelo Banon, European Manager, Legwear at Invista said: "We are delighted to announce the brands that are currently adopting our very latest innovation in hosiery. Lycra Fusion fibre has been developed by our expert team to provide a cutting-edge solution to an everyday problem and use the very best in technology techniques. Due to our ongoing research and development to invest in creating fibres and polymers we know we are giving our customers hosiery which will work hard to prevent runs in legwear. "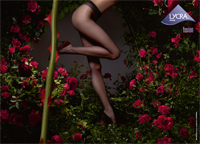 "Whether it is whilst running for the bus during rush hour or getting dressed in fabulous new tights for a romantic dinner, a run-in hosiery can put a damper on most days. With the presence of Lycra Fusion fibre in that staple fashion-piece, the wearer is reassured that ladders will be prevented whilst receiving the very best in comfort, fit and shape is for which Lycra fibre is best known."
According to Invista there are four key benefits of hosiery adopting Lycra Fusion fibre:
Run-resistance
"The life expectancy of a pair of tights may vary according to quality, but it certainly makes the list of the shortest of among all garment types. Lycra Fusion fibre's greatest benefit is its resistance to laddering and women of today need their hosiery to work with them through their daily lives."
Long lasting fit
"Hosiery wearers want their legwear to regain the same fit as it did on the very same day, wash after wash. Garment distortion is another great consumer issue when it comes to finding that perfect pair of tights and products containing Lycra fibre provides outstanding, long lasting fit."
Comfort
"Hosiery sometimes gets a bad reputation for not being the most comfortable item in the wardrobe. Legwear that contains Lycra Fusion fibre means that women no longer have to trade elegance for all-day comfort thanks to the soft elasticity of the hosiery. Style and comfort now work together in perfect harmony."
Branding
"Lycra Fusion fibre is part of the Lycra fibre brand family, for which consumers worldwide have a strong recognition and preference."
Invista says it continues to cement its commitment to the hosiery industry with the introduction of the Lycra Fusion fibre and with brands across Europe introducing this innovation; consumers are able to purchase legwear that delivers a fashion and practical solution for them.
This article is also appears in...