23rd September 2009, Winston-Salem, NC
Parkdale buys Hanesbrands yarn operations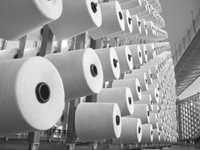 US based Hanesbrands Inc., a major marketer of knitted apparel and hosiery, has agreed to sell its yarn manufacturing operations to Parkdale Mills Inc. of Gastonia. Parkdale is to buy three Hanesbrands yarn plants in Georgia, Tennessee and Virginia, and will supply a substantial proportion of Hanesbrands' yarn needs for the Western Hemisphere.
Hanesbrands is also to close a fourth plant in Sanford and plans to close two warehouses in Advance and Clemmons by the year end. Financial terms of the sale weren't disclosed.
Affected employees will receive severance and transition assistance. The sale is part of Hanesbrands' decision to outsource its yarn production to large suppliers.
"We are focused on optimizing the investments we have made in our supply chain that give us a competitive advantage," says Chief Executive Richard Noll. "Producing our own yarn, when more than adequate large-scale supplies exist, serves no strategic purpose. Outsourcing yarn is a logical evolutionary step to drive value and improve the use of our assets."
Source: Charlotte Business Journal
This article is also appears in...