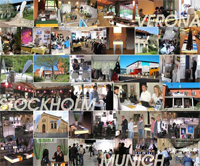 The next Performance Days road show, which is to be held from 13-15 April in Munich, Germany and from 19-20 April in Annecy, France, is to include a new program with lectures from key sportswear and workwear industries figures. As per previous road shows, exhibitors will be showing their new fabric collections for both winter 2011-12 and summer 2012.
Performance Days functional fabrics road show was launched by Weichert Agencies in 2008 and as the first and only event of its kind, is meant to be a platform specifically for functional fabrics, yarns, finishes and accessories for the sports and workwear markets.
The twice yearly trade fair takes the form of a road show with a stop in Munich and a changing second location in another core centre of the European sportswear industry. According to the organisers, trade visitors are fashion designers, product managers and decision makers from many of the leading European sports fashion brands and manufacturers of functional apparel.
Performance Days' new lecture program will take place in Munich on Thursday 15 April at the trend forum area. Topics and speakers are as follows:
11:00 Sustainability; Mr. Detlef Fischer (bluesign)
12:00 Nano finishes on textiles; Mr. Dirk Keunen (Nano-tex)
13:00 trends and colours; Mrs. Nora Kühner (IDEAS)
14:00 Thermobuffering; Mrs. Silvia Toledo (ADVANSA)
15:00 Product Management for high performance – create, develop, sell; Mrs. Gschwenter and Mr. Janiszewski (KOPPERMANN)
French program
The official French premiere of Performance Days will be opened by the mayor of Annecy, Monsieur Jean-Luc Rigaut on Monday 19th of April at 09:30 and on the same day at 17:30 there will be a presentation of the 'Outdoor Sports Valley' project at the trend forum area of the fair.
Perfect timing
Weichert says that the timing of the Performance Days road show fits in perfectly with the time schedule of the fashion and sports industry. "Exactly at the right time in spring and autumn, apparel manufacturers find the entire portfolio of high quality materials they need for sourcing nearly in front of their factory gate, for both winter and summer season," a spokesperson for the event said today.
"A calm and concentrated workshop-like atmosphere distinguishes Performance Days from other sport- and textile trade fairs. So it is a perfect meeting point for the sportswear industry and a stage for trends and innovations. At the unique trend forum of Performance Days one gets a well-grounded and inspiring overview over the newest materials, trends and innovations of all participating exhibitors," Weichert added.
More information on the current road show and its exhibitors can be found at www.performancedays.eu
This article is also appears in...