21st November 2011, Caronno Pertusella (VA)
Piave Maitex invests in new generation digital printing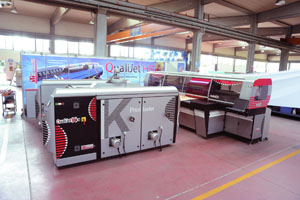 Vertical Italian warp and weft knitter Piave Maitex has invested in state of the art high speed digital printing technology for stretch fabrics from La Meccanica di Urgnano.
The new generation machinery is being installed this month at the company's Caronno Pertusella site, near Varese in North East Italy. The new investment will compliment Piave Maitex's existing ink-jet printing machines already in operation, bringing the company's digital printing capacity to well over one million meters per annum.
La Meccanica di Urgnano specializes in machines for the processing of stretch fabrics. Piave Maitex says the new QualiJet K16 machines from the Bergamo based company will allow it to respond quickly, effectively and with great flexibility to the ever growing customer's demands in terms of style effects, resolution, number and intensity of colours.
Fabrics up to 2 metres wide
In addition to greater flexibility, resolution, design possibilities and speed the new investment will also allow Piave Maitex to offer digitally printed knitted fabrics in widths up to two metres - an impossibility until now for the company.
"With this new investment Piave Maitex reinforces substantially its competitive position on the world market of stretch printed fabrics, a position already recognized by the preference of the main market operators," says Piave Maitex's commercial director Gianpaulo Sperotto.
"A preference motivated by the quality and innovation of our underwear and beachwear collections, by the enduring Flock and Burn-out cutting edge printing techniques, and by our company's constant drive for innovative and effective eco-friendly and low environmental impact," Mr Sperotto adds.
Piave Maitex operates two knitting plants in Feltre and Monastier equipped with over 100 raschel, tricot and jersey machines fitted with the latest sophisticated production control systems. The company also has its own state of the art dyeing, finishing and printing facilities.
Two up-to-date laboratories, which assure accurate control of the company's production quality, yield a production capacity of more than 8 million metres of high quality stretch fabrics per year, together with "the versatility to interpret and bring to reality all of its customers' requests".
In a Piave Maitex speciality, the company prints colour on to various warp, raschel and circular knitted ground fabrics and then uses a burn-out printing technique to enhance the fabrics further for special effects. Flock printing on tulle or on light stretch fabrics is also a speciality and the company also offers metallic, iridescent and glittering effects on its fabrics.
The company has a production capacity of about 2 million meters per annum of printed fabrics and its collections are presented at leading lingerie, swimwear and outerwear fairs such as Interfilière and Mare di Moda.
"Piave Maitex fabrics are characterised by their high design level, in line with current trends of fashion and for their creativeness and innovation content," Gianpaulo Sperotto concludes.
This article is also appears in...