20th February 2012, Florence
Pitti Filati optimism points to strong 2013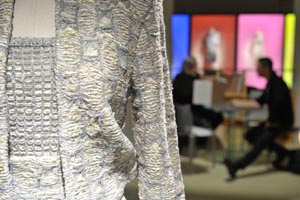 According to organisers, the 70th edition of Pitti Filati closed at the Fortezza da Basso (Florence, 25-27 January 2012) amidst an atmosphere of widespread optimism among trade visitors for a 2013 that promises to be much better than recent seasons.
The final attendance figures for this edition showed that there were around 4000 buyers, matching the levels recorded at the last winter edition. There were excellent performances from the most important international markets - the total number of foreign buyers reached 1500 - with Germany up by 11%, Japan + 6%, Holland + 25% and Turkey + 15%.
There were also increases from France, Spain, Sweden and Austria, as well as similar figures to the last winter show for the United States, Hong Kong and Russia. The number of Italian buyers dropped slightly, mirroring the trend recorded at Pitti Uomo and Pitti Bimbo.
"This was an excellent edition of Pitti Filati, commented Raffaello Napoleone, CEO of Pitti Immagine.
"We saw a high level of energy throughout the three days of the event. The manufacturers showed incredible dynamism, presenting collections with a high stylistic content and experimenting with innovative yarns, all of which was greatly appreciated by the buyers who came to Florence from all over the world, representing the top names and companies in international fashion."
"To conclude, the yarn sector - the first link in the fashion system chain - is sending out very positive signs for the 2013 season, signs that exceed expectations given the current highly complex economic situation," Mr Napoleone said.
This article is also appears in...