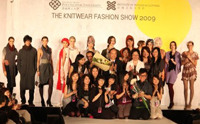 The creative flair and design talent of graduating students from The Hong Kong Polytechnic University (PolyU)'s Institute of Textiles and Clothing (ITC) have won big rounds of applause from the industry at their Knitwear Fashion Show held today at The Mira Hong Kong.
A collaborated effort of design students, ITC, various knitwear producers and yarn suppliers, the Knitwear Fashion Show aimed to foster relations between ITC and industry, as well as showcasing the quality design and products of the PolyU students. In designing their own collection of six outfits, 13 graduating students majoring in knitwear design were provided with raw materials sponsored by knitwear producers and yarn suppliers.
Prof. Tao Xiaoming, Chair Professor and Head of ITC, said: "I am pleased that this show has won overwhelming support from the industry. This also provides impetus for us to further develop the course on knitwear design which has just been launched this year."
Mr Anthony Leung, Chief Executive Officer of the Fenix Group and Title Sponsor of the Show, remarked, "This Knitwear Fashion Show has furthered the collaboration between the industry and the Institute. The support from the knitwear producers and yarn suppliers has provided an invaluable opportunity for fashion design students to gain first-hand experience in working with the knitwear industry."
As the sole provider of tertiary education in fashion and textiles in Hong Kong, ITC offers exciting opportunities to those who wish to pursue careers in the dynamic fashion and textiles industry. Since its inception in 1957, ITC is committed to educational training and development for the advancement of the Hong Kong fashion and textile industry through various research and scholarly activities.
PolyU offers a wide range of courses which directly meets industrial, commercial and community needs. It also provides the public and private sectors in Hong Kong with an expanding range of consultancy, professional training and applied research services.
This article is also appears in...