18th September 2018, Albstadt
Positive Brazil show for Mayer & Cie.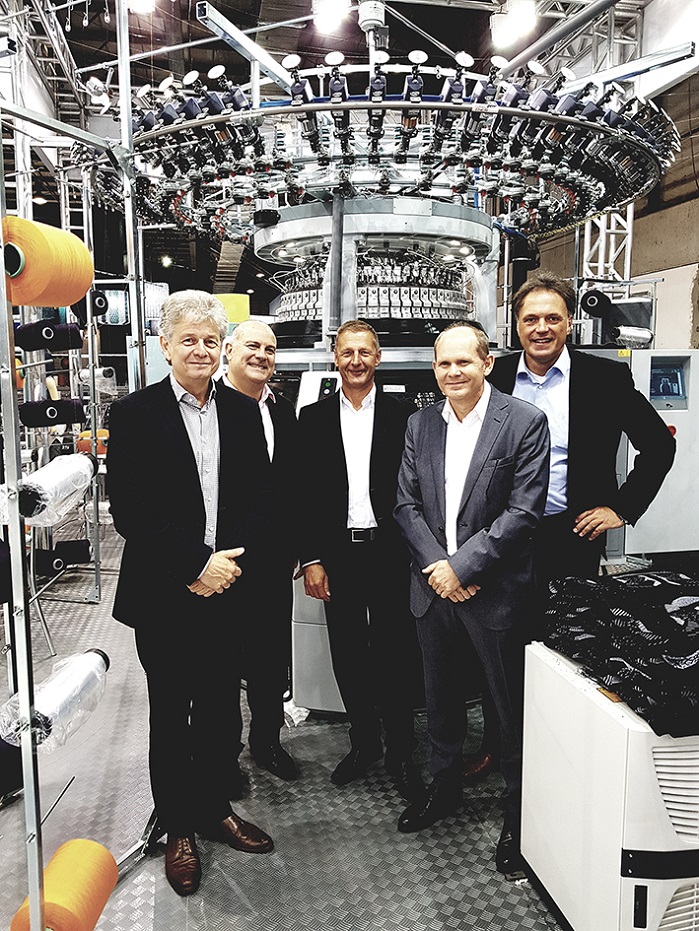 Mayer & Cie. presented two machines at the stand of its Brazilian representatives MBR during the Febratex trade fair that took place in Blumenau, Brazil, last month. Horst Maier, Mayer & Cie.'s experienced Regional Sales Manager for Latin America, said he was pleased with the show.
"When we exhibited at Febratex two years ago, all the signs pointed toward an economic recovery and from mid-2016 we did indeed see an increase in demand for circular knitting machines. That positive trend took a tumble for the time being at the beginning of this year," he explained.
The main reason for the current restraint, he said, was the Presidential elections, due to be held in October. That having been said, "the high visitor frequency at this year's sounded a positive note". It was significantly higher than in 2016, according to the organisers. A large proportion of visitors were from Brazil, especially from Santa Catarina state, where there are many circular knitting producers.
The Relanit 3.2 HS was a favourite with fair visitors because single jersey mechanical circular knitting machines that produce large volumes have been in demand in Brazil for some time. The high-performance machine knits all single jersey structures, and the model exhibited in Blumenau was a 38-inch E 28 machine.
The focus of interest, however, was on the OVJA 1.6 EE, an electronic machine designed for knitting shoe uppers. "Circular knitted shoe uppers are a hot topic in Brazil, as they are all over the world," said Horst Maier. "So, we were able to answer a large number of enquiries by potential customers about our OVJA 1.6 EE." The OVJA 1.6 EE works with electronic individual needle selection in the cylinder and on the rib dial and delivers a wide range of patterns. It can also produce spacer fabrics.
A functioning spinitsystems model rounded off the Mayer & Cie. trade fair presentation. The team used it to demonstrate how the Spinit 3.0 E spinning and knitting machine works. "Brazil is a major cotton producer with a highly developed textile industry and a large domestic market. These are all important aspects that make our spinning and knitting technology of interest for Brazilian customers," said spinitsystems Sales and Marketing Manager Michael A. Tuschak.
Horst Maier is also convinced that the sales opportunities for Mayer & Cie. in Brazil are good. "Febratex will continue to be one of the most important trade fairs for Mayer & Cie., not least on account of the Brazilian circular knitting machine market's great potential," he concluded.
This article is also appears in...