Debra Cobb reports from Paris
In the midst of political, economic and environmental challenges, the only sure thing is impermanence-and the need for unceasing creativity in order to adapt. This was the message of Première Vision Pluriel, the twice-yearly high-end fashion textile fair held last week in Paris at the Parc des Expositions, where knitters, weavers, spinners and textile designers celebrated the joy of creation. With 46,222 visits, Premiére Vision and Expofil together enjoyed a 10% increase in attendance over one year ago, according to the organizers.
Targeting Autumn/Winter 2012/2013, the show featured some 714 exhibitors from around the textile world, an increase of 4.5% over last September, including 31 who were new to the show. In total, the exhibitors submitted some 14,000 samples to the organization's Fashion Team, who edited and developed the fair's trend forums, providing a rich and inspirational view of the season's key directions.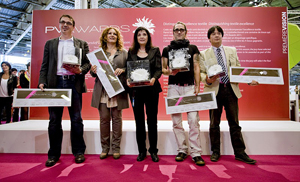 A highlight of show was the PV Awards 2011, announced at a press conference on the closing day. The international jury, led by designer Roland Mouret, selected four mills out of 100 nominees: Euromaglia from Italy, Toray Industries from Japan, Federico Aspesi from Italy, and Forster Rohner from Switzerland.
Fabric Trends for Autumn/Winter 2012/2013
Warm, woolly handles and oversized, graphic patterns were key trends, often portraying a raw exuberance that flew in the face of caution. The season's colour palette was bold, with an emphasis on strong orange-reds and vivid, inky blues. Four themes relayed the outstanding qualities of fashion fabrics for the season:
Uncompromising-these fabrics were architectural, structured, technical and futuristic. They included enlarged structures and graphic patterns, double-faced and bonded fabrics, compact stretch fabrics, and knits resembling wovens.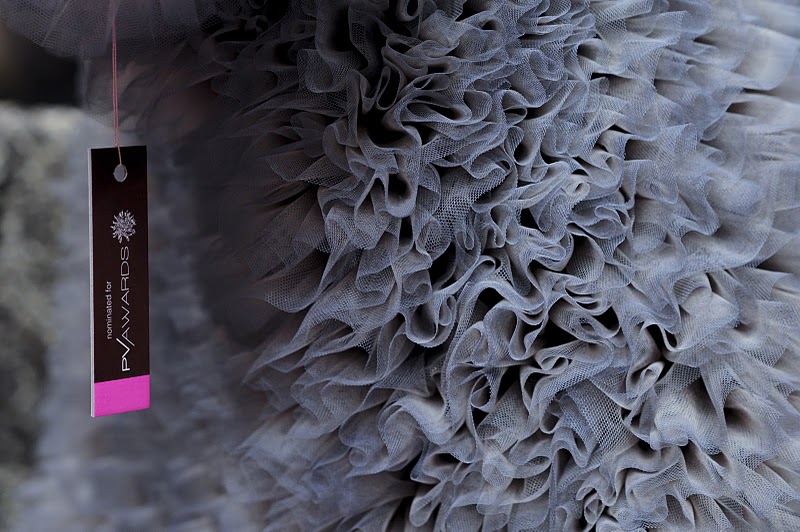 Frivolously-mixing night and day, feminine and masculine, dressy and relaxed, these fabrics were dizzy with surface interest such as matte coatings, metallic shine, and frothy or hairy textures. Jacquards, cloqués, faux furs, fleeces, bouclés, wool embroideries and carded wools contrasted with limpid jerseys and crêpes in rayon or cupro, velvety cashmere, and silky florals.
Modestly-fabrics with a humble and nonchalant appearance, raw or gently worn, in keeping with the spirit of the times. These included dense and rustic carded woolens, boiled wool knits, ratinés, brushed cotton/wool blends, and wool-influenced or bonded knits for sportswear.
Crossover-creativity without borders, combining DIY, folk, technical and eco-active. Woolen blankets, pile fabrics and waterproof knits were enhanced with stretch; street sports influenced cotton-handed synthetics, membranes and waddings, and double-faced technical fabrics; and digital printing created new concepts in print and pattern.
Knitters Inspire with Volume and Texture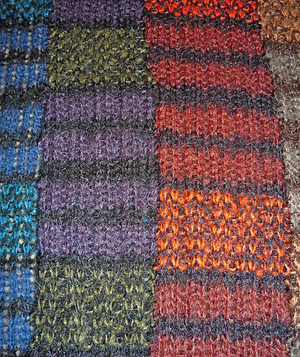 With the current success of knitwear at retail, it is no surprise that PV's knitters went all out with voluminous structures, woolly aspects and graphic patterns. From hairy fleeces and wool double knits to jacquard plaids, stretch cloqués, engineered stripes and mohair sweater looks, knits were well-received by the buyers. "The fair was very busy for us. This season our sample orders at the fair have risen, compared with past years when only hangers were requested," reported Massimo Artioli of Tessitura Rossi.
Knitted raschel tweeds imitated Chanel-type wovens at Tessitura Rossi, Target SRL and Emmetex, while oversized puffy stretch jacquards displayed a quilted or trapunto effect at Savyon. Target SRL's line included faux sweater knits in double knit blister structures, airy jacquards in wool/acrylic/polyamide/ LYCRA®, and wool bouclés laminated with a coating of sparkle, or felted and decatised for a compact handle. Bell Maille played with variations on houndstooth checks in double knit jacquards and sweatery structures.
There were thermal wool jerseys from Arula and Reidel; coated performance knits at Singtex and Duksung; and at Tessile Fiorentina there were boiled, bonded and softshell structures as well as loopy rug-like knits in recycled wool and organic cotton. Eclat's technical fabrics combined fashion and function; designer Joe Hung pointed out a specially developed polyester nep yarn with a natural aspect. Calamaï's double-faced sweater knits and fleeces featured its own recycled wool and cotton yarns.
The emphasis was also on natural fibres at Japan's A-Girl's, where a wool/polyester spacer fabric and a thistle-brushed terry in 100% cashmere were the epitome of laid-back luxury. Designer Takao Ozaki develops his own yarns, including intimate blends of wool/nylon and Tencel/cashmere, as well as a cashmere twist yarn said to be 1/200 Nm.
Cozy crochets and ajourés were also exciting; first time exhibitor Celiktas reported strong sampling of their knitted openwork jacquards in acrylic/wool. Silanco by Stratos shot metallic threads through lacy sweater knits and oversized retro geometrics, and Henitex knitted giant serapé stripes and rug patterns in warm or cool colorways.
A Fresh Aspect for Expofil
Natural and sustainable yarns for Spring/Summer 2013 were promoted by fibre companies and spinners at Expofil, with an emphasis on fineness, lightness, and comfort elaborated in knitted fabrics by the French subsidiary of Stoll GmbH & Co.
The botanic principles of Lenzing's Modal® fibre have been further expanded by the company's new Edelweiss technology, an oxygen-based whitening process used in lieu of bleaching the fibre, which is made from beech wood. The resultant fabrics are meant to be processed with natural dyestuffs and without chemical softeners, offering a purer, skin-friendly alternative.
Yarns which provide skin-friendly performance benefits such as moisture management and cooling effects, long confined to specialty polymers, have now emerged in the cotton sector. At spinner Hermann Bühler, hydrophobic Swiss Cotton BeDry yarn is based on Cotton Incorporated's TransDRYTM technology and is said to transfer moisture away from the body when used in the inner layer of a fabric.
Also created in Switzerland, Spoerry1866's Ice Cotton® feels cool against the skin; the sensation has been documented in independent Q-Mass testing performed in Japan, according to Spoerry's Georg Staelberg. The effect is a result of specially grown, processed and spun extra-long staple cotton.
Creative efforts at CELC/Masters of Linen have resulted in a collection of outstanding "winter linen" fabrics, blended with noble fibres, as well as finer and more creative yarn offerings for the upcoming season from spinners such as Safilin and Raumer. "There is a growing demand for 100% linen, especially for knitting," according to Safilin export executive Nicolas Malaquin. Linen's sustainability story is a strong one, and CELC is working with knitters and weavers to promote Oeko-Tex® and GOTS-certified finishing.
Influences at Indigo
Indigo, the show for textile design, hosted over 180 design studios and agents featuring vintage textiles as well as original designs for printed, knitted and woven textiles. The growth of digital printing and design techniques has brought new excitement to this part of PV Pluriel, complementing the finished fabrics of Première Vision and the yarns and fibres of Expofil and stimulating designers' imagination for the coming season.
Debra Cobb

Debra Cobb is a veteran of the knitted textile industry with experience in the development and marketing of yarns, fabrics, and apparel trends. She currently contributes to a number of trade journals in the UK and the US, and is co-authoring a textbook on forecasting. [email protected]