Opinion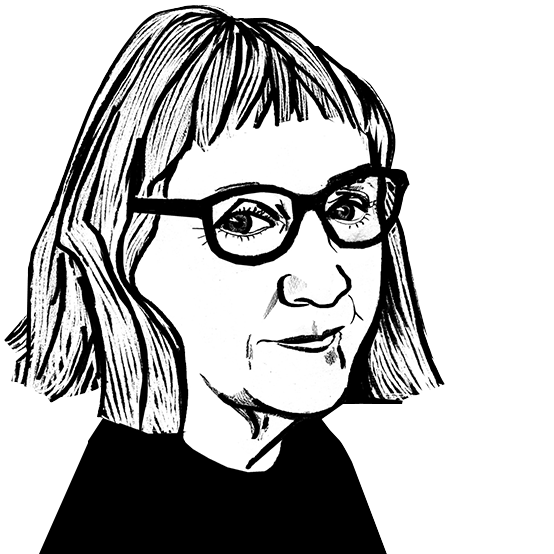 Premiere Vision Paris goes all out for Smart Tech
Janet Prescott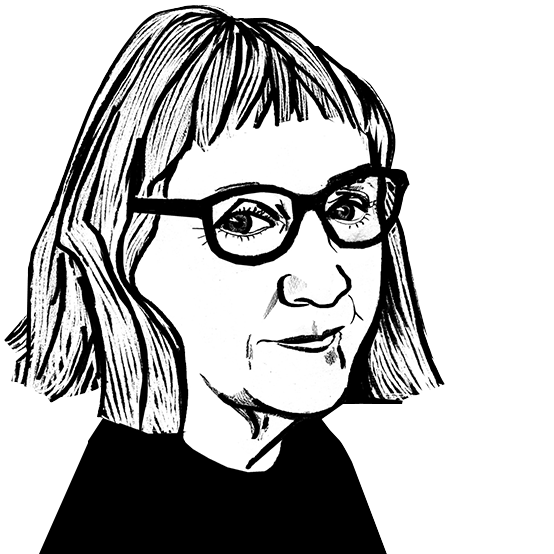 Fresh and colourful decor in the halls echoed the many pastel fabrics on display, selected by various PV fashion panels explaining colour vibes for the summer season 2024.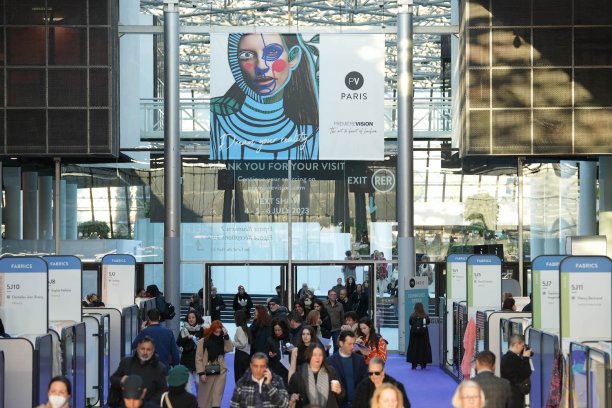 2nd March 2023
Janet Prescott
| Paris
Premiere Vision Paris (7-9 February) for Spring Summer 2024 saw a large number of important companies attending. 70% were international, from 118 countries, ranging from haute couture to designer labels, large retailers, and individual influencers, taken as a signal that the natural rhythm is re-establishing.
PVP quoted the origin of a substantial number of the fashion visitors. Nothing seems quite the same in the fashion industry as seasons begin to blur and some traditional timings do not apply.
Fresh and colourful decor in the halls echoed the many pastel fabrics on display, selected by various PV fashion panels explaining colour vibes for the summer season 2024, which could be followed in discussions and video streaming.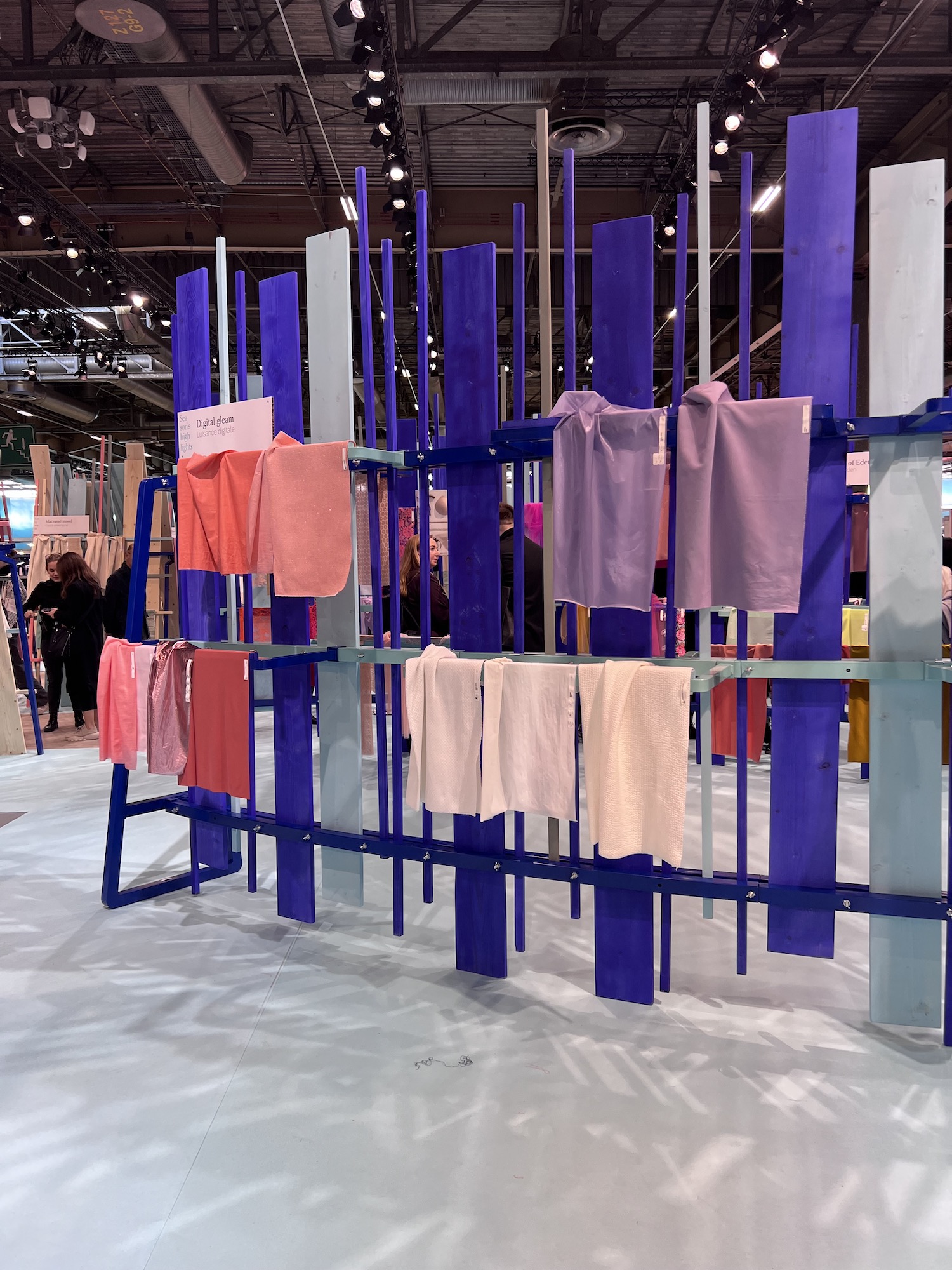 PV Trends
Surrounded by colour and print, trends were more fluid, less general. Fashion fabrics came in upbeat pale shades, many mixed with white, with designers aiming purposefully for originality. The names given by Premiere Vision told the story, Ambiguous Dream, Visionary Reverie, Sustainable idealism, and Primal Imaginings. They described luminous materials, iridescent gleams, cloudy colours and some large-scale images and designs, all hoping for a sense of optimistic movement.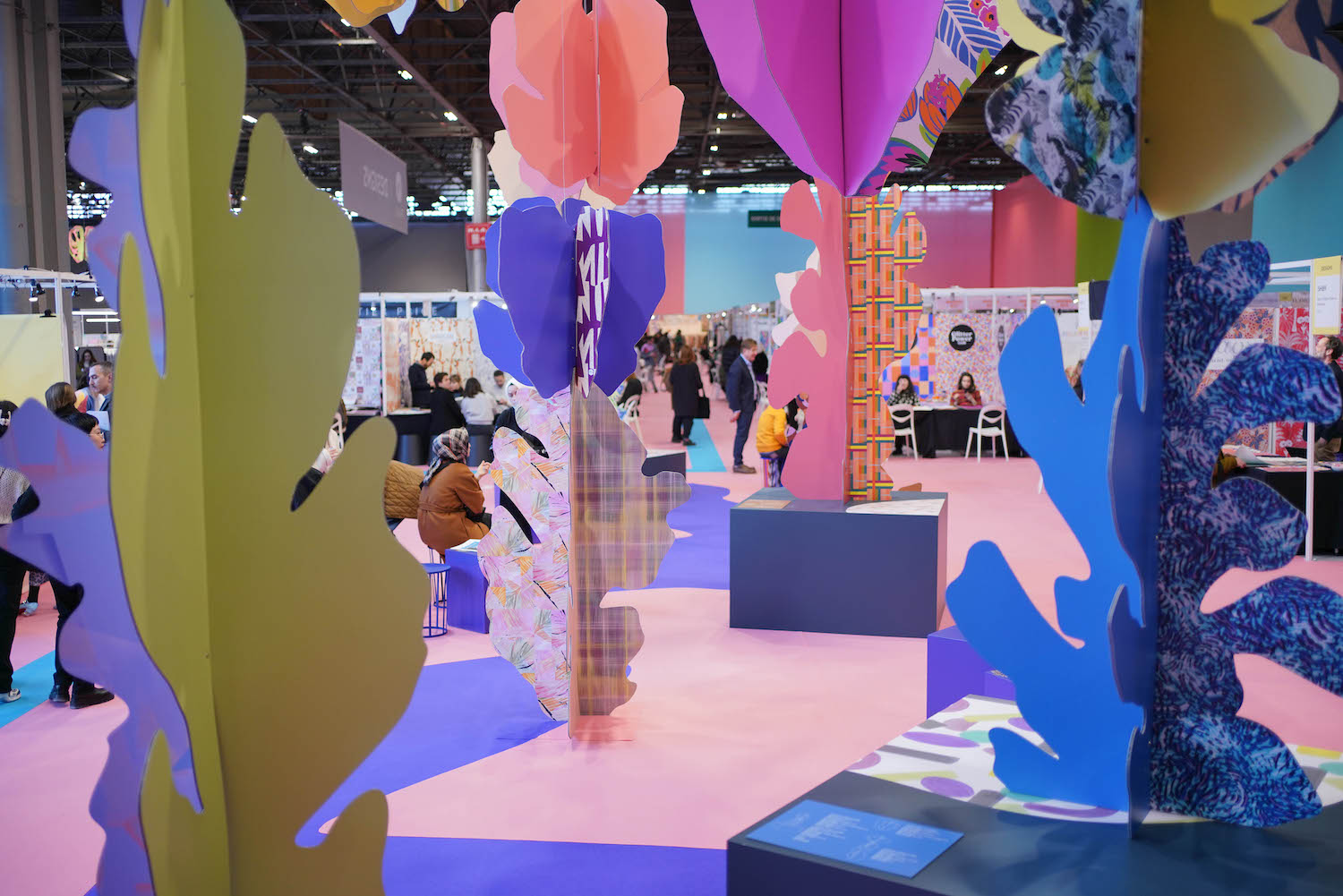 The Designs Area
PV designs remains important as a unique source of original prints and designs from small and large studios and companies, particularly chosen by British exhibitors. Natural themes were present in shades of green, brown, undyed looks, soft eco-based fabric, as well as very bright large images, with more than usual aimed at the growing interiors market.
New horizons- more transeasonal moves
Fabrics are more versatile; light but warm, novelty yarns and fibre blends suited for different surroundings, looked forward with a nod to transeasonal designs, including fabrics for traditional tailored jackets, opening up new avenues. Accessories are becoming more important, as customers are expected to purchase major clothing items less frequently. Decorative fringes, lace, finest cotton, linen and raffia plaiting were displayed, contemporary craftsmanship using unusual plant-based materials.
Colour and transparency
Colour was backed up by lacquered surfaces, transparent effects and shine, blended fibres including manmade for unusual effects, metallic additions and finishes. Very fine yarns destined for accessories were knitted into semi-transparent gauze, ribbons or net. Young fashions have taken a cue from social media, moving to more flamboyant clothes with an easier cut and the virtues of Individuality, craft fitting in with motivated customers as a lifestyle choice. Some machine fabrics constructed an earthy look for a handknitted effect.
New looks with rich tweeds and traditional suitings had the virtue of more colour, textures and versatility applied to traditional designs.Top range British worsted mills present at the summer edition are developing these with success.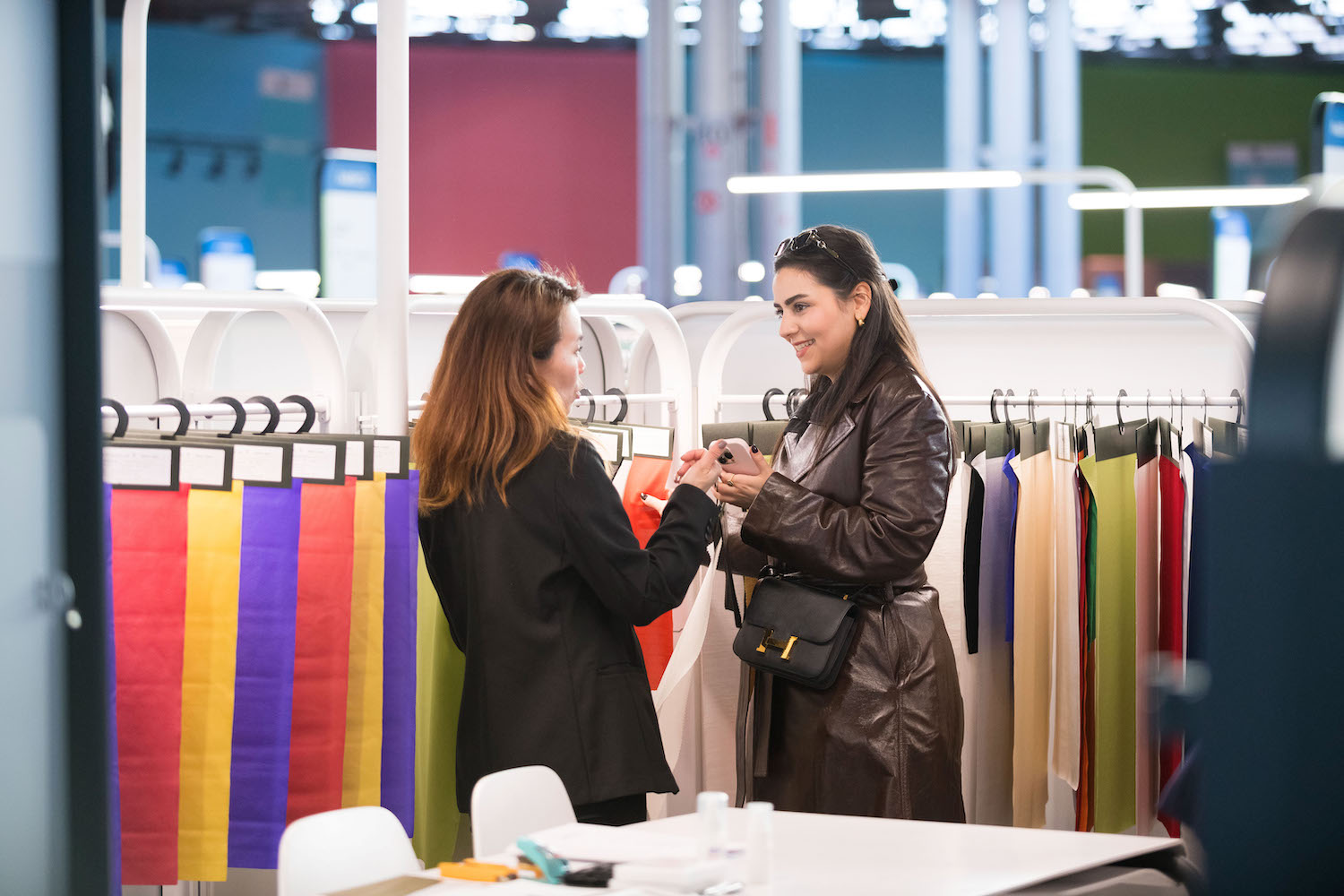 Smart Creation
PV'S hub concept includes Smart Materials, Smart Tech and Smart Services. It is tipped to be the dominant force going forward in the next season, to meet requirements of the modern digital and in-person nature of manufacturing and retail. It was certainly the busiest part of the exhibition, and already planned for expansion.
The Eco-Innovation Forum covered both sustainability and tech. Exhibitors saw samples of pineapple yarn, biomaterials obtained from Mexican mushrooms used at BMW, with cactus and banana and plastic developed as fabrics for a wide variety of uses.
Anticipating the need for adoption of methods for ecological transition, a new approach to the layout of the July edition is planned to support an expanded Smart Creation area.It will focus on technical solutions for digitisation and new ways of approaching ideas for improving their operation, by featuring a new Smart Tech Zone.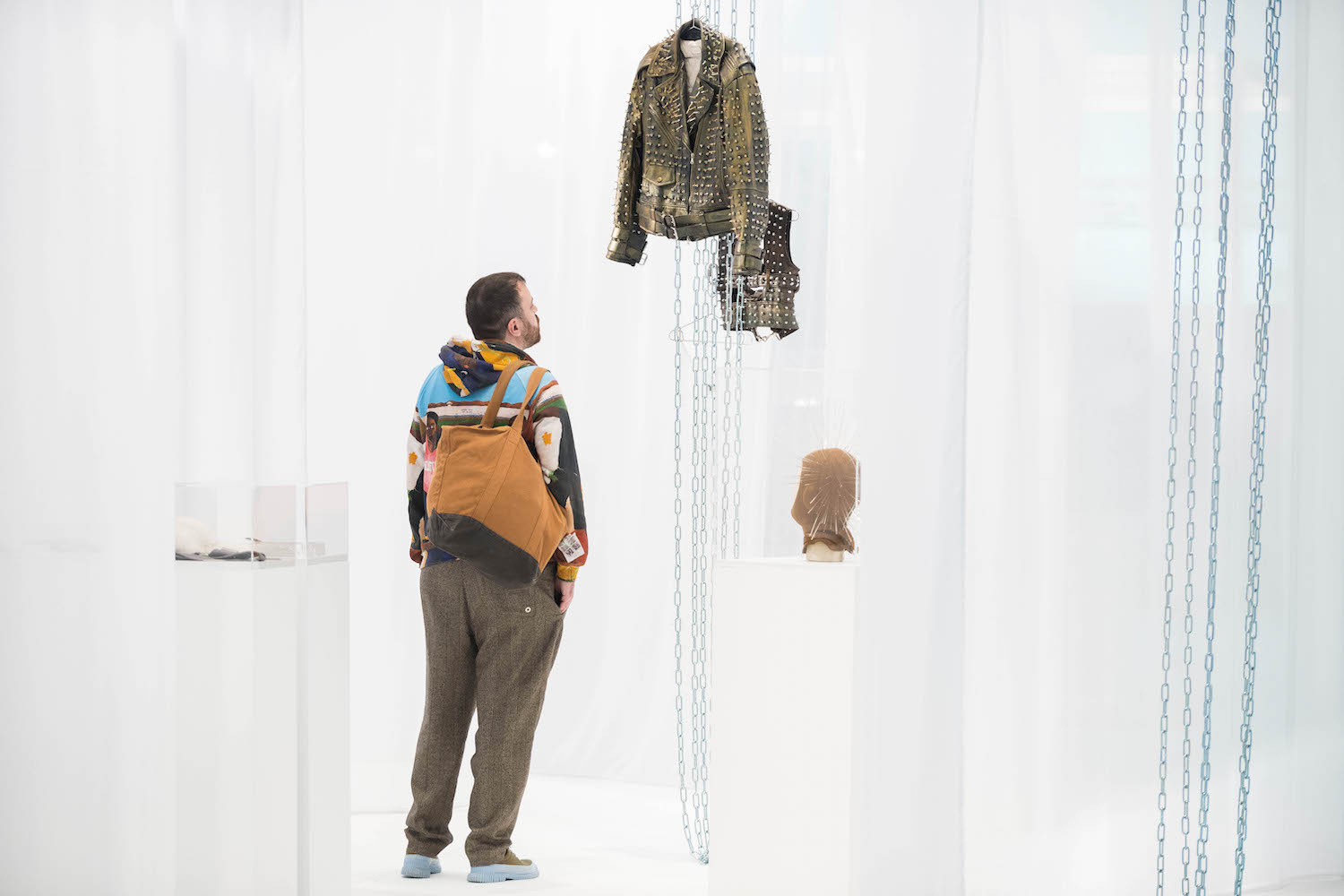 Fibres branch out
The Alliance for European Flax Linen and Hemp (CELC) demonstrated the increased scope of linen. Eco credentials and Innovation in texture, drape and finish is moving linen into many more end uses, especially knitted fabrics, jersey, lace, and designer looks, blended with Merino, alpaca, silk or fancy synthetics.
The Woolmark Company unveiled Nissan's Formula E zero emission electric race car together with its high-performing Merino team kit developed by the company, a clever move into a high-profile area of extreme performance. Very fine summer wool was a choice for interpreting the soft, cloudy looks of the fashion boards.
The Smart Tech area
A sub area within Smart Creations showing textiles benefit from astonishing research taking place in finding new solutions to old problems.
Japanese company Spiber has been developing ways of adapting protein for use as textiles for some time. Using nature-inspired protein polymers, Spiber's Brewed Protein materials are lab-grown for plant-based fibres, resins, films, and other types of materials manufactured through microbial fermentation. Developed from scratch the company have already produced fabrics from 'the brew', which are in commercial use, used for clothing including a coat for The North Face. These materials can offer alternative solutions to a wide range of conventional animal-based, plant-based and synthetic materials.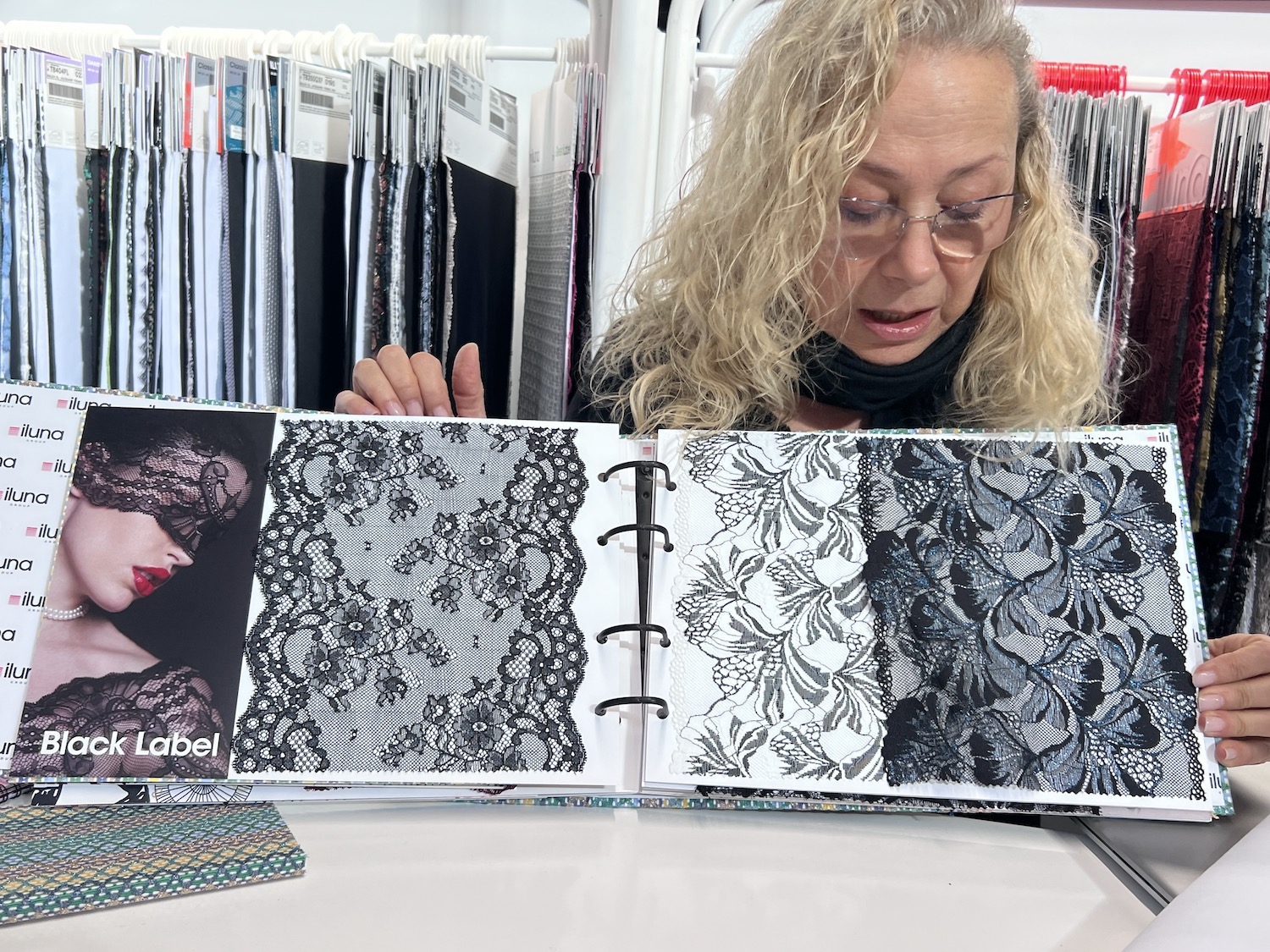 Ecological innovator Iluna is working with GRS certified pre-consumer recycled polyamide yarns – in addition to Roica EF recycled stretch yarns from Asahi Kasei. Iluna combines mastery of colour and design with ground-breaking innovation in machining lace and were early adopters of recycling and FSC-certified pre-dyed viscose. Their current focus is on Circular production, looking to its own archives to create eco approaches, improving and recreating designs for the present with its top-notch Black Lace collections.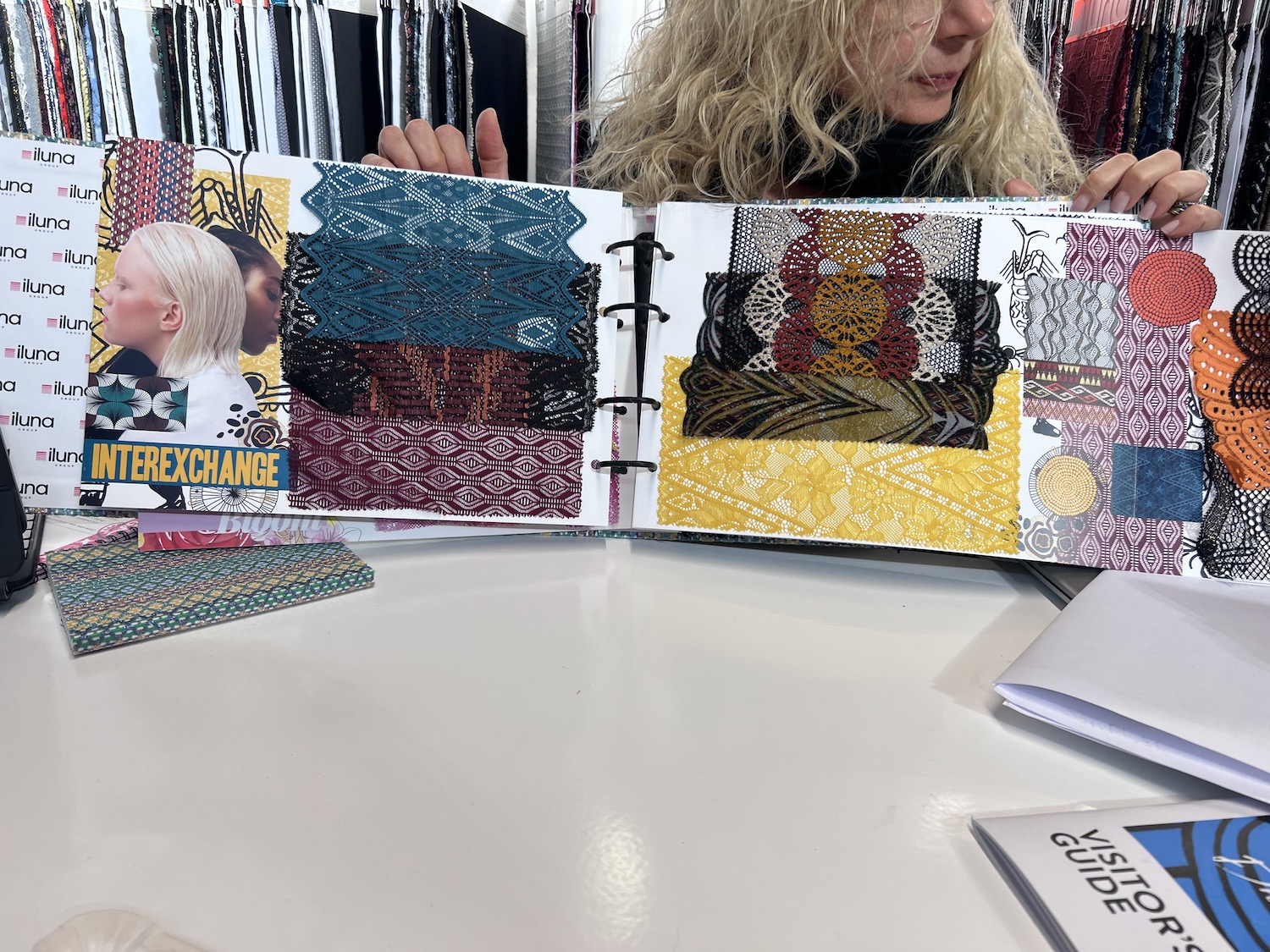 Smart Materials
Experiments with new materials included pineapple yarn called Pinayarn: efforts to replace artificial leather with more eco-friendly Bananayarn; Coccon natural solutions to replace fungicides for organic cotton; and biomaterials from a Mexican cactus leading to end products used by BMW.
PV Paris 2023 suggests that fashion textiles display a mixture of ecological concerns, the wish to reposition traditions and local expertise at the heart of the creative process, and that smart science can mitigate many of the present dilemmas which are faced, using pre-existing materials or inventing new. An exciting mix.
The Turkish earthquake, which took place at the beginning of PV, was acknowledged by a statement of profound condolences by the organisers and countless messages of sympathy from participants.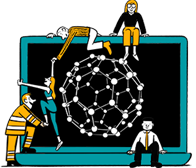 Business intelligence for the fibre, textiles and apparel industries: technologies, innovations, markets, investments, trade policy, sourcing, strategy...
Find out more