Opinion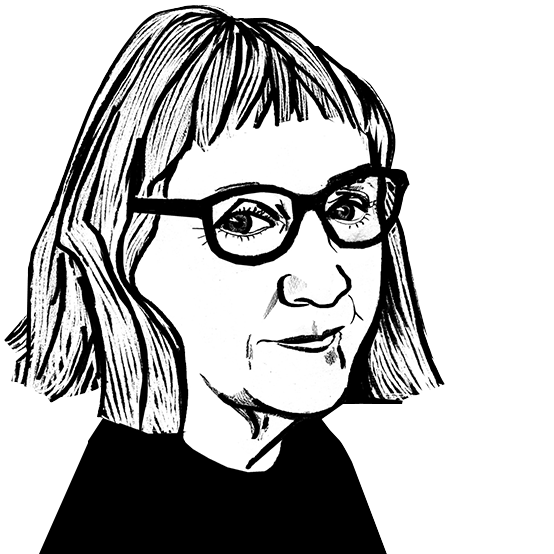 Premiere Vision Paris SS 2016
Janet Prescott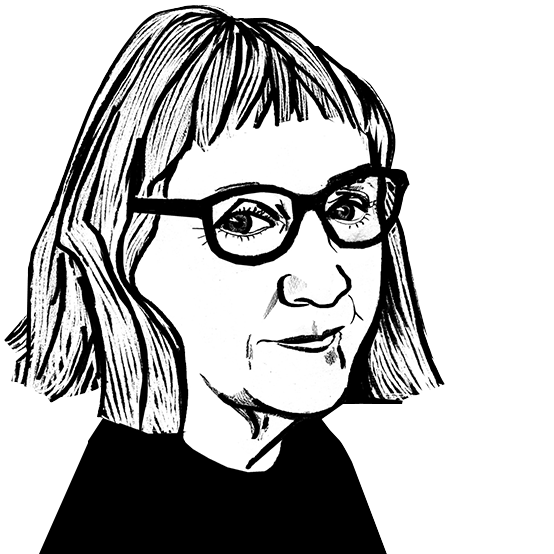 Premiere Vision Paris was introduced for the first time rebranded into five different sections, which works great for navigation, according to our expert Janet Prescott.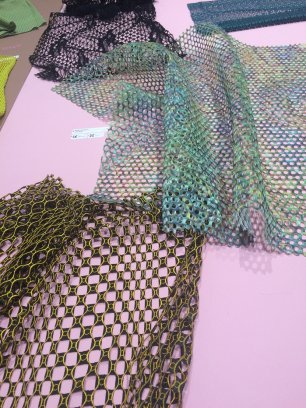 20th February 2015
Janet Prescott
| Paris
PV was introduced for the first time rebranded into sections: Yarns, Fabrics, Design, Leather, and Manufacturing. This worked well, was easier to navigate and gave more autonomy to the collections.
It was evident that knit techniques and designs are still to the fore, due to versatility and speed of manufacture, with knit developments found throughout the exhibition sectors.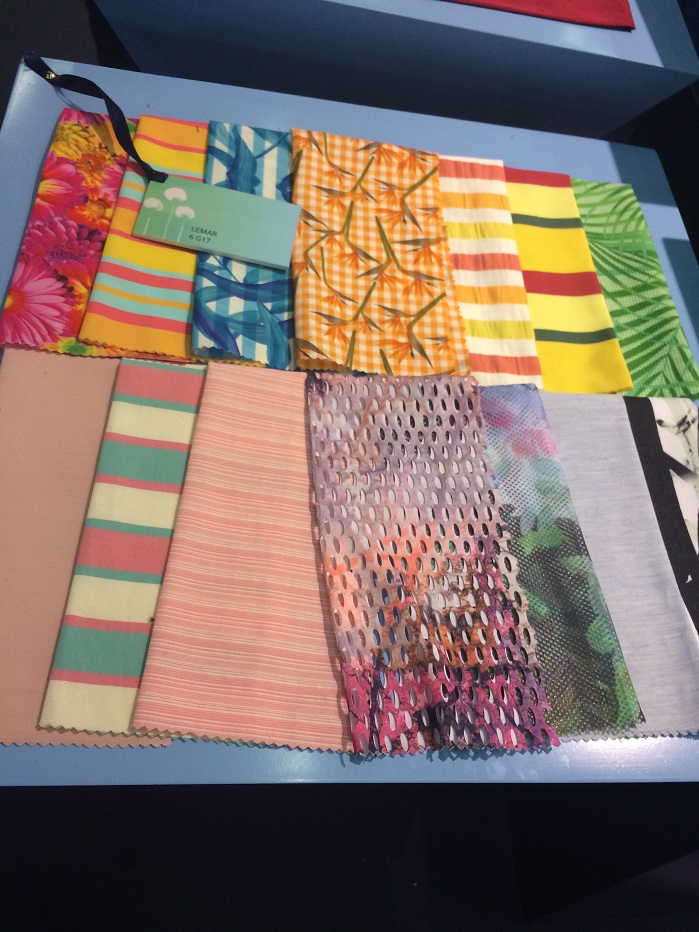 At Knitwear Solutions – the manufacturers of knitted garments are now seen as a useful sourcing tool, and attracting considerable interest with the knitwear design trend prototypes close by
Very many examples of wispy, semi -transparent fabrics were seen throughout the exhibition, with examples in Pima cotton, viscose, Merino wool and fine linen-like veils. Very fine constructions made the fabrics see-through in linen or cotton t shirts which were almost completely transparent. Multilayering is a major influence so that overskirts, layers of net or mesh and rolls of material and frills are crucial to the look.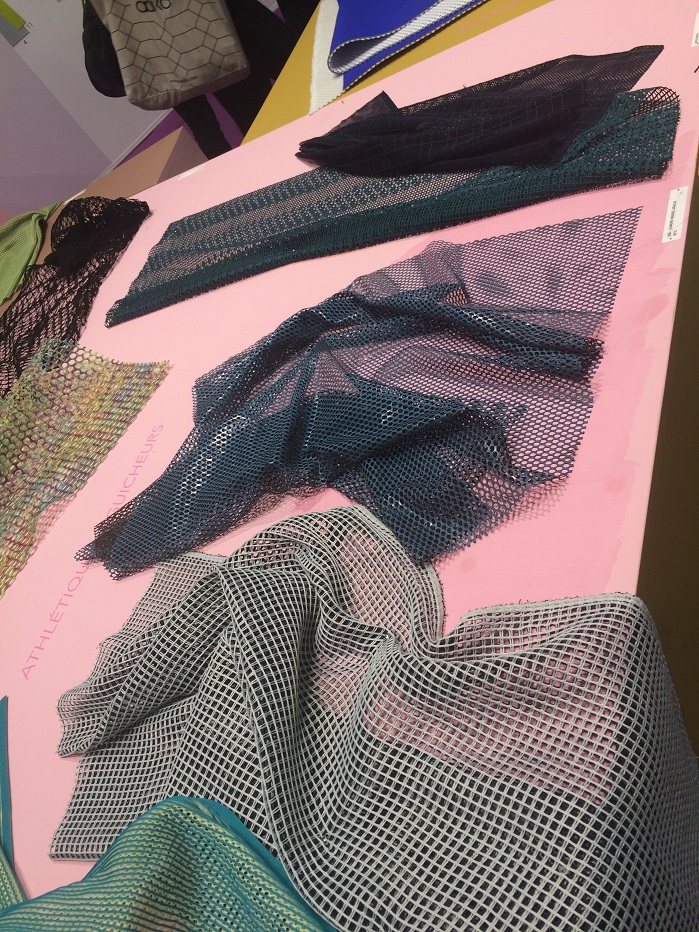 Jolly seaside fabrics and Italian Riviera influences dominated, bright colours, holey constructions and an air of Mediterranean glamour.
The French knitters' federation, France Tissu Maille, emphasised a cleaner, more sophisticated look, using denim blue and white, chic knitted fabrics and interesting combinations of colour and texture recalling Deauville or resorts of the channel ports – stripes and faded nautical looks. Optical white was chosen as a foil to many other colours.
Portuguese knitters banded together, LMA showed many sporty technical applications with fashion colours and designs. Sport meshes previously associated with lining became the garment focus. Sporty nets were shown in combination with other fabrics, and hole punches on jerseys gave another look at Sidonias Malhuis in green and black. Soft, cosy cotton jerseys had textures and slubs while more nets were seen in black plastic designs as well as mother of pearl plasticised knits at LMA Alitecho. Bright Brazilian fabrics were also on show.
Printed knits included large floral designs and also yarns which themselves were printed with colour. Tones from light blossoms to tropical blooms and details from petals with rolled edges and hems were key and shadow prints were often leafy and in layers recalled plant construction.
Designs were often magnified, with large herringbones, stripes or florals making a dramatic effect. Stripes from fine, thin colours to broad deckchair, also randoms with marled yarns and space dyes, lozenge designs, stripes which wavered across the fabric, bulging lines, in shades like metallic orange on a grey ground, and large thinly-drawn windowpanes on jerseys.
Cotton, viscose, and linen dominated, sometimes decorated with metallics, shiny elements and ribbons. Hemp and ramie also made an appearance. Many fabrics were light as air, from puffed-up yarns giving an impression of weightlessness and froth; in cotton, wool, cashmere, or silk, as well as combinations with man-mades.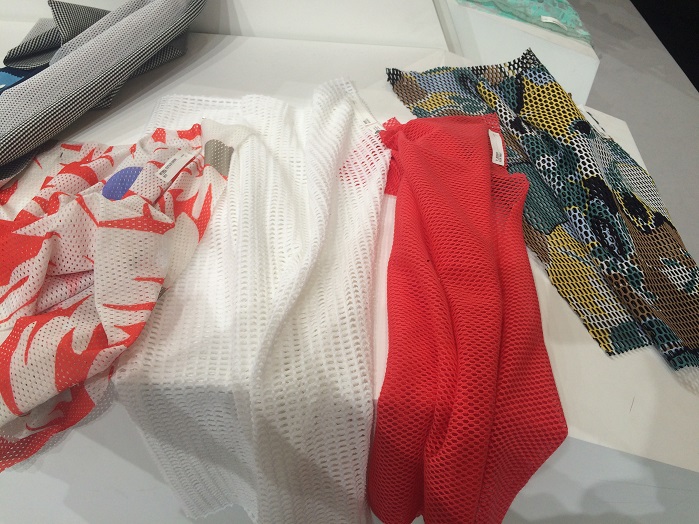 Although there is a real emphasis on the natural the sustainable and the recyclable, it true that shiny, boldly synthetic looks also flourish with the use of polyester, nylon, polyamide yarn or coated fabric. These had an unashamed artificial appearance. Metalloplastic polyester mixes gave shine and an artificial handle.
Frills and embroidery in nylon or polyester echoed this substantial effect which made a good contrast to the soft, floating fabrics seen in most collections. Raffias and cellophane materials were both decorative and looked new.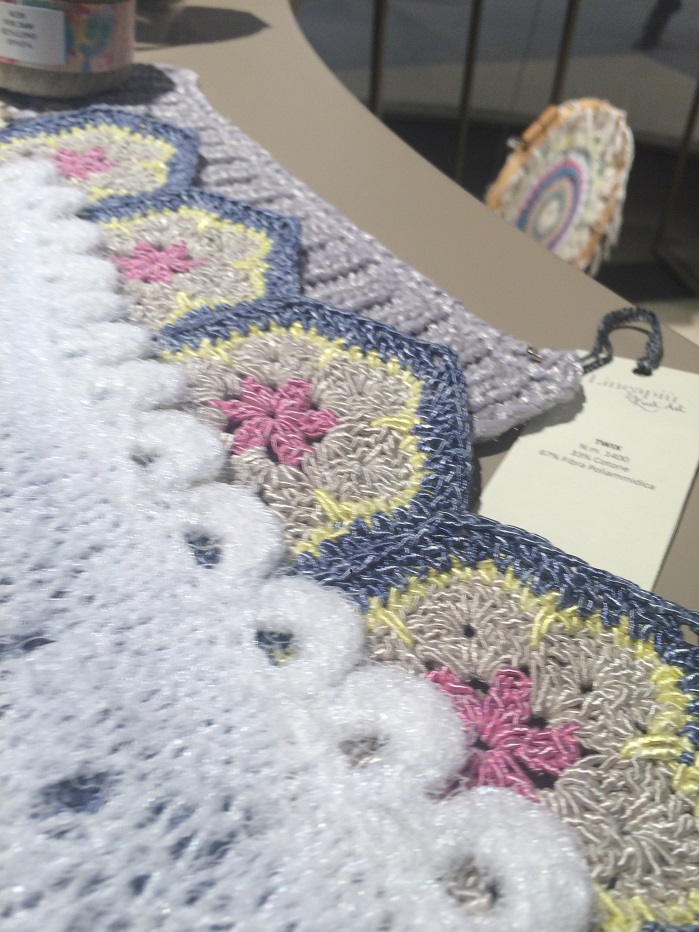 Hand knitted looks reflecting the growth in demand internationally for high quality knitting yarns, in wool, cotton and mixes, with fashion colours and marl effects. Hand knit, loosely stitched, large gauge designs and with squares of simple contrasting stitches in naïf styles. More crunchy handles and a crisper look made an appearance, often in pure linen.
At the trend areas, knitted fabrics were shown interspersed or allied to wovens, emphasising the natural synergy between two technologies and pointing out similarities and differences between the interpretations of contrasting trends.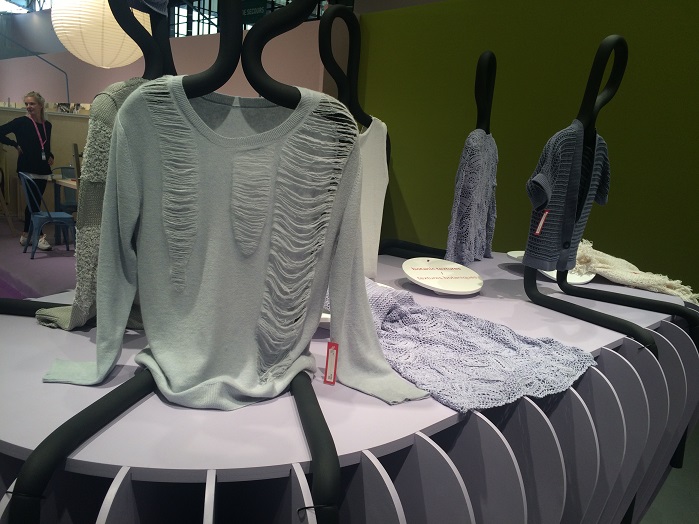 At Premiere Vision Yarns (ex Expofil), the art of the possible appeared. Shiny viscose yarns and textured polyester - organic shapes like liquid mercury drops in arty fabrics in Miroglio yarns in pale off-white and blue.
Transparent net looks were painted with silver around felted circles of pale blue. The emphasis on pared-down design and high quality highlighted extra decoration such as crystalline sparkle with acrylic dyed yarn and hologram sequins. Monticolor had gold viscose, polyamide, and metallo plastic yarns, Mundifios, China blue cotton, Pozzi Electa shine from viscose and silk yarn.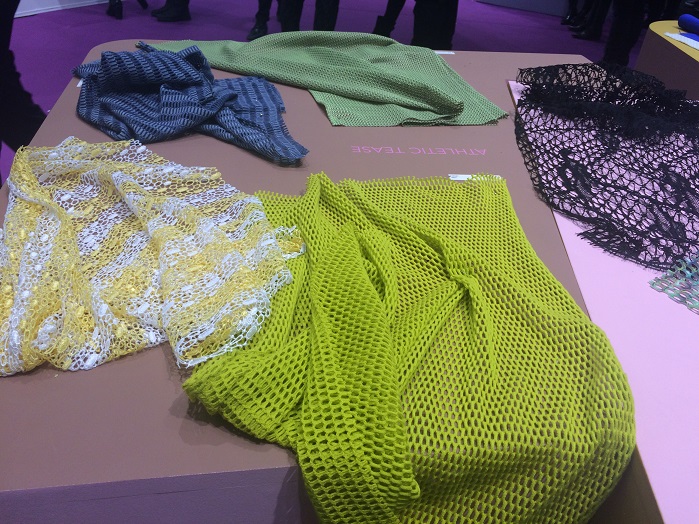 Pretty looks with pale colours, pinks, greens, pale lemon, ribbons and other decorations included net and embroidery. Raised blister designs, spots of different stitches, knops and bumps gave surface interest which in all areas was crucial, from tiny slubs to large, statement designs.
Some fabrics were presented in tandem, an opaque knit with an over-net in fine gauge or a thicker, more maritime look in contrasting or matching colours over satin or jersey.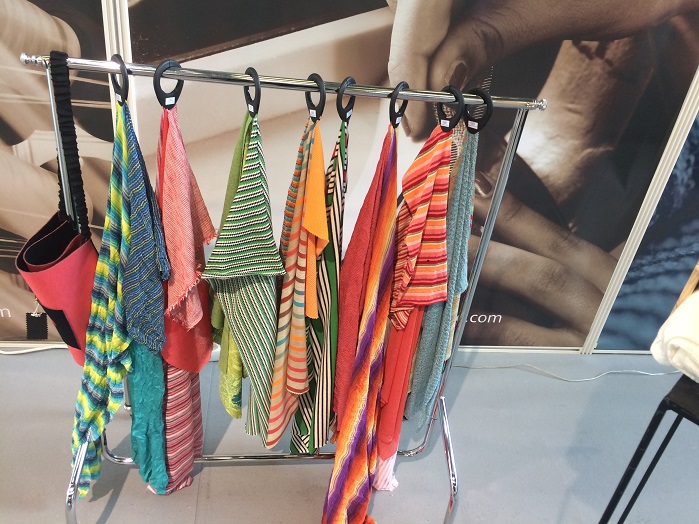 More animal fibres than usual for summer were noted, lightweight fabrics with wool or cashmere, often mixed with cotton, linen or silk. Cool Wool fed into the techno story with many different easy care and protective treatments being flagged up. Midseason designs are becoming more important, according to exhibitors, many with collections to flag all seasons of the year.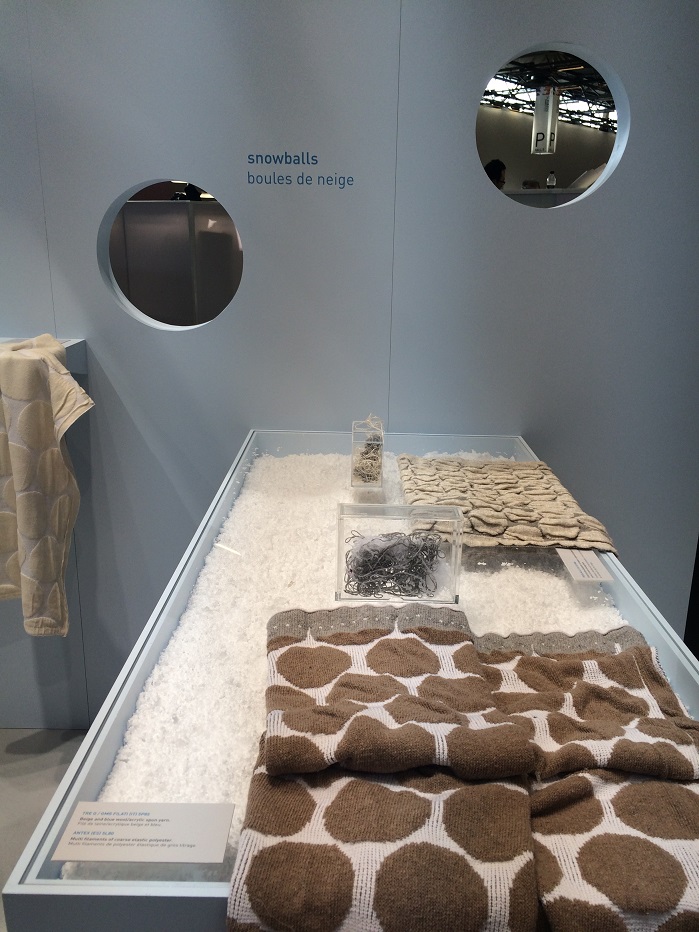 During the week new developments were flagged up particularly for knits: Fieratex emphasised Aquamove, the moisture management system, Meryl Merino is a new yarn with Meryl core surrounded by Merino wool designed for sportswear and knitting, it is regarded as further development of the seamless technology which has been pioneered by the company and it was a talking point. Its application is seen for jumpers, next to skin wear and also for sportswear, both active and leisure.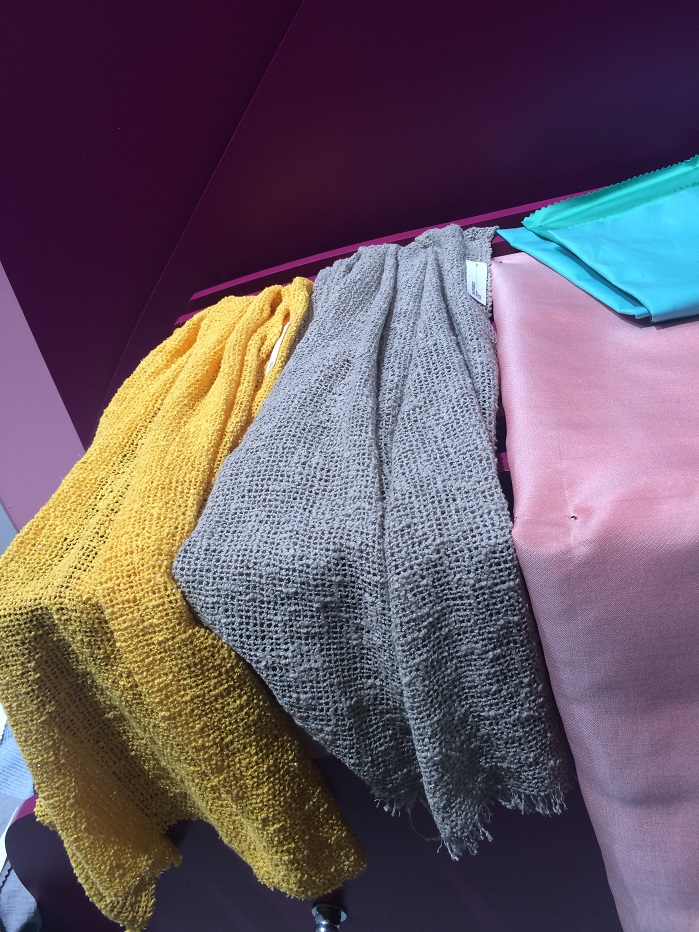 Tencel A100 was introduced by Lenzing in a micro version, a new development to be produced at Grimsby in the UK, Lenzing emphasising that innovation continues, with 2 years in the engineering of the fibre and over 1 million Euros being involved. 'Our key aim is going strongly into knits' the press were told, with blends with wool and silk described as ideal for sportswear and sweaters.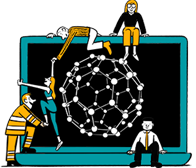 Business intelligence for the fibre, textiles and apparel industries: technologies, innovations, markets, investments, trade policy, sourcing, strategy...
Find out more