9th October 2010, New York
Premiere Vision strengthens North American presence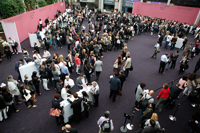 Première Vision has announced the establishment of a new North American organization to integrate its own team within its subsidiary Première Vision Inc. Located in the heart of Manhattan's fashion district, the new office will be headed by Thierry Langlais, who has over twenty years of experience in business development for fashion and brands in the American market.
Première Vision Inc. takes over from France Ligne, the company headed up by Laurence Teinturier, who has guided and supported the success of Première Vision in the area for the past 12 years. Première Vision Inc. will also be in charge of marketing and promotion for Direction by Indigo, following the purchase of this textile design show by Première Vision in 2008.
By setting up a unified structure with its own dedicated staff, Première Vision is underlining its desire to consolidate and maintain its position in the North American market over the long term, in addition to strengthening the development of the services it provides to professionals and the promotion of its local and international shows.
In the U.S., Première Vision organizes two events:
Première Vision Preview New York, a preview fabric show for North American buyers, which is held twice a year and attracts most of the major names in American fashion. For its 21st edition, held last July, the show brought together one hundred odd exhibitors and welcomed 3,200 visitors (up by 7%).
Through its three annual editions, Direction by Indigo, which has now joined Première Vision Preview in Chelsea, is said to have confirmed its role as the leading salon in the American market.
Internationally, Première Vision currently manages 23 shows a year in 8 countries, either alone or in partnership, shows that bring together over 3,400 exhibitors and welcome some 140,000 industry professionals from across the globe.
This article is also appears in...