Fabrics for Autumn/Winter 2013/14 contrasted opulent surfaces and handles with compact density and functional technicity at the September 2012 edition of Première Vision Pluriel in Paris.
Visitor traffic was strong over the first two days of the fair, according to Phillipe Pasquet, CEO and editor-in-chief of Première Vision, calling the opening day "historic, ahead of expectations." Exhibitors were also pleased with attendance at the fair; Bel Maille's Stéphane Ziegler commented, "Traffic has been very good with our current customers. We were very happy to see several new customers, including more Americans."
Exhibitor figures for the fabric fair were up 4.3% over September 2011, to a total of 745 companies, including 26 in the new Knitwear Solutions area. Dedicated to creative flat-bed knitwear, the Knitwear Solutions space was a response to the surge in creative RTW knitwear, which has grown in many collections to represent 20% to 40% of the offering. The new space meshed well with the knitwear studios exhibiting in Indigo, and with the yarn spinners at Expofil, to enhance PV's expanding emphasis on knits.
Solidity, roundness and warmth
There was a sense of solidity, roundness, and warmth to the knitted textiles on display at the trend forums and throughout the stands. Knits were hairy, velvety, wooly, fleecy, and felted; with an emphasis on mohair, bouclé, cashmere, and viscose to create volume without weight. Target SRL's mohair knit collection included plush coatings, ajourés, and embroidered winter lace; while Brugnoli Giovanni's knitted mohair was as light as soufflé.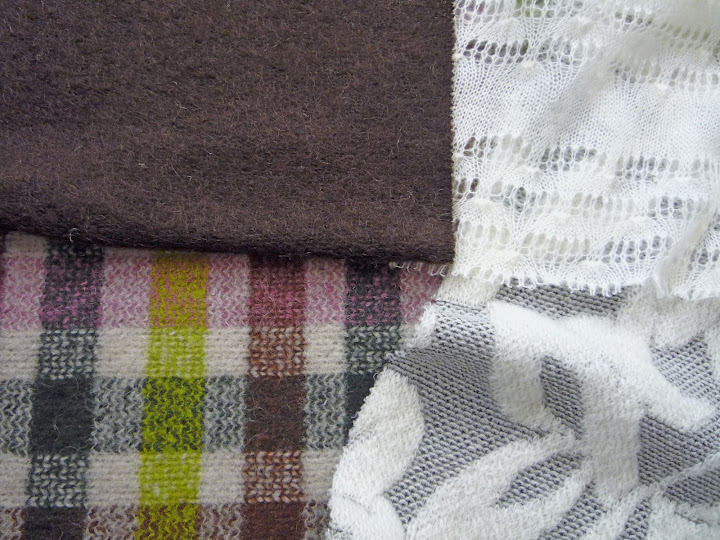 Toko Shoji offered substantial knitted wool-blend coatings in blanket stripes and poodle bouclés. Blurry grey chiné yarns, space-dyed and nep yarns cast a haze over solids, print grounds and yarn-dyed plaids, making patterns seem to disappear, as in Bel Maille's romantic winter floral printed over a grey heather jersey.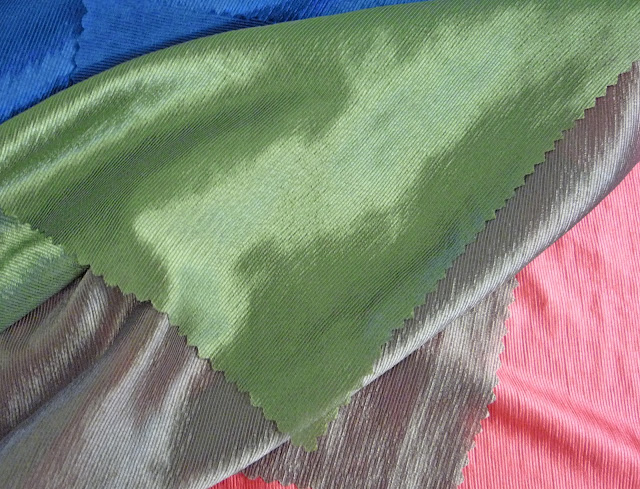 Colours were heavier and more matte, with the exception of fluid satins and shots of metallic colour, newest in copper. Fukui Warp Knitting's gleaming polyester satins were created via weft insertion, while Brugnoli Giovanni offered a soft mélange jersey shot through with metal.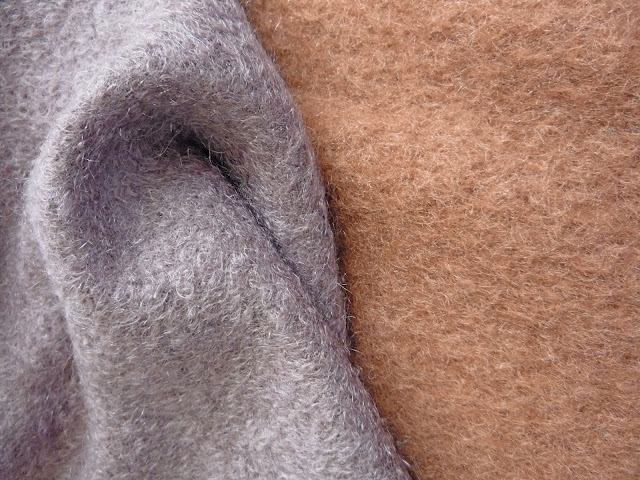 Knitted velvets and pannés were limp and relaxed, sheared or embossed; while a new range of T-shirt knits was characterized by wooly or emerised handles or brushed backs. Very fine-gauge "petites laines" with a vintage feel were featured at knitters such as Toko Shoji, Toki Sen-i, Minami, Emme, and Jackytex.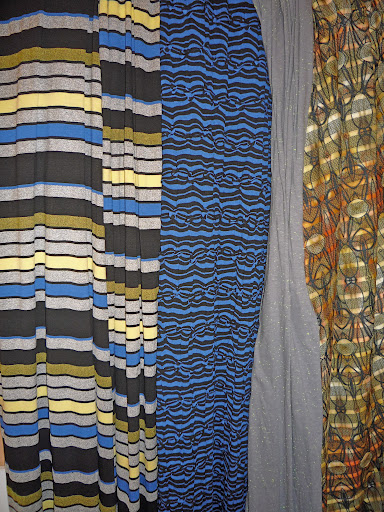 In contrast, the fair saw a resurgence of technical fabrics, led by double-faced or reversible knits, compact fine-gauge interlocks, neoprene-like "scuba" knits, and spacer fabrics. Some of these had a unique gummy or spongy handle, while others offered elastic stretch for ergonomic design. Sofileta's technical knits included compact 50-gauge stretch interlocks, while Bel Maille's "Millenium" collection featured a sculptural spacer knit as well as a jacquard spacer digitally printed with a futuristic scenic pattern. Brugnoli Giovanni's super-stretch laminated scuba fabric was worked in contrasting colours.
Combining knits with wovens
Bonding and laminating combined knits and wovens in innovative opposition to give fabrics dual personalities, such as Schoeller's knitted mesh spacer with wool flannel, and soft shell with Merino wool jersey on the back. There were endless permutations of these "assemblages" such as wool lace bonded to mélange jersey, sweatery knits bonded to long-haired fleece, or quilted silks bonded to boiled and felted knits; as well as needle-punched and plaited doublecloths. Many of these fabrics sported hidden technical assets: wind and water-resistance, breathability, or stretch.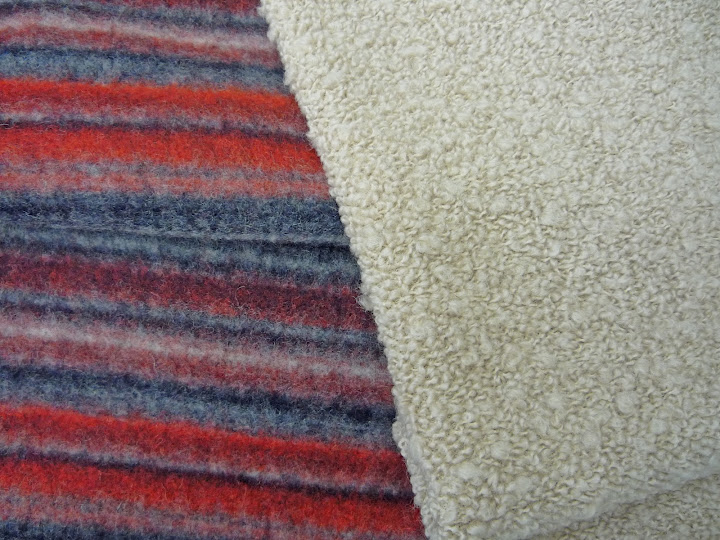 Novelty knits included heritage raschel patterns, or were worked to imitate wovens or coarse-gauge knitwear in doubleknit jacquards, blister stitches, and chevrons. Knitted denims with cozy looped backs or futuristic surfaces showed up at Toko Shoji and Savyon. Graphic patterns and energetic stripes were strong at Bel Maille, boosted with coloured metallics.
While there was a feeling of the Baroque about much of the season's pattern work, with elegant damasks, scroll patterns, and heraldic influences; there was also a touch of wild nature in wooly faux furs and fleeces and overscaled jacquards with the look of protective animal carapaces. A special exhibit of knitwear by 2012 Hyères Festival prize-winner Ragne Kikas beautifully elaborated this mood with her "Dress Code Defensive" collection.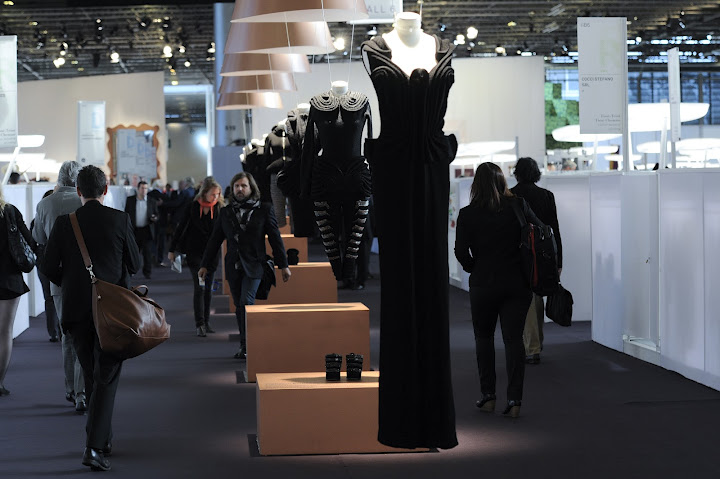 Knitwear was also a focus at CELC Masters of Linen, where participating knitters developed a collection of winter knits mixing linen with wool, cotton, cashmere and alpaca in innovative textures that ranged from rugged to refined. Structures included fully-fashioned flat knits as well as circular knit jerseys, piqués, fleeces, jacquards, interlocks and ribs; some with metallic or waterproof coatings.
Knitwear Solutions
The Knitwear Solutions area, comprising manufacturers of flatbed knits as well as yarn spinners and flat-bed machinery manufacturer Shima Seiki, offered designers and sourcing agents an opportunity to view and develop knitwear garments for their lines. Finnish knitwear designer Aamu Salo directed the manufacture of exclusive items for a trend exhibit on a Shades of Fantasy theme, featuring plays of contrasting yarns, blurred colours and random patterns, heavy cables and relief textures, graphic jacquards and fine-gauge sheers, and ergonomically-designed knitwear combining tight and loose stitches to sculpt the body. Decorative techniques such as ombréd patterns, digital and placement prints, and hand-painted designs created differentiation.
In conjunction with Knitwear Solutions, sixteen creative knitwear studios exhibited at Indigo, the show for textile and pattern designers. At Sophie Steller, managing director James Tincknell reported that surface texture was key, with interest in mohair and lofty yarns, as well as in marls and sparkle. Fay Nixon of Cast Creations also called out mohair and other hairy yarns, along with sparkle and "a lot of colour." Dominique Coiffait of Zinc Design noted that their slubby jacquard designs had "sold out," with a demand for lighter and more open coarse-gauge patterns on the part of US buyers, where unusually warm weather has had a detrimental effect on sales of heavy garments.
Also featured at Indigo were several designers from the UK's Texprint® organization which provides opportunities for talented textile design graduates. The colourful and playful knitwear from Carlo Volpi, winner of the Texprint Body Prize for the best fashion fabric design in any discipline, reflected his background in print design with strong graphic patterns and patchworked textures. Also outstanding were the knitwear offerings of Texprint designers Sarah Burton, Charlotte Crombie, Catherine Hodgkinson, and Guri Pedersen.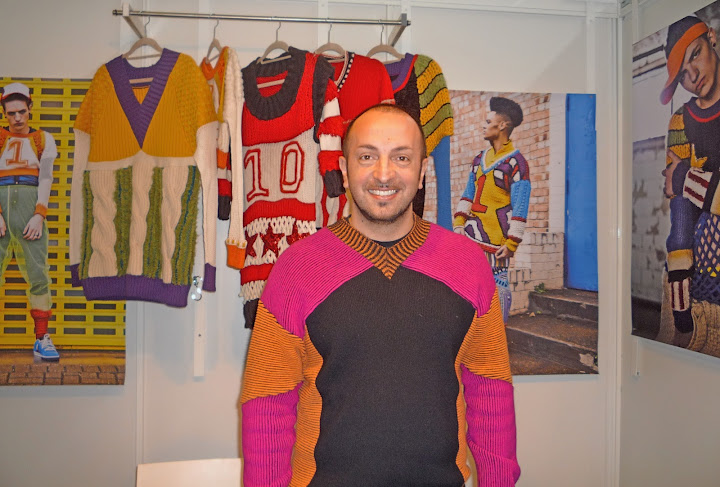 Summing up the season's direction, the fair's Trendvision seminar cited our need to reconnect to reality and a new humanism. "We need to perceive man's hand in our manufactured product," asserted Sabine le Chatelier, PV's deputy fashion director. The heavier, denser, more tactile fabrics of the season will embrace us with "a precious armour."