2nd March 2015, Ammanford
Prince of Wales pays royal visit to Welsh sock factory
HRH The Prince of Wales has officially opened a new extension at the headquarters of luxury socks and knitwear manufacturer Corgi Hosiery in Carmarthenshire, South West Wales.
His Royal Highness, whose Royal Warrant the company carries on all of its socks and knitwear, was visiting Corgi's factory in Ammanford, where he was given a tour of new production and distribution facilities and met apprentices.
Royal visit
The Prince was shown around the 3000 sq ft extension, which houses a new Factory Shop, new knitting machines, and a large storage area to accommodate increasing sales through Corgi's online store.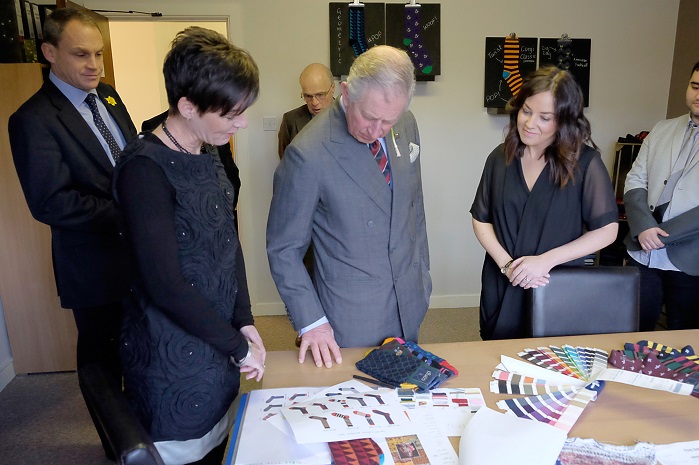 He was also introduced to staff and apprentices working at the family-run firm, which employs over sixty people from the local area in a range of design, production and administration-based roles. Among those he met were apprentices training at Corgi as part of an apprenticeship scheme run jointly by local college Coleg Sir Gâr and the training organisation Creative Skillset.
Corgi has been involved in the scheme, designed to offer local young people the opportunity to take the first steps towards a career in the fashion and textile industry for more than a year.
Exciting developments
Corgi's Director Chris Jones, who runs the company jointly with his sister Lisa Wood said: "We are delighted to welcome HRH The Prince of Wales back to the Corgi factory today. The business has expanded significantly since his last visit so it's been good to talk him through the exciting developments that have taken place and to introduce him to our growing team of staff and apprentices.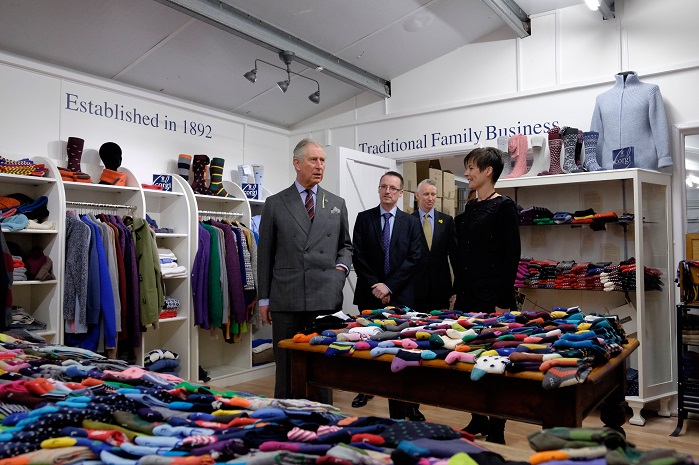 "We would like to extend our warmest thanks to the The Prince and other members of the Royal family for their continued support".
Regimental Collection
During his visit to the factory HRH was introduced to representatives of Combat Stress, the veteran's mental health charity, invited to receive a cheque for £5000 from the company, money generated through sales of Corgi's exclusive Regimental Collection socks.
The Regimental Collection was produced in close association with HRH The Prince of Wales and included nine designs, each one depicting the unique stripe and colours of one of the regiments or battalions of which he is Colonel or Colonel-in-Chief.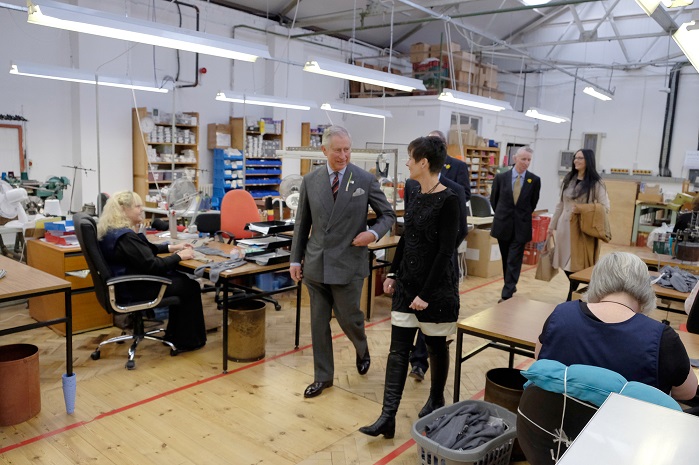 It is endorsed by the UK Ministry of Defence and a proportion of all sales is donated to Combat Stress, of which HRH The Prince of Wales is Patron.
"It was a brilliant decision by Corgi to design the Regimental Collection of socks," said Tim Brawn, Director of Fundraising and Communications at Combat Stress. "Combat Stress has been fortunate to have HRH The Prince as our Patron since 2003 so we were delighted to be chosen by Corgi to be the beneficiary of the Collection."
This article is also appears in...