4th February 2010, Hawick
Pringle reports 9m losses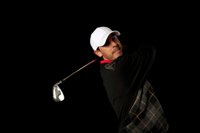 According to a BBC news report this morning, Scottish borders based Pringle of Scotland recorded losses in excess of £9m for the third year running in its latest accounts. However, the company's Hong Kong headquartered owners Fang, are said to believe the company still has a bright future.
The report says that in their latest accounts, directors stated they did not expect short-term profits but were satisfied with the "development of the brand". Pringle ceased production at its historic mill in Hawick in 2008 but retains its head office in the town. The company was bought by the Fang family from Dawson International ten years ago.
The Pringle brand has been repositioning itself in an attempt to gain new customers beyond its traditional golfing clientele but the latest accounts show it suffered a loss before tax of £9.3m in the year to 28 March 2009, slightly down on the £9.5m posted in 2007/8. This is the third year in a row the deficit has been more than £9m but even so the company said it continued to invest in the "long-term development of the Pringle brand and business on a global basis".
The accounts show that redundancy costs relating to the closure amounted to around £800,000. Since the closure of its Hawick mill Pringle has been outsourcing some of its knitwear production to companies in the Borders and elsewhere. Pringle, which was formed in 1815 was the flagship of the knitwear trade in the Scottish borders, employing as many as 2000 workers at one point.
This article is also appears in...