25th September 2013, Reutlingen
Productivity and cost efficiency with Stoll Software Solutions
Stoll Software Solutions from leading German flat knitting machine builder Stoll now offers a broad array of useful software tools which complement Stoll knitting machines and pattern design solutions. According to the company these tools will offer many benefits to textile manufacturers who are looking for maximum flexibility and cost-efficiency.
"When it comes to flexibility and cost-efficiency, Stoll leads the way - not only with its proven, made-in-Germany flat knitting machines, but also with its' outstanding services. Stoll Software Solutions is yet another feather in the company's cap, providing customers with highly useful and innovative and software tools that offer added value by not only simplifying daily work, but also by noticeably improving productivity over the long term," the Reutlingen based company said in a statement today.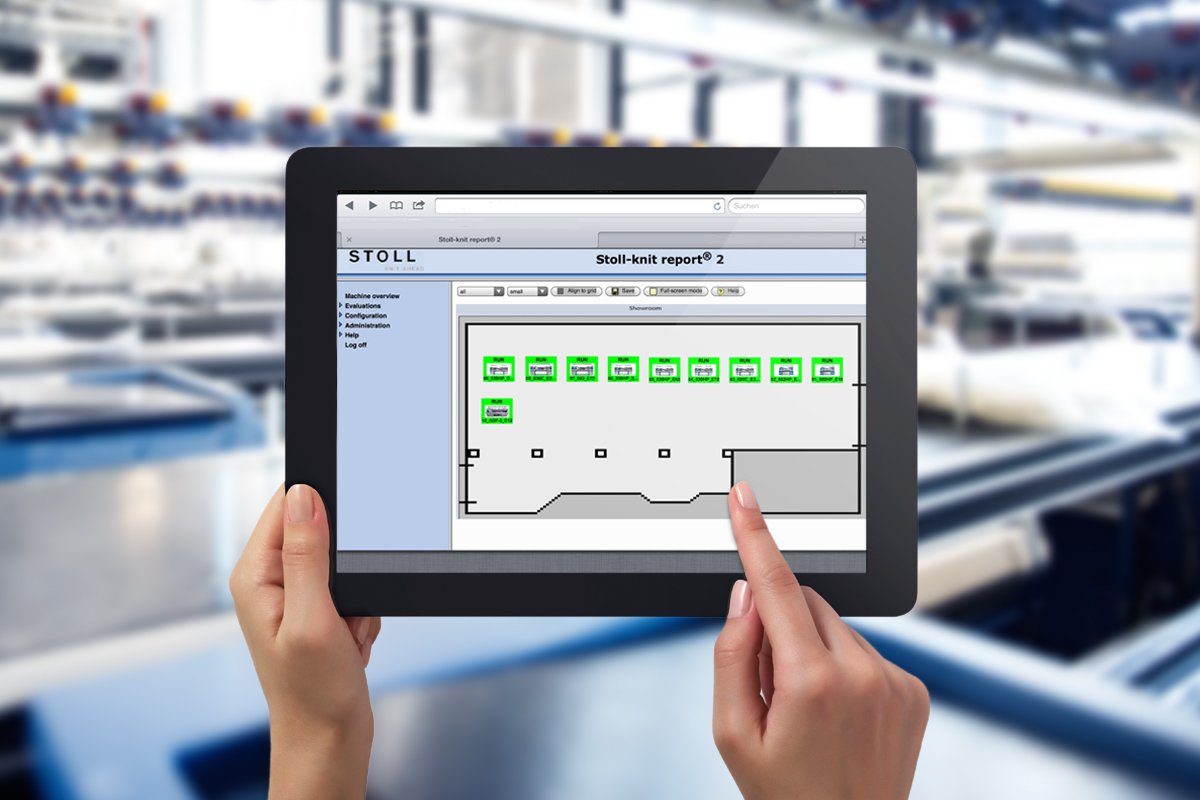 To highlight this added value, Stoll has recently launched www.stoll-softwaresolutions.com , a new website that gives customers a detailed overview of the five different Stoll applications, which are separately described under the following headings: Management Tools, Flexibility, Pattern Design Software, Connectivity and Operating systems.
The Management Tool, Stoll-knit report 2, allows you to control and monitor your machine plant quickly, efficiently and in close proximity to your machines. Orders can be distributed immediately using the order management software. To provide maximum flexibility for users, the order management software, the Stoll-knit report 2 and the machine operator user interface can be operated from a smart phone or tablet.
The established pattern software M1plus is an important component in the Design Software solutions series. It is used to design and create patterns efficiently and quickly. According to Stoll, it also supports all known knitting applications, including fully fashion, Stoll-knit and wear, intarsia, Stoll-multi gauges, plating, Stoll-devoré knit and plush.
Stoll's Connectivity Tool is said to make its knitting machines considerably more efficient because it allows them to communicate. Stoll machines are equipped with a USB interface, Ethernet and Stoll-KnitLan, enabling data to be transmitted and then centrally stored in the network data storage unit.
Stoll also offers yet another application called Machine Update. Every flat knitting machine from the same control system generation has the same machine Operating System. This means that the machines can be easily updated. The advantage is that updates contain not only innovative knitting applications, but also improve machine operation.
H. Stoll GmbH & Co. KG is a leading producer worldwide of flat knitting machines with headquarters in Reutlingen, Germany. The traditional company was founded in 1873 and has 1,000 employees worldwide. The Stoll brand name portfolio includes flat knitting machines and pattern software used to manufacture fashion, industrial and medical textiles. Its products have been successfully sold in over 70 countries.
With subsidiaries, sales and service centres as well as numerous distributors all over the globe, Stoll offers a complete and integrated service program. Through innovative technological developments and its 'made in Germany' production, Stoll is at the forefront of the newest knitting and textile developments, which are launched using inspiring, company-designed fashion collections.
This article is also appears in...