21st December 2018, Brazil
Puket gives socks new life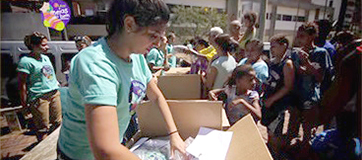 Puket, a company from Brazil, has developed its own concept that combines success with sustainable production and social commitment: the campaign Meias do Bem, also known as the Goodwill Socks Project.
Puket was founded in the 1980s as a socks manufacturer. From the very beginning, the founder's focus was on fun, quality and innovative design. The company quickly made a name for itself with its unique, colourful and creative socks. Today, each collection comprises over 2,000 different items. In addition to pyjamas and socks, this also includes underwear, swimsuits, shoes, accessories, exclusive gift packaging and more.
The two production sites in São Paulo and Campo Grande have a combined production area of over 9,000 m2. And following the opening of the first Puket shop in 2003, the company developed into a successful franchise with over 6,000 sales outlets, both in and outside Brazil. There are now Puket shops in Bolivia, Peru, Panama, Dubai, Qatar, among other places.
The company received numerous awards since it was founded, reflecting the success of the business, as well as social responsibility and commitment. Puket collects old, damaged or single socks at its shops and other defined collection points for this project. Socks of any brand and in any condition can be donated. The important thing is that they are cotton socks, as this is the material best suited for the recycling process.
The socks are washed, ground, shredded and compressed. Around 40 pairs of socks are needed to make one blanket and these blankets are given to people in need, along with a new pair of socks.
The Goodwill Socks Project was the brain child of Claudio Bobrow, founding partner of Puket. From the very beginning, the company recycled its textile waste. Bobrow decided to expand this idea and looked into whether it was possible to make blankets from old socks. This has grown to become not only a large-scale charitable project, but also an important contribution to sustainability and environmental protection.
"Only a fraction of all textile waste is recycled worldwide, even though it could be reused and processed in other sectors. Every sock donated for Meias do Bem does not become waste and thus helps both man and the environment," the company says.
This article is also appears in...