12th November 2009, Ludhiana
Punjab production drops after labour shortages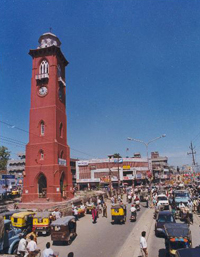 As winter sets in, hosiery industrialists in India's Punjab state fear not being able to meet the demands of the domestic market this season. Manufacturers of woollen hosiery and knitwear have experienced a decline of 20% in production caused by labour shortages and power cuts and are supplying export markets at the expense of domestic markets.
The labour shortages are said to be caused by Biharis, from North East India failing to return to Ludhiana and other Punjab production centres, after going home to Bihar to celebrate the season's religious festivals. Biharis are also said to be pre-occupied working on government funded projects in their own region where they can now earn as much as they can in Punjab and other states.
Vinod Thapar, President of the region's Knit Wear Club, told journalists that production had fallen by almost 20 per cent and while industrialists were under pressure to meet export demand, the decline in production had caused a shortage of supply of woollen goods in the domestic market.
According to Jai Bihar, a Bihari newspaper, Sandeep Jain, Executive Director of Oswal Woollen Mills, also apprehended that the domestic market would be affected as the production this year is less. Akhil Duggar, creative director of Madame, echoed similar views adding the industry is looking for alternatives to meet the demand, the paper said.
Welcoming the trend of reverse migration, Baidyanath Singh, a prosperous farmer of Riga in Sitamarhi district, said, "This should be read as a good sign for Bihar's economy. As labourers migrate to Punjab and Assam, we face shortage of labour in agriculture sector even though farmers here are willing to pay at par and sometimes even better than the Punjab farmers."
Source: Jai Bihar
This article is also appears in...