27th February 2014, Boennigheim
Quality mark for skin-friendly clothing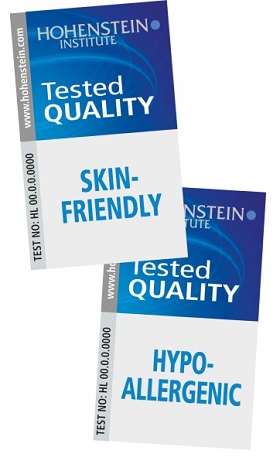 Product labels make consumers aware when they are buying products, of certain quality features that they would be unable to assess without the additional information.
The label Tested quality: skin-friendly introduced by the independent Hohenstein Institute confirms that a fabric will not cause any cellular damage or irritation to skin cells.
The endorsement of Tested quality: non-allergenic also gives consumers the security of knowing that the tested fabrics are not going to release any substances that may trigger allergies.
Recognition and credibility
Companies that have their products tested by the Hohenstein Institute include Rabe Moden in Hilter, Germany. The manufacturer of high-quality ladies' outerwear and knitwear has made a deliberate decision to have large parts of its range checked by the experts at the Hohenstein Institute.
In 2013, Rabe Moden won the Textilwirtschaft magazine's award for Top brand - ladies' outerwear and knitwear for its overall image and for important individual categories such as product, goods and partnering performance.
Jörg Weber, Managing Director, commented: "Nowadays, consumers look very carefully at what they are buying and they are beginning to attach more importance again to high-quality clothing. The quality label has a great deal of credibility because it is issued by a recognised independent test institute. By using it, we are sending out a clear signal that sets us apart from our competitors."
Effect-based approach
The effect-based testing systems are a supplement to traditional testing for harmful substances such as for compliance with the OEKO-TEX Standard 100. The skin compatibility tests check whether any individual substances or combinations of substances that could be released from the textile material could cause negative skin reactions.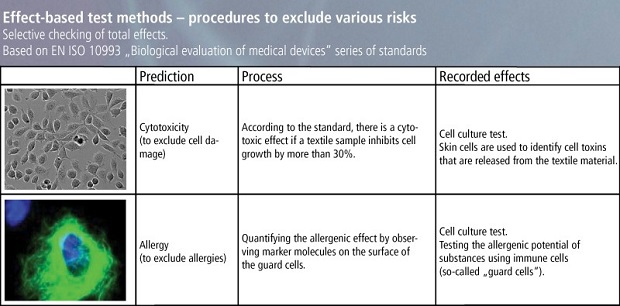 The combination of the two kinds of test offers maximum security, which especially benefits allergy-sufferers and people with sensitive skin, the Institute reports.
The tests for skin-friendliness are based on test procedures (DIN EN ISO 10993-5) that are also used to test the safety of medical products for use by humans. Living cells are used for this, to ensure that the results are as realistic as possible.
This article is also appears in...