On 24 April 2013 in the Balngladeshi district of Dhaka, 1,133 people were killed and approximately 2,500 were injured following what is considered the worst garment-factory accident in history, when an eight-story commercial building named Rana Plaza, collapsed.
The tragic accident sparked discussions about corporate social responsibility across the global supply chains. Many consumers spoke out against unsafe working conditions found in the factory building.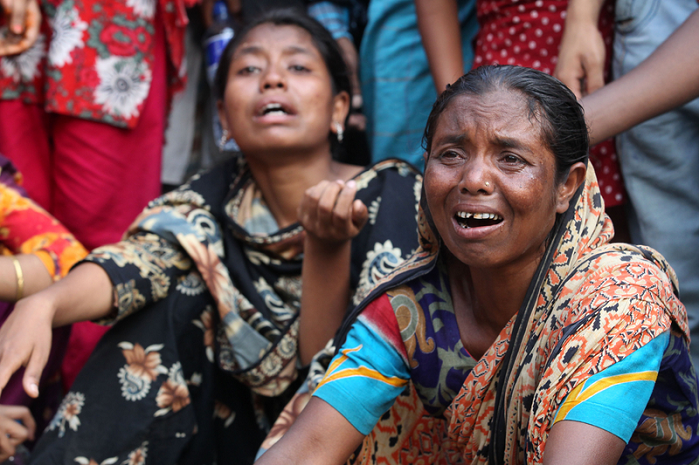 Subsequently Fashion Revolution Day was proclaimed to take place on 24 April to mark the anniversary of the disaster and spread awareness amongst consumers. This spring, the world also saw a premiere of a new documentary film by Andrew Morgan called The True Cost, which was aired worldwide on 29 May.
Tragedy
The Rana Plaza complex housed a number of clothing factories employing around 5,000 people. The factories manufactured apparel for fashion brands including Benetton, Bonmarché, the Children's Place, El Corte Inglés, Joe Fresh, Monsoon Accessorize, Mango, Matalan, Primark, and Walmart.
On 23 April 2013, a local television channel recorded footage showing cracks in the Rana Plaza building, which led to the evacuation. The shops and the bank on the lower floors immediately closed. Garment workers, however, were ordered to return the following day and the building collapsed during the morning rush-hour.
Andreas Wieland, an Assistant Professor of Supply Chain Management at the Department of Operations Management, Copenhagen Business School, and Robert Handfield, PhD, the Bank of America University distinguished professor of supply chain management, produced a Supply Chain Management Review, analysing the events of 2013 in Bangladesh.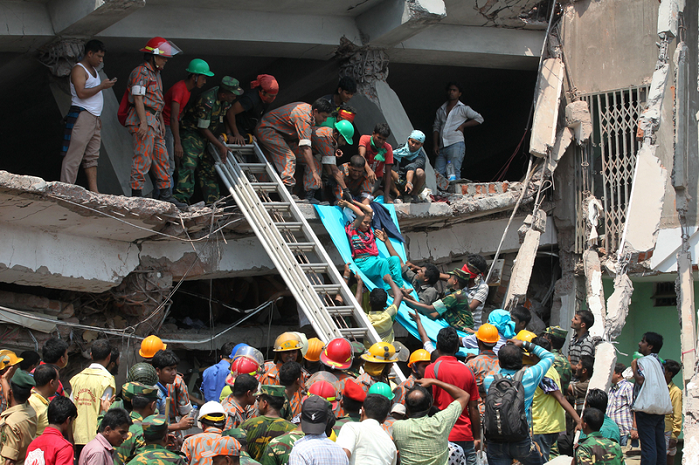 Based on an analysis of the incident, they suggested that companies need to audit products and suppliers, and that supplier auditing needs to go beyond direct relationships with first-tier suppliers.
Clothing industry
Bangladesh is one of the biggest producers of clothes in the world. Its Ready Made Garments (RMG) sector mainly comprises of knit garments, followed by woven products, according to BKMEA, Bangladesh Knitwear Manufacturers & Exporters Association. The country's export-oriented knitwear industry is the leading exporting sector in Bangladesh.
Traditionally, Bangladesh's exports have been leaning towards the EU and the USA, the association reports. According to BKMEA, the EU is the largest destination for Bangladesh's knitwear, worth US$ 8.7 billion with share of 72.03% exported in the year 2013-14, followed by the USA with US$ 1.2 billion and a share of 9.93%.
Despite the notoriety of labour conditions in the RMG sector in Bangladesh, the country's knitwear sector plays a significant role in employment generation, women empowerment, poverty reduction, as well as in health and nutrition improvement, according to the association.
Legal action and support
It was announced this month that the police in Bangladesh has filed formal murder charges against 42 people, including Sohel Rana, the former owner of the Rana Plaza, and more than a dozen government officials. They are accused of ignoring warnings the day before the building collapsed and letting workers in. A court hearing is set to take place on 28 June to decide further proceedings.
At least 29 global brands had recent or current orders with at least one of the five garment factories in the Rana Plaza building, according to the Clean Clothes Campaign (CCC), an alliance of organisations in 16 European countries, dedicated to improving working conditions in the global garment and sportswear industries.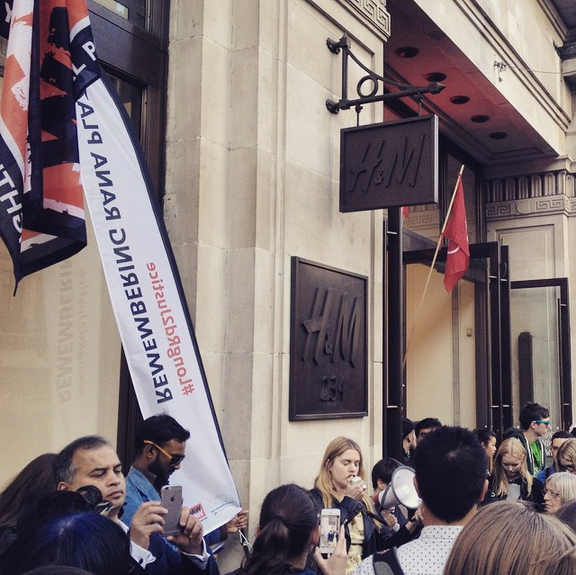 A fund was established in January 2014 to compensate victims of the collapsed Bangladesh textile factory, following the agreement based on existing International Labour Organization (ILO) compensation conventions. The Rana Plaza Donors Trust Fund has finally reached its target of US$ 30 million this week, with help of companies, organisations, public bodies, and individuals.
According to the CCC, just half the companies connected to factories in the building have made contributions to the fund, including Bonmarché, C&A Foundation, Camaïeu, El Corte Inglés, Inditex, KiK, Loblaw, LPP S.A., Mango, Mascot, Premier Clothing, Primark, Walmart, and The Children's Place through BRAC USA. Other clothing retailers, such as N Brown Group, VF Corporation, Hudson Bay Company, Next, and The Gap, have also made contributions as brands that source from Bangladesh, but had not had a sourcing relationship with Rana Plaza.
New Fund
The G7 summit in Bavaria has agreed to set up a new fund to help improve the global supply chain. The G7 will recommend that western consumers have access to apps that inform them about the conditions, where the clothes they intend to buy were manufactured.
The fund would be managed together with the International Labour Organisation, and require contributions from trade associations in developed countries represented at the G7. It is expected to act as an insurance system for firms that commit to prevention measures and help implement labour, social, environmental and safety standards.
Fashion Revolution
The Fashion Revolution Day is an idea inspired by the Fashion Revolution campaign, created by Carry Somers, a UK hat designer and fair trade pioneer, and Orsola de Castro, an internationally recognized opinion leader in sustainable fashion.
Since winning the Ethical Fashion Awards in 2010 and 2011, Orsola de Castro and Carry Somers have come together to create this global initiative to encourage transparency in the fashion supply chain. "We have created a platform which everyone can use to ask questions, raise standards and set an industry-wide example of what better looks like," said Carry Somers.
"Whilst much has been done by individual organisations over the years to bring about change, Fashion Revolution provides a platform for best practice initiatives from across the supply chain. Everything from Fairtrade, which focuses on the cotton farmer at the beginning of the supply chain to the designers finding creative ways to reduce waste."
Knowledge and awareness
"Each year, Fashion Revolution will drive forward a different campaign to tackle some of the fashion industry's most pressing issues. It will keep the most vulnerable in the supply chain in the public eye and challenge the industry to do better. It will also demonstrate that change is possible by showcasing examples of those who are already creating a better future for fashion," she added.
This year, to mark the anniversary, several events took place on 24 April, including film screenings and knit-ins in the UK, a catwalk in downtown Barcelona, a fashion show in Bangladesh, during which workers got to wear the clothes they make, a workshop in Nepal on how to clean water contaminated by textile dyes, and more.
The social experiment called The 2 € T-Shirt was carried out ​​by Fashion Revolution in Berlin on 24 April to show that knowledge is the only way to awareness. A bright turquoise vending machine was placed at Alexanderplatz, in Berlin, offering t-shirts for EUR 2, to test whether people would still buy it when they are confronted with the conditions in which it was produced. Only two out of ten people decided to proceed with the purchase, whilst others choose to donate the money.
Who made my clothes?
This year the Fashion Revolution also asked people to turn their clothes inside out, take a selfie, contact the brand and ask: "Who made my clothes?" This trend got picked up by a great number of people, including celebrities and fashion industry representatives, challenging leading international brands, such as Zara, Mango, Vero Moda, Levi's, Calvin Klein, and others in a social media campaign.
Fashion designers like Stella McCartney and Gustav Moscoso, supermodel Lily Cole, film producer Livia Firth, British Olympics athlete Louis Smith, and UK artist Jane Horrocks urged people to turn their clothes inside out on instagram to confront the retailers.
"This should be a simple question, but a new Behind the Barcode Fashion Report published to coincide with Fashion Revolution Day found that 48% of brands hadn't traced the factories where their garments were made and 91% didn't know where the raw materials came from," explained Carry Somers. "We need to re-establish the broken connections in the supply chain because greater transparency is a prerequisite to improving conditions."
Learning the lesson
Rana Plaza disaster became the deadliest incident in the clothing industry's modern history, making headlines around the world and prompting people and organisations taking on action to change the way global supply chain works.
The tragedy taught regular consumers that the price tag is no indication that the item of clothing was manufactured in a responsible manner and that in order to make an informed decision we need to challenge brands and become an active and engaged consumer. People can choose to stay loyal to their favourite brands but they can also choose to ask the question and learn more about those, who made their clothes.
Further reading
USAID announces new programme to empower RMG sector workers in Bangladesh
Bangladesh Knitwear Manufacturers & Exporters Association