6th August 2010, New York
Reception to Merino Retract knitwear technology is boiling hot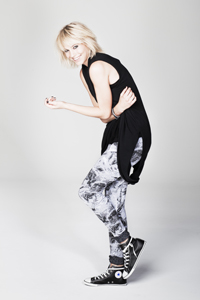 The reception to Australian Wool Innovation's (AWI) new 'Merino Retract' knitwear technology, which was launched at last month's SpinExpo trade show in New York, is said to have been very positive. Garments made from 'Merino Retract' yarns are said to have the attractive look and feel of boiled wool, but have none of the deficiencies of normal boiled wool products. According to AWI, the garments are fully machine washable and have excellent stretch recovery properties, so they don't suffer from bagging.
AWI general manager of product development and commercialisation Jimmy Jackson says there has been a lot of interest in the 'Merino Retract' technology, which is part of AWI's Merino Casual autumn/winter 2011/12 collection.
"The innovation was a real star of the show and received a lot of attention, inspiring interest from many of the visiting buyers and merchandisers," Mr Jackson says.
"Boiled wool has been available for many years now and is well known for its unique texture and casual aesthetic. But unfortunately, it has also been well known for its stiffness, which tends to restrict it to certain garment styles and it's difficult if not impossible to make it machine washable.
"However, 'Merino Retract' is based on the use of specially engineered wool yarns, which can be simply knitted and the boiled wool appearance and texture is then developed during the subsequent garment finishing process.
"The resulting fabric and garment has the look of 'boiled' wool but with excellent stretch recovery properties and is also fully machine washable. In addition the styles of garments which can be produced are not as limited."
Mr Jackson says the 'Merino Retract' technology and the rest of AWI's Merino Casual collection address the global trend towards a more informal, casual style of dressing.
"Busy lifestyles and changing workplace fashions have reduced the need for consumers to have multiple wardrobes – and there is also an increasing desire for individualism," Mr Jackson explains.
"Today's consumers are seeking garments that are versatile, that can be worn in different situations and environments, and that ultimately save consumers' time, effort and money.
"The new Merino Casual collection has a stylish new 'edge' targeted at the young fashion-conscious street wear and casual wear markets."
'Merino Retract' will be presented to an Asian audience of retailers and brands at the SpinExpo trade event to be held in Shanghai in early September, after which AWI plans to conduct workshops around the world to buying and design teams of the world's leading apparel brands and retailers.
This article is also appears in...