9th September 2010, Sydney
Reconnecting the world with wool, naturally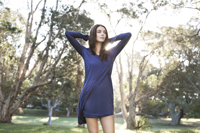 9 September 2010, Sydney - Major marketing campaigns urging people to live with the natural and sustainable beauty of wool are set to begin across Europe and Asia this month. Australian Wool Innovation CEO Stuart McCullough said it was the first time in a decade that widespread and targeted marketing campaigns were taking place across key northern hemisphere markets.
The Campaign for Wool, supported by patron His Royal Highness The Prince of Wales, is a five year campaign which enjoys the support of over 100 retailers and brands including Austin Reed, Jaeger, John Lewis and Pringle of Scotland. It focuses primarily on the ecological benefits of using wool as a natural, biodegradable and renewable fibre.
The campaign will be highlighted with sheep taking over and grazing the famous Savile Row in London to welcome in Wool Week (October 11-17). Wool's versatile nature will be seen beforehand at the Première Vision trade show in Paris (September 14-16) and London Fashion Week (September 17-22) while the fibre's safe and durable nature has also been on show at the Harrogate Flooring Show also in the UK (September 5-7).
Running parallel to the Campaign for Wool will be what AWI says is the largest wool promotion ever undertaken in China with the Gold Woolmark Campaign. AWI says the high end promotion will reposition the Woolmark alongside a number of premium UK and Italian brand partners in the fastest growing luxury market in the world, domestic China.
According to AWI, the intention is to educate a new generation of consumers that to dress with style is to dress with wool. Working with China's CBN network and a number of retailers, the Gold Woolmark Campaign will deliver a series of nine television programs to consumers, each focusing on wool apparel, its origins and the way to wear wool apparel for success.
Running through these campaigns will be the theme of 'Merino wool. No finer feeling', a slogan created by marketing partner EURO RSCG after consultation with leaders of the UK, Italian and US fashion industry. Elements of the theme will be picked up in retail and brand partnership promotions in the UK, Italy, France, Japan, Korea, China and the USA across this northern hemisphere autumn/winter season.
AWI head of marketing Rob Langtry said the theme worked both rationally and emotionally. "Merino wool is a fine natural fibre, used in high quality apparel garments across suiting, knitwear and sportswear. When worn in a suit, in a jumper or in a next to skin singlet it gives the wearer an emotional response of fineness and this is why this phrase works," Mr Langtry added.
This article is also appears in...