ITMA 2015, the largest textile and garment manufacturing technology showcase, is inviting visitors to register online for receiving a badge, as well as print and electronic Exhibition Catalogues.
The Catalogue is designed to help attendees navigate the 200,000 sqm exhibition that is getting ready to welcome more than 100,000 visitors from around the world when it takes place from 12-19 November in Milan.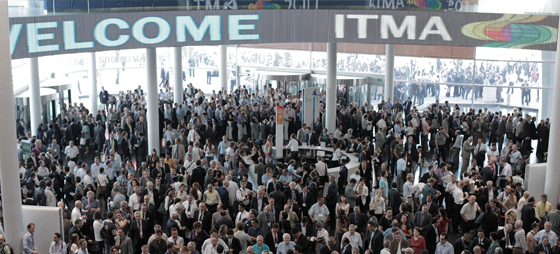 One of the world's fashion capitals, Milan has a long history within the fashion, clothing and textile industries. The city boasts a rich list of fashion and design institutes known for their global standards of excellence.
Strong support
Supporting Organisation members enjoy special rates if badges are ordered through their associations before the event. First 50 registrants get a free electronic Exhibition Catalogue.
Visitors who require a visa to enter Italy can request an invitation letter when they order their badge. The letter can be used as a supporting document for their visa application. In addition, visitors are advised to book their accommodation early. They may contact the ITMA 2015 official travel agent, Ventana Group, for assistance.
With eight months to the exhibition opening, interest from the global textile and garment industry is extremely strong, and many group enquiries have been received already from associations and travel agents from various parts of the world, organisers report. Currently, some 140 trade and professional associations have lent their support to ITMA 2015.
On offer
The always evolving global textile and garment industry is worth billions, offering plenty of business and partnership opportunities. At the exhibition visitors will meet decision makers across the entire value chain in eight days.
Boasting over 1,500 international exhibitors with latest innovations and worldwide product launches, ITMA 2015 is the best sourcing ground for a growing business.
Visitors are invited to stay up-to-date with best practices and gain fresh insights at World Textile Summit, Textile Colourant and Chemical Leaders Forum, Nonwovens Forum, Digital Textile Conference and Speakers Platform at the Research & Innovation Pavilion.