23rd February 2011, Frankfurt
Registration for Vietnam textile conference now open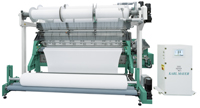 Registration for the VDMA organised conference and exhibition 'German Technology for the Vietnamese textile industry' is now open. The conference will take place in the New World Hotel in Ho-Chi-Minh City on 6 and 7 April 2011.
The symposium is officially supported by the German Ministry for Economics and Technology as well as by AGTEK, the Association of Textile and Apparel in Ho-Chi-Minh City.
The two-day event themed 'Innovation for successful business', will present machinery and technology solutions from all fields of the textile supply chain. In approximately 20 lectures, German textile machinery manufacturers will report on their latest developments and technical innovations which will enable textile producers in the region to enhance their position in the world market.
German companies taking part are Groz Beckert, Hohenstein Textile Testing, Jakob Müller, Karl Mayer, Lindauer Dornier, Mahlo, Oeko-Tex, Oerlikon Saurer, Oerlikon Schlafhorst, Oerlikon Textile Components, Reseda Binder, Rieter Ingolstadt, Sedo Treepoint, Textechno, Trützschler Card Clothing, Trützschler Spinning and Welker Spintech
According to the VDMA, decision makers from the Vietnamese textile industry will have the unique chance to find out about current developments and technical innovations to meet the increased requirement for quality products. The use of modern textile technologies to lower production costs as well as reduce energy consumption and material use will be an important topic.
In recent years, Germany has been one of the main exporters to Vietnam, but after two difficult years, exports picked up again in 2010. From January to November 2010, German exports of textile machinery to Vietnam increased by almost 84% to Euros 27 million compared with the same period in 2009. The Vietnamese demand for German textile technology is said to have been particularly strong since August 2010.
The Textile Machinery Association within VDMA (German Engineering Federation) says it is looking forward to welcoming all interested companies and organisations to the event. Participation is free of charge and all information about the symposium as well as registration is available at www.cotex-vietnam.german-pavilion.com .
The VDMA represents the interests of some 3000 manufacturers in more than 30 different plant and machinery sectors. It claims to be Germany's and Europe's largest industrial association and represents 90 % of all German machinery and plant makers as well as a number of members from other EU countries. Almost 120 textile machinery builders are said to be members the VDMA Textile Machinery Association. According to the VDMA, German companies lead world exports for textile machinery with a market share of almost 30%.
This article is also appears in...