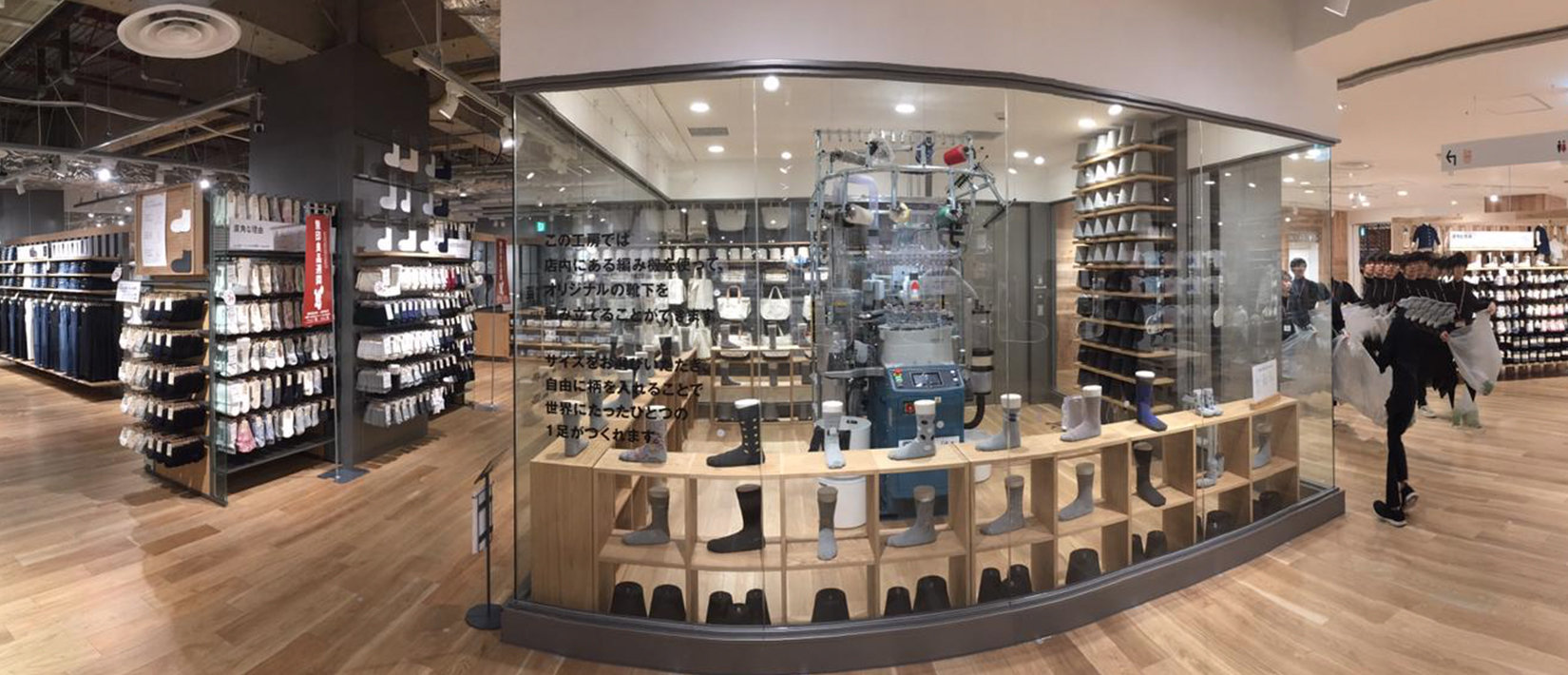 Lonati SbyS machine at the new Muji store at Nishikishicho Park in the Japanese metropolis. © Lonati.
The main attraction at a brand new Muji store in Tokyo is a Lonati sock knitting machine. The Lonati SbyS machine, with automatic toe closing device, stands at the centre of a socks retailing area in the new Muji store at Nishikishicho Park in the Japanese metropolis.
Production at the point of sale is the motto of the new MUJI store, inaugurated on 16 March in the commercial centre Nishikishicho Park in Tokyo. With its 2800 square metres floor space, the new store is MUJI's largest in Western Japan.
"The machine is actually the main attraction of the MUIJ store: a circular machine for Lonati socks of Italian production," Lonati said. "A PC interface allows the customer to insert a drawing or pattern of their own creation, which the machine can reproduce in seven different sizes. Delivery of customer socks is currently scheduled for a week from the order, but the times should go down progressively," the company said in a news item on its website.
"The Lonati machine allows you to order even the only articles available so far inside the store online, such as female and male sizes (respectively smaller and larger than the MUJI standard)."
"First of all, taking care of the activities offered to customers beyond to the pure and simple purchase: thus, find a coffee place, a play area for the little ones and even a knitting machine, with which is possible to commission socks of any size and design on the spot."
"Creating a sales point with its own production capacity is never an initiative experimented so far, with which we aim to improve the customer experience by offering the freedom to choose items of the most suitable size and design for each one," explained Kazuko Ishikawa, a manager at the new store.
This article is also appears in...