23rd November 2011, Limbach-Oberfrohna
Riedel expands functional first layer knits range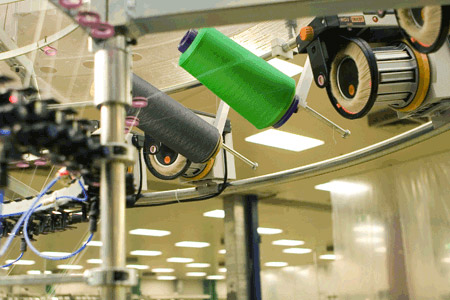 Riedel Textil is expanding its range to include two new functional first layer knit and apparel concepts for all season high performance. The German company offers both performance knits and seamless knitwear to respond to the needs of today's sportswear brands from fabric concept to finished garment.
Summer Action
Summer Action is Riedel Textil's new range of knits for functional first layer apparel. The company combines two high performance fibres in this collection. Nilit Aquarius is a polyamide filament with a special cross section that maximizes the wicking surface area due to an increased fibre surface. The micro-grooves are designed to transport moisture away from the body without the need for additional chemical finishes.
The polyamide fibre is blended with a modified polyester polymer that has high shrinkage providing high bulk and volume without adding weight and improving air circulation within the knit construction.
The Summer Action range is based on various knit constructions that are said to adapt to the specific physiological needs of the body, including very open mesh zones for breathability and air circulation combined with structured areas with long floats to stop the fabric clinging to the skin. The concept is said to offer high user comfort for functional first layer apparel for all seasons.
Summer Action technical data:
·blend 68% PA / 32% PES (PBT)
·lightweight double knit
·Weight 100 g/m2 (a short-sleeve T-Shirt for women weighs only 60 grams!)
·antimicrobial finish to reduce odour
Winter Breeze
New Winter Breeze knits from Riedel Textil are based on a elaborate blend of fibres designed to offer multifunctional performance: the combination of the finest merino wool, super micro polyester and polyamide fibres is said to guarantee optimum body climate management.
The Winter Breeze range combines high aesthetics and function to respond to the growing market for natural fibre performance wear and the company combines different knit constructions to adapt to the specific needs of each zone of the body. The concept includes 3D knit structures with air chambers, elastic ribs for closer fits and open mesh structures for enhanced breathability.
Winter Breeze technical data:
·blend 34% Wool / 34% PA / 28% PES / 4% EL
·thermal insulation
·sweat management and temperature regulation by combination of PES Micro inside and Wool/PA fibres outside
·antibacterial and odour retardant performance
·Machine washable
·Very soft hand and wearing comfort
By combining high-tech fibres, intelligent composition of materials and the latest 3D-knitting technologies, Riedel Textil says it has developed a comprehensive selection of functional knits for both warm and cold weather active sportswear.
Summer Action and Winter Breeze are a part of the company's new strategy to offer high quality double knitted material combinations in a wide array of weights. Founded over 40 years ago and based in Limbach-Oberfrohna, Germany, Riedel Textil is one of Europe's leading jersey manufacturers.
The company currently employs over 200 people. In recent years, the company has also become a leading producer of seamless apparel. Riedel Textil runs more than 100 large diameter circular knitting machines and 20 fully electronic body size knitting machines for seamless underwear produce fabric around the clock for body and sleepwear, fashion, home textiles, industrial textiles and knits prepared for printing materials.
This article is also appears in...