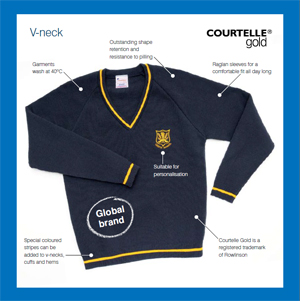 According to a report in the Manchester Evening News (MEN) last night, UK headquartered Rowlinson Knitwear has secured £5 million refinancing package. The Stockport based company has obtained the facility from HSBC Commercial Banking to support its day-to-day operations and its growth aspirations.
Rowlinson, which started off in flat knitted school knitwear but now supplies a full range of school clothing and equipment, is said to have about 50% of the UK personalised traditional knitwear market, selling to hundreds of UK based retailers including the John Lewis chain.
The funding package is said to include products to protect against foreign exchange risk, as the company imports from Asia and North Africa, as well as facilities to enable the company to continue to invest in its operations.
Chris Wormall, HSBC's deputy regional commercial director for Manchester, told MEN that Rowlinson was a 'prime example of a forward-thinking business' with a strong customer base in the UK.
Rowlinson has been manufacturing in the UK since 1935 and is the largest and most successful personalised school wear manufacturer in the UK. The company operates a plant of modern computerised Protti flat knitting machines in Stockport but also imports knitwear and other school wear products from partners in Egypt and Asia.
"We carry large stocks and are able to produce personalised garments consistently faster than others. We only use the best branded fibres and spinners for our yarns, sourced from ethical suppliers. Our garments are manufactured to exceptionally high standards in an ethical and environmentally responsible manner," is how Rowlinson describes itself on its company website.
"We believe that we should contribute to the future of the textile community, and as such we participate in Skillfast, Force 12 and TechniTex. We are pleased to be a patron member of The Schoolwear Association," the company says.
"We aim to supply affordable, functional garments with great service. We are immensely proud that the Rowlinson brand has the trust of its customers and we will continue to earn it."
As well as its Courtelle (acrylic) offer, Rowlinson also offers Cotton Mix knitwear made from a blend of 50% cotton and 50% acrylic. The product aims to offer both comfort and durability for the wearer and for those who prefer a more natural approach it is said to be a great alternative to a 100% acrylic sweater.
According to Rowlinson, the garment is a lighter weight and finer gauge than its traditional knitwear and is made from ring spun yarn in a narrow more fashionable V neck style. The company says the advantages of this garment are numerous; it is fully Oeko-Tex approved; it can be machine washed and tumble dried; and it has a soft handle making it ideal for wearing under a blazer.
This article is also appears in...