Scottish Apprenticeship Week celebrates the benefits apprenticeships bring to businesses, individuals and the economy. The campaign sees events and activity across Scotland from Shetland to the Borders, Modern Apprenticeships reports.
Scottish luxury cashmere manufacturer Johnstons of Elgin has marked the Scottish Apprenticeship Week that takes place from 29 February-4 March with recognising the skills and hard work of Bartek Gazdowicz, a Moray textile worker, described by his employers as a "valuable role model" for aspiring Modern Apprentices everywhere.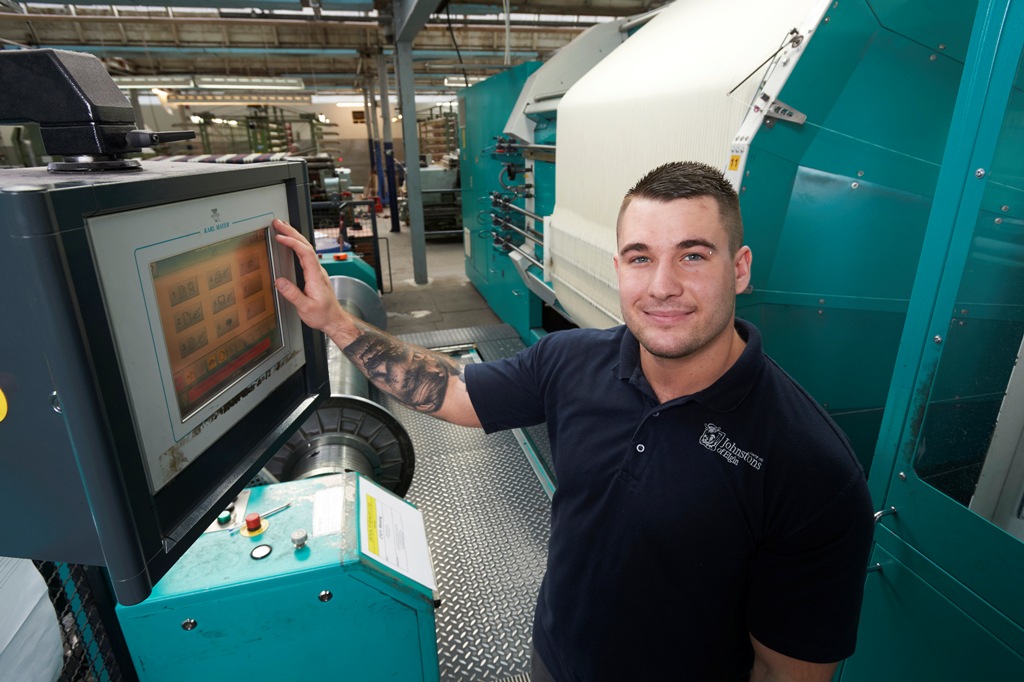 Modern Apprenticeships is a programme that helps employers to develop their workforce by training new staff, and upskilling existing employees. There are more than 25,000 Modern Apprenticeships in Scotland each year employed by around 15,000 companies. Scottish Government has increased the target to 30,000 by 2021.
Valuable role model
The 21-year-old Fashion and Textiles Heritage Modern Apprentice, who is originally from Poland, joined Johnstons of Elgin straight from Elgin High School. He was encouraged to apply for a position in the company's Warping area, where Johnstons had identified a critical skills gap through its succession planning.
"Every day is different as I do different tasks and work with different cloth qualities and materials like cashmere and wool. I also get to work on different colours and patterns," he said. Bartek added that he has learned lots of new skills since starting his apprenticeship and would recommend the apprenticeships career path to other young people.
Work-based learning approach
Bartek's supervisor George Bremner said the family-owned business is committed to retaining and developing traditional and increasingly rare textile styles and are strong supporters of Modern Apprenticeships – with 65 former apprentices and 23 current apprentices in their 1000-strong workforce. The company has plans to increase the number of apprentices in the future.
"Bartek was ideally suited for a Modern Apprenticeship because he was keen to learn and gain qualifications. He has a keen eye for detail but his speed of work is not compromised and is also keen to learn from others and will ask for advice if he needs it. His attitude is that the more he can do, the better he will become."
"As a learning organisation we encourage a work-based learning approach to ensure the continuing high quality of our product. We believe that Modern Apprenticeships are the best way for passing on technical skills within our company, through our mentor to apprentice approach."
Johnstons of Elgin
Johnstons of Elgin manufactures cashmere cloth, knitwear and accessories from its mills in Hawick and Elgin. The company has been making its products in Scotland since 1797. It works with farmers in Inner Mongolia to source cashmere and the sustainability of the herds is a key element in the policy of maintaining good pastures to encourage the growth of the finest fibres.
Johnstons selects the finest luxury fabrics which are then processed through approximately 30 different manufacturing stages before reaching the finished product, at both the knitting plant in Hawick and the weaving plant in Elgin.
This article is also appears in...