21st January 2010, Innerleithen
Scottish cashmere knitter sheds 132 jobs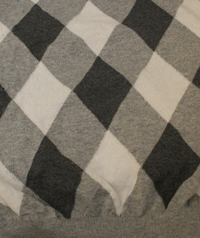 JJ&HB Cashmere Mills, a cashmere knitwear manufacturer based in the Scottish Borders has shed 132 jobs after going into administration on the 7 January this year.
The company has retained 44 employees after two make-up units were closed by administrators and jobs at the main factory in Innerleithen were axed. The company which is famous for its top quality hand framed intarsia knitwear is said to have recently lost a major customer and Administrators BDO said they regretted having to take the decision.
BDO still hopes to sell the remaining business and assets as a going concern and industry insiders say that the company's hand intarsia production is still highly valuable and that there could be buyers for it.
Just over a year ago, US retailer Brooks Brothers acquired a 25% shareholding in the factory which had belonged to the Italian owned Ballantyne brand. The Innerleithen factory which is located near Peebles in the Scottish Borders region was considered to be one of Scotland's top quality cashmere knitwear manufacturers and is still known locally as Ballantyne's.
In October 2008, Ballantyne's Italian owners also sold a 55% stake in the borders mill to Massimiliano Zegna Baruffa, textiles entrepreneur and former owner of the famous Italian worsted yarn spinner Zegna Baruffa.
The Innerleithen factory which has an outstanding reputation for top quality knitwear, , was in Italian ownership for a number of years and its future was under threat until the October 2008 takeover. In the deal, the owners planned to expand the factory's production capability whilst Brooks Brothers, one of the oldest retailers in the US, was to use the factory as its cashmere knitwear supplier.
The company has been operating under the name of JJ & HB 1788 Cashmere Mills, named after its original founding Ballantyne brothers and the year of establishment of the factory. Ballantyne Cashmere was established in 1921. The mill operates a plant of Shima Seiki SES and FIRST machines as well as 9, 15 and 21 gauge fully fashioned frames.
This article is also appears in...