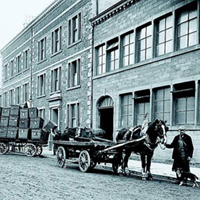 KPMG, administrator for troubled Scottish knitwear manufacturer Peter Scott & Company has announced it has sold the business and assets of the company to Northamptonshire headquartered coat manufacturer Gloverall. Gloverall is a respected manufacturer of high quality duffel coats.
According to a report in The Herald newspaper, as part of the sale, the company's remaining employees will transfer to the new owner. Blair Nimmo, head of restructuring for KPMG in Scotland, told the paper: "This is a fantastic result for the company, staff, creditors and the town of Hawick. Peter Scott & Company is synonymous with quality clothing."
Peter Scott & Company went into administration in May leaving 150 jobs at risk. The company has been a key employer in Hawick, Scotland's high quality knitwear manufacturing centre, for more than 130 years.
In September last year Peter Scott, famous for its stag logo, reported that it had clinched a multi-million pound deal with a German retailer to put Peter Scott branding on its clothing. However, rumours have abounded that the deal soured and that company has been recently struggling.
The company which manufactures classic men's and women's luxury knitwear, including golf wear, teamed up with golfer Colin Montgomerie in 2008 to design his own clothing range.
Apology: In an earlier version of this article, published on 13 July 2010, we reported that Gloverall was a local Hawick based manufacturer when in fact it is based in Northamptonshire. We would like to apologise to our readers for this misleading error.
This article is also appears in...