20th October 2010, London
Scottish knitwear showcased at prestigious London event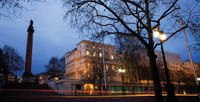 Leading Scottish knitwear brands and manufacturers including Johnstons of Elgin and Hawick Cashmere took part in 'Scotland ReDiscovered', an exclusive one-off installation, showcasing new luxury interior, fashion and speciality textiles from Scotland's leading designers and textile producers at London's Institute of Contemporary Arts on Thursday 14 October.
Visitor's to 12 Carlton House Terrace were treated to four themed showcase rooms set over two floors of the ICA, presentations by leading fashion commentator Caryn Franklin and Textiles Scotland Chairman David Breckenridge, and the opportunity to network with leading designers and representatives of 50 Scottish textile businesses. Two receptions were held on the day, one from 12 noon to 3pm and the other from 5 to 8pm.
Leading cashmere knitwear and accessories brand, Johnstons of Elgin, which manufactures all of its products in Scotland, specialises in the manufacture of cashmere and luxury fibres, offering a wide range of knitwear, accessories, home furnishings and fine fabrics to top designers. The company recently collaborated with Scotland's own Christopher Kane and supplies quality retailers and customers around the world.
High quality knitwear manufacturer Hawick Cashmere has over a century of experience in working with cashmere. The Hawick Hosiery Company was founded in eighteen seventy-four and traded until nineteen-ninety when it was rebranded The Hawick Cashmere Company. Today Hawick Cashmere is still based in the original nineteenth century Mill in Hawick, Scotland. As one of the founding members of the Scottish Cashmere Club, the company was a driving force behind the creation of the Cashmere Made in Scotland trade mark and the exacting quality standards that it represents.
Hawick Cashmere is recognised in the industry as an early adopter of new technology and operates a plant of Shima Seiki Wholegarment machinery for producing fine seamless cashmere knitwear.
Also showcasing in London was Lochcarron of Scotland a manufacturer of prestigious woven fabrics, exclusive knitwear, contemporary accessories and bespoke highlander wear, which claims to be the world's leading tartan manufacturer. Lochcarron says it has kilted numerous celebrities from Sean Connery to Shrek, as well as designing many new family, corporate and fashion tartans.
Scotland Rediscovered also uncovered Stewarton, Ayrshire based Robert Mackie, the only bonnet manufacturer remaining manufacturing the traditional Scottish bonnets (Balmorals and Glengarries) which have been supplied to Scottish regiments, bands and Clan Associations throughout the world for many years. Mackie's also manufactures knitwear ranges of traditional Scottish styles and the latest fashion ranges.
Also exhibiting, were Eribe and Belinda Robertson. Eribe designs and manufactures quality contemporary knitwear and home furnishings, including numerous hand-knits, selling to Japan, America, Germany and Italy as well as the UK. Belinda Robertson is well known for its modern, elegant cashmere utilising traditional production methods and the most skilled artisans to 'create the finest, most luxurious cashmere in the world.'
MYB Textiles of the Morton Young & Borland Textile Group is a Scottish Lace specialist, producing cotton lace and madras for the high end domestic interior market. The company is one of the last remaining lace manufacturers in Darvel in Ayrshire, which was once famous for its lace production. Specialising in natural fibres such as wool and linen, MYB now also offer Trevira alternatives for specialised contracts. MYB Couture, a flexible design and development facility that works in conjunction with both global high fashion brands as well as smaller boutique. MYB Screen also specialises in wide-width flame retardant fabrics for the theatre and film production markets.
This article is also appears in...