The DJ 4/2, 42" and 24 E, is a new machine for producing seamless lingerie, hosiery and clothing collections.
19 May 2008, Obertshausen, Germany - Seamless, patterned, fine pantyhose caress the legs, are extremely comfortable to wear, and enhance the female shape with their seductive look. As the icing on the cake in every woman's wardrobe, knitted hosiery attracts the attention of the opposite sex and gives every woman her own particular style. It must be said that, behind every attractive pair of warp-knitted pantyhose, there is a successful machine - and it is usually one of KARL MAYER's. This traditional company is a leading manufacturer of warp knitting machines for producing seamless hosiery, clothing, lingerie and sportswear, and is constantly concentrating on optimising its machines for use on this market.
One of its best-selling machines is the RDPJ 6/2 double-needle bar raschel machine, which is equipped with the latest, state-of-the-art technology. It offers an impressive list of features and an extra-large format, and has now been supplemented by a smart version, so that every segment of the market can be catered for.
The new, narrow series "Seamless Smart" is designated the 'DJ' series, and has been designed expressly to be sub-divided into different models. The first machine in this series, the DJ 4/2, was developed by Nippon MAYER Ltd, and is scheduled to be launched onto the international market in September of this year.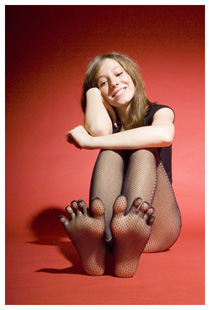 This double-needle bar raschel machine is available in a working width of 42", can operate at a rate of 1,000 stitches/minute, and comes equipped with all KARL MAYER's tried-and-tested technology. This includes, two ground guide and two jacquard bars - each arranged in two shog lines, so that it can offer all the patterning possibilities of six shog lines - the jacquard mechanism, the successful piezo technology for controlling the jacquard needles, KAMCOS¼ with the Multispeed system, and electronic beam drives.
This new machine offers reliable performance for a relatively low cost and carries the quality seal that is a feature of all the machines manufactured by the KARL MAYER Group. The compact DJ 4/2 does not require a large workforce to supervise and maintain it, which makes it an interesting proposition for companies new to the hosiery sector. It is also an important element in KARL MAYER's strategy of catering for the requirements of the market in the best possible way. With the RDPJ 6/2 and the DJ 4/2, this specialist machine builder can provide the right machine to meet every requirement and supply the client with the best possible equipment to suit his own particular investment strategy.
This article is also appears in...