19th April 2010, Grantham, UK
Seminar: Shaping Up For Lingerie & Swimwear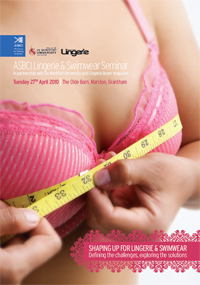 According to a Which? report published in February 2010, fewer than one in three high street bra fittings provide a satisfactory fit. Indeed bra fit was deemed so poor, that according to the Which? expert, a woman 'would do just as well picking something off a market stall'.
The report highlights the problems faced by designers, manufacturers and retailers when constructing, selling and fitting bras or cup-sized swimwear, and the frustration of consumers when they receive inconsistent advice on the best fit.
The ASBCI, in partnership with De Montfort University's contour specialists and Lingerie Buyer magazine, has brought together some of the most innovative and successful lingerie and swimwear suppliers and advisers in a special one-day seminar to address this difficult issue.
The event will platform eminent speakers who have agreed to share their expertise to identify the major issues from best practice design, correct sizing and consistent fitting through to breast health, staff training and consumer education. The day will conclude when speakers, together with a guest panel of major lingerie and swimwear suppliers, unite in a bid to offer some real solutions and options.
This article is also appears in...