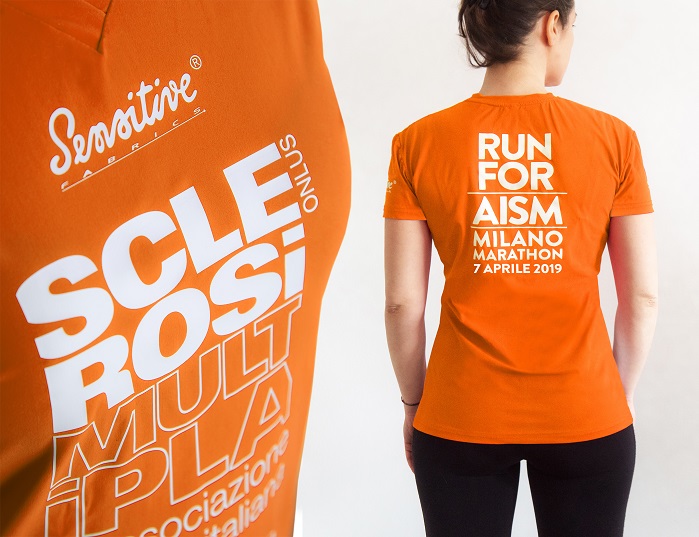 Eurojersey will be donating 300 T-shirts carrying the message 'Run for AISM'. © Eurojersey
Eurojersey, the leading Italian producer of Sensitive Fabrics, pursues its mission of social responsibility by supporting AISM at the Milano City Marathon 2019 on 7 April, by donating technical T-shirts to all the athletes running for the Associazione Italiana Sclerosi Multipla (Italian Multiple Sclerosis Society) – Milan Province Section.
In Italy, AISM represents the rights and hopes of people affected by multiple sclerosis. As well as providing social and health services, this non-profit organisation sets out to promote, orient and fund scientific research at the Italian Multiple Sclerosis Foundation (FISM), which currently supports 70% of the research carried out in Italy.
The new T-shirt is made of patented Sensitive Fabrics, which are innovative in providing functionality and good looks, high quality and great versatility of use, making it the ideal sportswear solution because it is lightweight, breathable and always perfect after frequent washing, according to the manufacturer. Sensitive Fabrics are designed to guarantee comfort, and well calibrated compression without restriction or rubbing because they adapt naturally to the body shape. "They help the wearer to train safely and confidently in all weather conditions thanks to thermal regulation and sun ray protection," the company says.
Eurojersey is taking an active part in the Milano City Marathon on 7 April by donating 300 T-shirts carrying the message Run for AISM printed on the back of each runner's shirt and through the active participation of the company's employees, who have registered for various laps of the race.
Proceeds will be donated to FISM – Fondazione Italiana Sclerosi Multipla (Italian Multiple Sclerosis Foundation) which, together with AISM is engaged in promoting, orienting and funding scientific research into multiple sclerosis.
This article is also appears in...