9th December 2010, Shanghai
Shanghaitex 2011 Knitting & Hosiery Zone fully booked
Organisers of the Shanghaitex 2011 textile machinery show report they have experienced robust demand from both the international market and the domestic market for the 15th International Exhibition on Textile Industry (ShanghaiTex 2011), which will be held at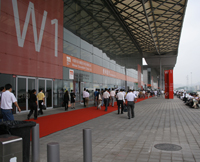 from 14-17 June 2011. The show's Knitting & Hosiery Machinery Zone is reported to be fully booked.
"The exhibition has continued to enjoy overwhelming responses from exhibitors, especially in the Knitting & Hosiery Machinery Zone, which has been fully booked and reserved by renowned industry players such as Italy's Santoni, Germany's H. Stoll, Germany's Groz Beckert, Singapore's Falmac Machinery, Conti Complett, Japan's Shima Seiki and established companies such as Nan Sing, Ningbo Yuren have also confirmed their participation," organisers said today.
Since its debut in 1984, ShanghaiTex has continued to strengthen its pioneering role in the textiles industry in China and it is expected that the exhibition area will occupy over 92,000 square metres and more than 1000 local and overseas exhibitors will participate. To facilitate buyer sourcing and create business networking opportunities in one place, five themed zones will be set up.
Along with the Knitting & Hosiery Machinery Zone, other zones are also said to have received positive feedback from well-known international companies. Hong Kong's Fong's, Germany's Thies, Denmark's Danfoss, Germany's Gofront and Italy's Brazzoli will all participate in the show's Printing, Dyeing & Finishing Machinery & Textile Chemicals Zone. Mazuoli and Itema Savio have signed up for the Spinning, Nonwoven & Techtextile Machinery Zone and Switzerland's Jakob Mueller, China's Runyuan and Germany's Karl Mayer will exhibit in the Warp-Knitting, Embroidery & Weaving Machinery Zone.
This article is also appears in...