2nd September 2010, Wakayama
Shima Seiki introduces Chinese language Wholegarment tags
Japanese flat knitting machine builder Shima Seiki has been offering English and Japanese versions of its Wholegarment product tags exclusively to knit manufacturers and merchandisers associated with the creation and promotion of Wholegarment products in English-speaking markets as well as its domestic market in Japan.
Now, in its effort to support the manufacture and sales of Wholegarment knitwear in the Chinese domestic market, the company has introduced Chinese language versions of its Wholegarment Tag and Mini Tag. These are aimed at raising consumer awareness toward Wholegarment knitwear and its benefits, as well as to distinguish Wholegarment from other knitted products.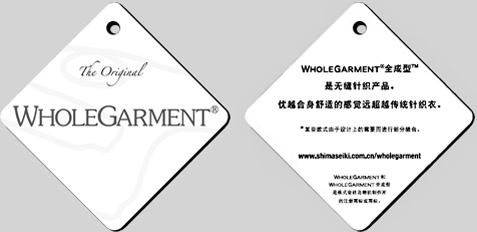 Because Wholegarment knitwear is produced three-dimensionally in one entire piece without the need for linking or sewing afterwards, Shima says it is ideally suited to markets lacking a competitive labour force.
"As inexpensive and abundant as China's labour force is, reliable skilled labour in China is becoming increasingly expensive and difficult to secure. Add to that the rise in domestic demand by an increasingly fashion-conscious population, and Wholegarment production becomes an even more attractive alternative to conventional knitting," says Shima's Masaki Karasuno.
Shima says that Chinese Wholegarment product tags are also ideally suited to knit apparel companies wishing to market Wholegarment knitwear within the Chinese domestic market.
Wholegarment product tags feature the Wholegarment trademark along with a single-stroke illustration of a sweater symbolizing an entire garment knitted in one piece. On the back is a simple description of Wholegarment knitwear and its benefits.

Like their English and Japanese counterparts, Chinese Wholegarment Tags are available in two sizes; standard business card size and mini-size. Mini Tags are used when a smaller tag size is more desirable, for such items as gloves, socks, scarves, hats and other Wholegarment accessories. Both standard- and mini-size tags are available in white, black and gold.
This article is also appears in...