Flat Knitting
Shima Seiki is Reborn at ITMA ASIA + CITME
Leading flat knitting machine builder shows next-generation prototype machines in Shanghai.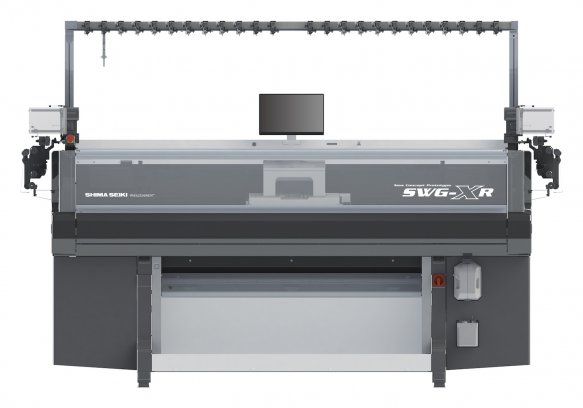 20th November 2023
Knitting Industry
| Shanghai
Leading flat knitting technology company Shima Seiki of Wakayama, Japan, is participating in this week's ITMA Asia + CITME 2022 exhibition in Shanghai, China. At its booth in Hall 4, Stand D20, Shima is showing its next-generation prototype machines which were introduced to much acclaim at ITMA 2023 in Milan, Italy earlier this year. The next generation machines are represented by the letter 'R' which stands for 'Reborn' and is also the basis for Shima Seiki's exhibit concept: Shima Seiki Reborn.
Shima Seiki Reborn represents a return to origin, for the company and for its products, and a renewal of passion and commitment toward innovation. At the same time, it represents a renewal of Shima Seiki's commitment to its customers, the industry and the environment, as all aspects of each machine were re-evaluated in terms of its purpose, the way it is manufactured, how it is used and how it impacts the environment.
Of the 5 knitting machines Shima is exhibiting at its 400 square metre booth, 2 machines are part of the next-generation line-up. In addition, more than 250 knit items will be on display as proposals for knitted applications in various fields ranging from fashion to shoes, bags and accessories.
In addition to machine technology, Shima's computer graphic design system and software are shown with their latest software upgrades that feature significant improvements in knit programming, 3D functions and speed. Demonstrations are available for a comprehensive fashion tech solutions package based on realistic virtual sampling and supported by various digital solutions and web services.
Based on customer feedback as well as industry and media reaction at ITMA 2023, Shima's display is likely to become the focus of attention at ITMA Asia + CITME 2022 as well.
Description of main exhibits
SWG-XR Prototype
Under the WHOLEGARMENT trademark, Shima has been setting the standard almost exclusively with nearly 30 years of experience in complete garment knitting technology. Now in its 5th generation, Shima's SWG-XR flagship WHOLEGARMENT knitting machine has raised the benchmark once again for speed, efficiency, quality, variety and reliability. The new name lends tribute to the SWG-X, the world's first 4-needle bed machine that launched a new genre of seam-free knits produced in one entire piece, since its pioneering debut at ITMA 1995 in Milan.
Re-evaluated from the ground up and capable of very high quality and stability in all-needle knitting of a wide variety of WHOLEGARMENT products, SWG-XR features an all-new spring-type moveable sinker system and a compact, light-weight carriage featuring 4 systems as well as auto yarn carriers. All contribute to increased productivity of more than 25% over the previous MACH2 XS machine, as well as increased product range using a wider variety of yarn for supporting knits for all seasons, and higher quality for knitting beautiful fabrics and silhouettes.
Even items that were impossible to knit with the previous MACH2 XS series can now be knit, including punch lace fabrics, variable stitch patterns, intarsia patterns and efficient double-knitting. A prototype machine is shown as a testbed for new features, including efficient, high-quality knitting of 18-gauge fabrics and a brand-new user interface for improved connectivity. These features await feedback from visitors at ITMA Asia so that improvements can be made in preparation for the machine's release. SWG-XR is ready to become the new standard for the next generation in waste-free, sustainable WHOLEGARMENT knitting.
SWG-XR 18L + i-DYCS (New)
In addition to the prototype, a current-model SWG-XR machine is also on display paired with the new i-DYCS intelligent Digital Yarn Changer System option. Presented as a brand-new option for the SWG-XR WHOLEGARMENT knitting machine, i-DYCS uses knotter units to change yarns on the fly according to the knit pattern. Up to 8 colours are supported per unit, and with 2 units on each side feeding a total of 4 active yarn carriers, 32 colours are supported by i-DYCS alone. In addition, by assigning colours to the remaining 12 carriers on SWG-XR, a total of 44 colours can be used in a single garment. This exceeds the record previously held for maximum number of colours in flat knitting by Shima Seiki's own N.MACH2 SIR intarsia machine, but this time the record has been renewed by a WHOLEGARMENT machine. This gives clear indication as to the priority Shima places on developments in WHOLEGARMENT knitting machine technology.
N.SVR 183 V21G (New)
A new proposal in WHOLEGARMENT knitting is also shown in the form of the new-to-Asian-market N.SVR 183 WHOLEGARMENT knitting machine. Shima Seiki's global standard in shaped knitting, the N.SVR series now features a proprietary model for producing WHOLEGARMENT knitwear using every other needle in fine gauge. N.SVR 183 is equipped with the R2CARRIAGE system and a compact, lightweight carriage for even higher productivity.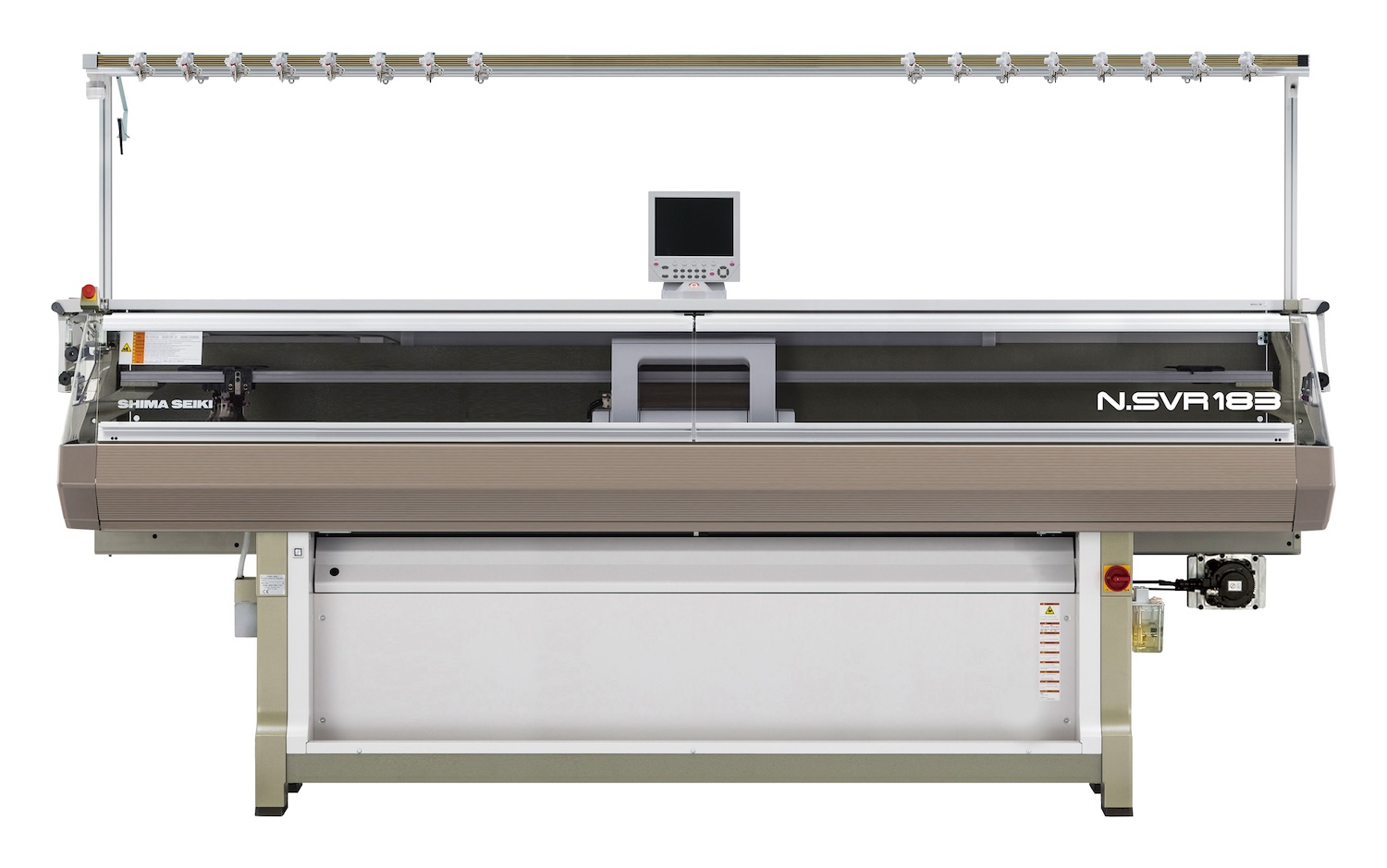 Shown in 21G at ITMA Asia + CITME 2022, N.SVR 183 is the ideal machine for flexible, entry-level WHOLEGARMENT production, with the versatility to respond to fluctuating market demand.
N.SIR 123SP C16G
The N.SIR 123SP computerized knitting machine with intarsia capability features a special loop presser bed for producing hybrid inlay fabrics with both knit and weave characteristics. Shown in 16 gauge, N.SIR 123SP will also feature the special i-Plating option, capable of alternating yarn colours in any pattern, producing jacquard-like designs in light-weight plain jersey stitch. Plating can be performed within the same course and for individual needles. In combination with the loop presser and spring-type moveable sinker system even greater diversity in knit design is possible.
N.SVR 122 C18G
The N.SVR 122 computerized flat knitting machine is considered the benchmark in computerized flat knitting and offers the latest technology which in themselves have become industry standards. These include features such as spring-type moveable sinkers, takedown rollers, Rapid Response R2CARRIAGE, DSCS Digital Stitch Control System, stitch presser and takedown comb. Made-in-Japan quality, reliability, productivity, user-friendliness and cost-performance combine to satisfy the high expectations of the world's fashion industry. N.SVR 122 is shown in 18G at ITMA Asia + CITME 2022.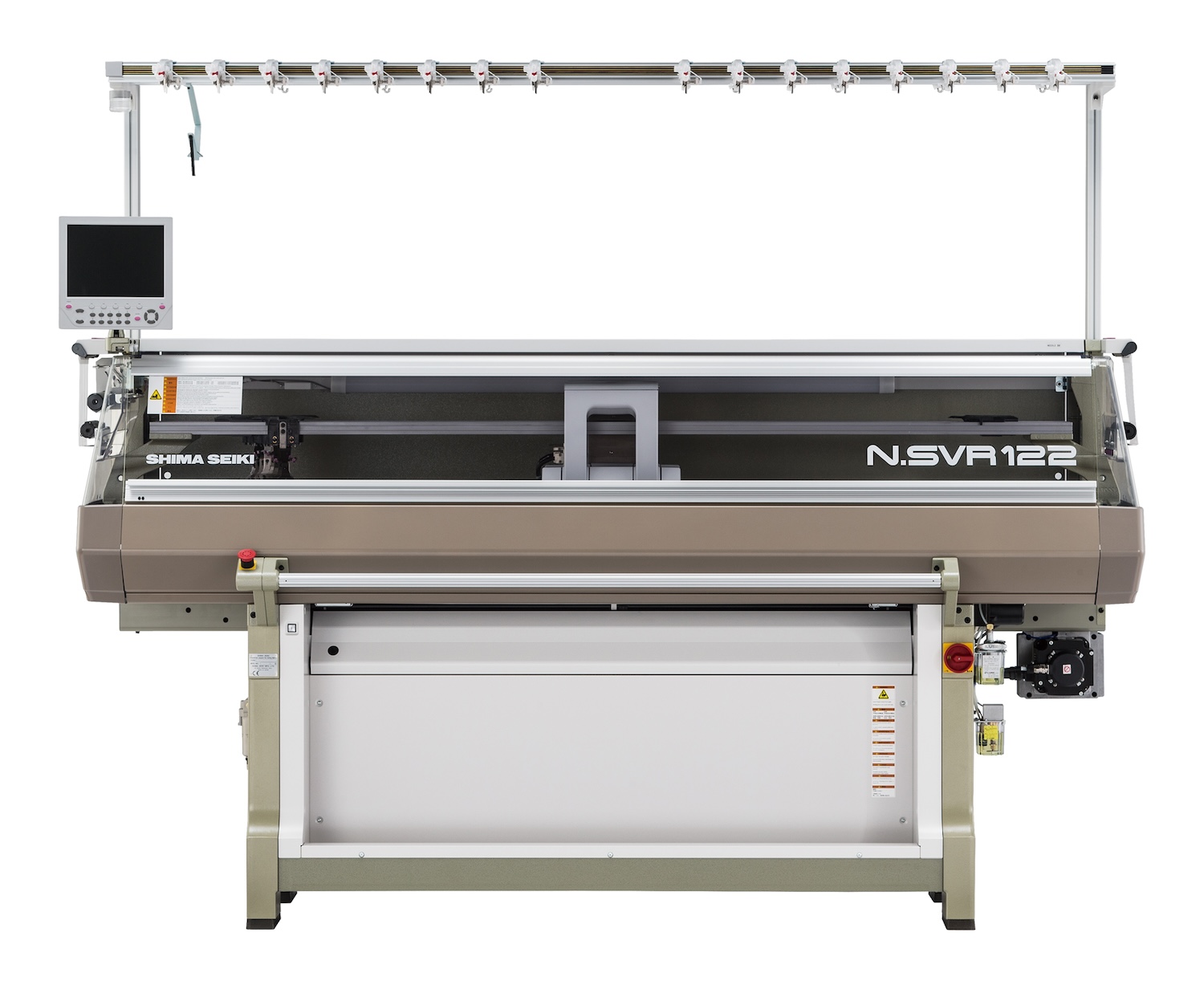 SDS-ONE APEX4 and APEXFiz
SDS-ONE APEX4 3D apparel design system and APEXFiz subscription-based design software support the creative side of fashion from planning and design to colourway evaluation, realistic fabric simulation and 3D virtual sampling. Virtual samples are a digitised version of sample making that are accurate enough to be used effectively as prototypes, replacing physical sampling and consequently reducing time, cost and material that otherwise go to waste.
When a design is approved for production, knitting data which is automatically generated can be converted easily to machine data, allowing smooth communication for digitally bridging the gap between design studio and factory. Before going to production however, the same virtual samples can be used in retail, for example in e-commerce, to gauge consumer response to items before going to market, effectively realizing production based on demand forecasting.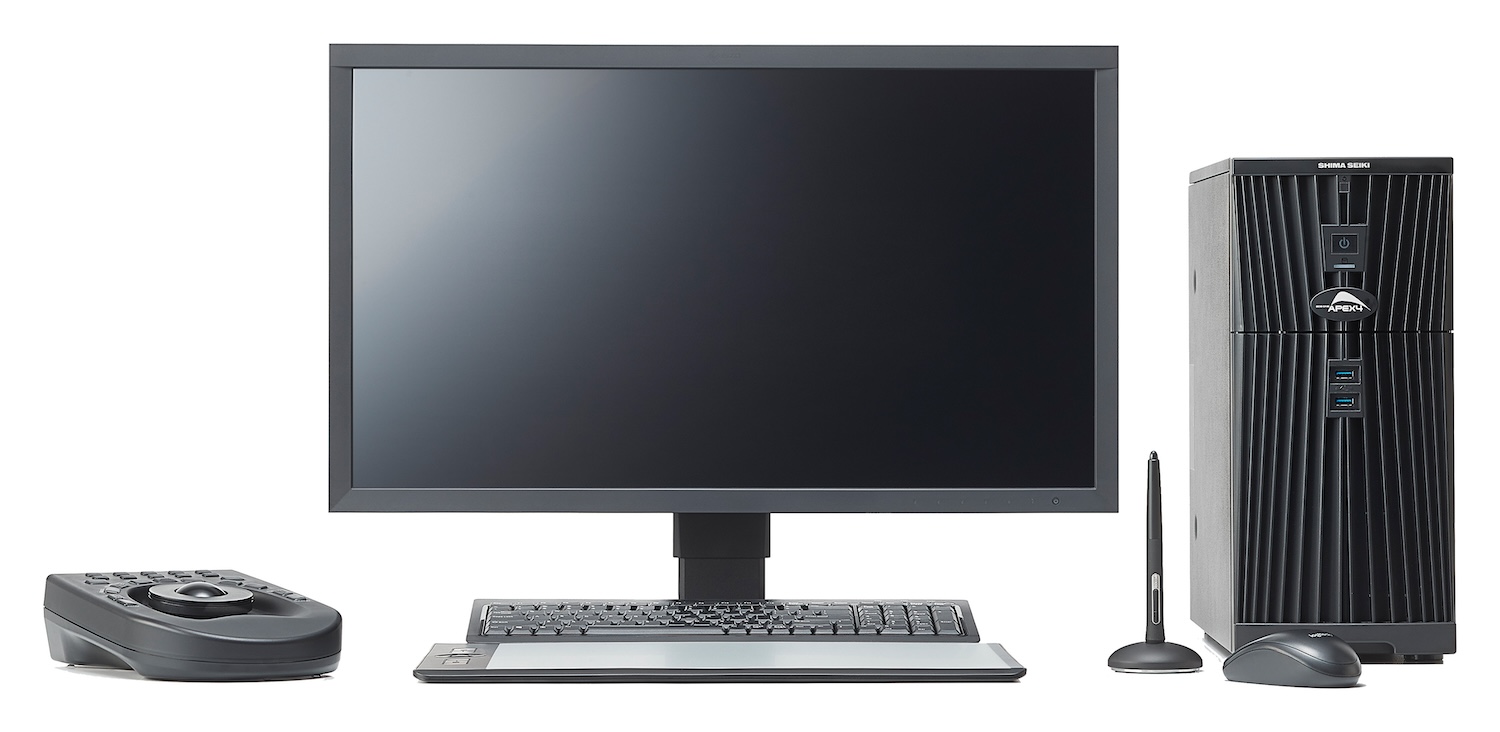 In such a way, inventory can be optimized to minimize deadstock waste. SDS-ONE APEX4 and APEXFiz therefore help to realise sustainability while digitally transforming the fashion supply chain. At ITMA Asia + CITME 2022 new software will be shown that improves realism for virtual samples even further, as well as new intarsia programming software that reduces lead time significantly. SDS-ONE APEX4 will be demonstrating mainly knit programming software, while APEXFiz will be demonstrating design software as well as various web services to enhance the APEXFiz experience.
Shima Datamall (New)
The Shima Datamall digital content web service is an online service that allows users to search, browse and purchase a variety of useful data for the planning, production and sales of fashion items. Over 8000 pieces of data, ranging from knit item data and knit design data to 3D model patterns are available. Users of SDS-ONE APEX4 and APEXFiz design software as well as Shima Seiki flat knitting machines will be able to streamline their operations and further promote the digital transformation of textile manufacturing, thereby realizing a shift toward sustainable manufacturing. Shima Datamall will be presented along with yarnbank as part of the Shima Seiki Online Services (SHIMA online) digital web service platform.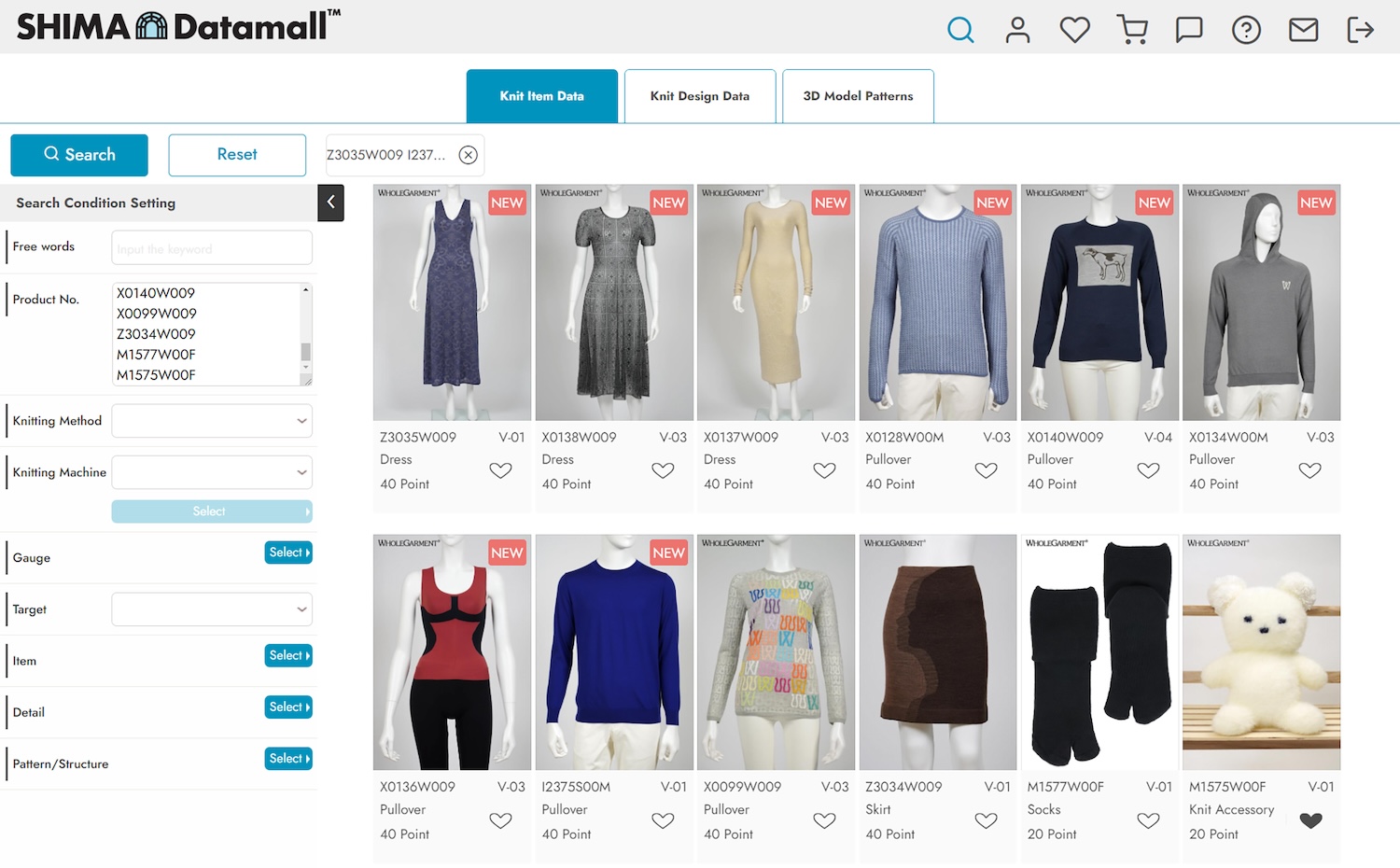 yarnbank
yarnbank digital yarn sourcing web service is the world's first online service for searching and viewing the latest yarns, developed in cooperation with yarn companies from around the world. Registered users can download yarn data for free, for use in fabric simulation and virtual sampling on SDS-ONE APEX4 and APEXFiz, avoiding the need to scan yarn on their own. By using yarn that is used in actual production, designers and apparel companies can furthermore rest assured that the simulations created using yarn from yarnbank are not merely realistic images but accurate representations using yarn that can actually be purchased and used in production.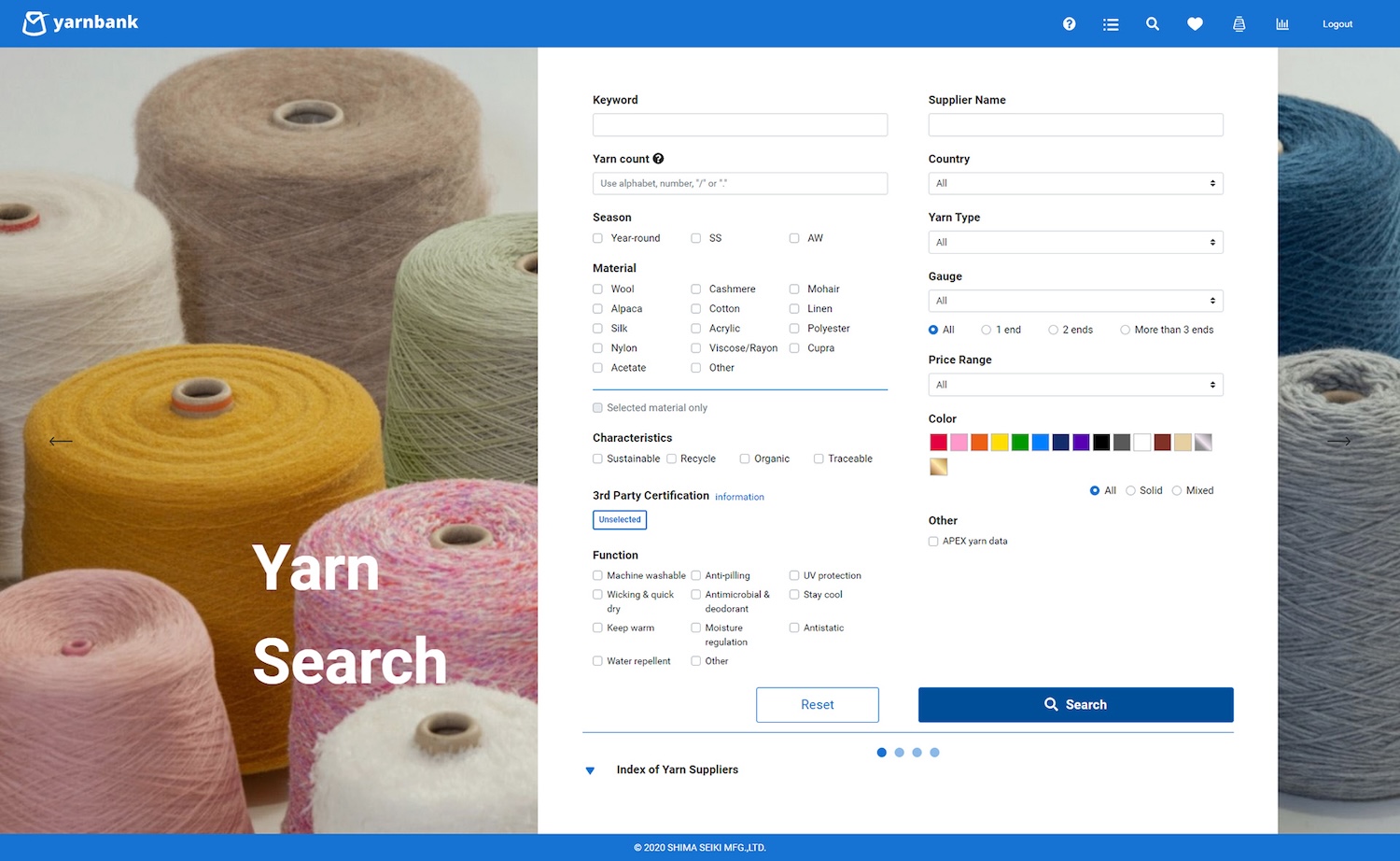 With yarnbank, the entire supply chain from yarn companies and apparel companies to knit manufacturers can be connected digitally. yarnbank will be presented along with Shima Datamall as part of the Shima Seiki Online Services (Shima online) digital web service platform.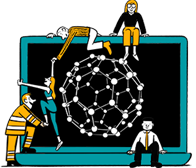 Business intelligence for the fibre, textiles and apparel industries: technologies, innovations, markets, investments, trade policy, sourcing, strategy...
Find out more