A unique machine for creating unprecedented fine gauge fashion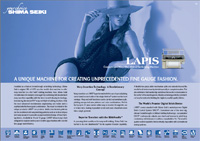 Heralded as a historic breakthrough in knitting technology, Shima Seiki's original SPL of 1971 was the world's first machine to offer warp insertion in a flat (weft) knitting machine. Now, Shima Seiki revolutionizes the industry once again by combining fully modernized warp insertion capability with the latest in weft shaping technology.
Introducing the new LAPIS® warp-weft hybrid knitting machine. Only the most advanced mechatronics engineering can realize such a sophisticated technological combination. The result is evident in the unique products LAPIS® can produce.
Multi-colour intarsia patterns can be combined with warp knitting patterns such as vertical stripes and warp jacquard to provide an unprecedented range of head-turning fabrics. Available in 10 and 12 gauge, LAPIS® allows today's knit designers to explore entirely new creative opportunities with colourful fine gauge hybrid fabrics.
Click on image for further information and full technical specification
[17.4.09]
This article is also appears in...