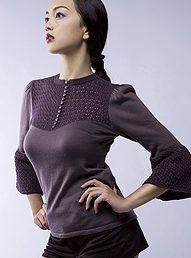 The Global Standard for Intarsia Knitting
Shima Seiki's NSIG is the new global standard for intarsia knitting machines, having inherited the know-how and experience accumulated over the years as the leading manufacturer of computerized flat knitting machines.
Productivity is increased with a maximum knitting speed of 1.4 meters per second, as well as with the R2CARRIAGE System that improves efficiency in carriage returns. It also carries over proven SHIMA SEIKI technology such as our renowned Digital Stitch Control System (DSCS), spring-loaded Full-Sinker System, Stitch Presser, Yarn Gripper and Cutter and Takedown Comb. Made-in-Japan quality, reliability, productivity, user-friendliness and cost-performance combine to satisfy the high expectations of the world's fashion industry.
Click on image for further information and full technical specification
[3.6.10]