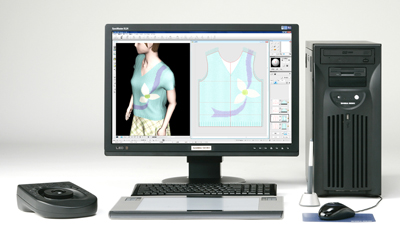 Even more effective virtual sampling with 3D modelling
With its ability to support all aspects from planning, design, sampling and production to machine programming, merchandising and sales promotion, SDS®-ONE has established itself the reputation as an All-in-One apparel design tool. SDS®-ONE also performs as a communication tool. From spinner to apparel planner, designer, manufacturer, merchandiser and retailer, design decisions and product concepts can be communicated without breakdowns in instructions or conceptual details.
Its virtual sampling capabilities especially shine through here, permitting accurate evaluation using photo-realistic simulations without the need for costly and time-consuming pre-production sampling. For even more effective virtual sampling, we introduce our new flagship SDS®-ONE APEX, with 3D modeling capability.
3D Modelist software creates a virtual body, on which loop simulation data is mapped for a virtual image far more realistic than any previous attempts at mesh mapping. Layering of multiple garments for checking coordinated items is also possible. 3D loop simulation of WHOLEGARMENT ® is available as well. SDS®-ONE APEX features significant hardware upgrades such as powerful 8-CPU processing, a 3D Subkeyboard for instinctive manipulation of 3D images, and a 24-inch high-resolution widescreen monitor with Adobe RGB support.
Click on image for full technical specification
[11.3.09]
This article is also appears in...