Comfortable, stylish socks with seamless toes and heels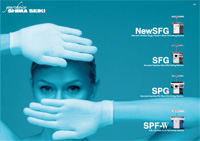 Shima Seiki's SPF has been the only machine to specialize in the production of five-toe socks with heels. Now that unique technology has been taken to an entirely new level with the introduction of our SPF-W machine.
The SPF-W's most significant improvement is its capability to knit both left- and right-foot socks on one machine, whereas the previous SPF required two machines, one dedicated to each foot. Considerable savings can be realized when investing in five-toe sock production, and factory space can be used more efficiently. Knitting on one machine also means higher quality and consistency among left-and-right pairs.
Other improvements include digital elastic yarn feed, USB memory interface, an ergonomic control panel, automatic lubrication and optional air splicer. Five-toe socks have recently gained recognition as a stylish and comfortable new genre in footwear, with athletic and health-conscious advantages built-in. With our new SPF-W, taking advantage of this growing market is now easier than ever before.
Click on image for further information and full technical specification
[19.4.09]
This article is also appears in...