20th October 2014, Wakayama
Shima Seiki to hold private show in Los Angeles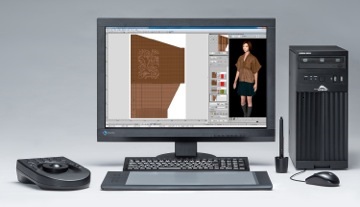 Shima Seiki USA, the US subsidiary of leading Japanese flat knitting machine manufacturer Shima Seiki, will hold a private exhibition at the LA Mart creative show space in Los Angeles, CA, in November.
On display will be the cutting edge in computerised flat knitting technology, represented by the latest Wholegarment machine and design system.
On display
The flagship MACH2X series features Shima Seiki's original SlideNeedle on four needlebeds and is the only machine suited to Wholegarment knitting in all needles.
The new compact SWG-N2 series Wholegarment knitting machine offers increased colour capacity as well as the capability for producing industrial textiles. SRY123LP offers a pair of loop presser beds mounted above a conventional V-shaped needlebed and is capable of producing knitwear with woven textures as well as technical textiles.
The Yarn Unwinding Option is an essential tool for industrial textile applications, providing smooth and stable yarn feed of material that is normally difficult to feed into knitting machines, such as metallic and monofilament yarns.
Demonstrations
Demonstrations will also be performed on the SDS-ONE APEX3 system that is at the core of the company's Total Fashion System concept. With comprehensive support of the knit supply chain, APEX3 integrates knit production into one smooth and efficient workflow from planning and design to machine programming, production and even sales promotion.
Virtual Sampling through photo-realistic simulation minimises the need for sample-making, effectively reducing time, material and cost from the sampling process, the company reports. APEX3 also supports design and simulation in various other industries such as circular knitting, weaving, pile weaving and printing.
Also on display will be the latest knit samples including Shima Seiki's 2015 Spring/Summer collection. Proposals range from novel high-fashion to sustainable fast fashion, weave-knit hybrid fabrics and even technical textiles. The latest collection of the KOTOBA brand of seam-free Wholegarment knitwear will also be showcased.
Exhibit Details
Date: Monday, 3 November ~ Friday, 7 November 2014
Hours: 10:00AM ~ 5:00PM
Venue: LA Mart Room #142
1933 S. Broadway, Los Angeles CA 90007 USA.
Tel: +1 800-526-2784
Exhibited Technology
MACH2X WHOLEGARMENT Knitting Machine
SWG061N2 WHOLEGARMENT Knitting Machine
SRY123LP Computerised Flat Knitting Machine
Yarn Unwinding Option
SDS-ONE APEX3 3D Apparel Design System
KOTOBA Collection Wholegarment Knitwear
For more information please contact:
Shima Seiki USA Inc.
Tel: +1 609-655-4788
E-mail: [email protected]
This article is also appears in...