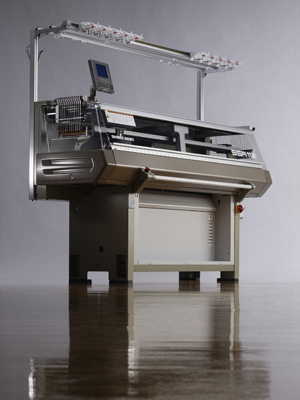 Japanese computerized flat knitting machine manufacturer Shima Seiki Mfg., Ltd. will be present its line up of advanced computerized flat knitting machines and peripherals at this year's ShanghaiTex 2011 exhibition which kicks off next week. Machines will be exhibited in a wide range of gauges from coarse to ultrafine, including several first-time exhibits of new technology.
"The company's exhibit will emphasize Shima Seiki's technological leadership by presenting its unique capability to provide solutions to a wide range of customers with diverse needs through uncompromising Made-In-Japan quality and technology," a statement on the company's website said today.
To this end, Shima Seiki will have on display a representative cross-section of its technology, ranging from entry-level shaping with its new SSR112 machine, and high-speed intarsia knitting with its MACH2SIG machine, to sophisticated Wholegarment production with its MACH2X machine.
Also presented at Shanghaitex will be several peripheral items and other value-added production ideas aimed at maximizing profitability for the Shima Seiki user, such as accessory knitting with SWG091N Wholegarment machine and new software for the SDS-ONE APEX 3D apparel design system.
SSR112 Computerized Flat Knitting Machine
Introduced earlier this year, the SSR112 is Shima's answer to the demands of the Asian market which is undergoing a very fast paced transition from hand-flat machines to computerized flat knitting machines.
To keep up with such demands, the company performed a complete re-think of what it takes to produce a knitting machine. "All aspects involved in machine-building were re-evaluated, resulting in a completely new machine that not only realizes high cost-performance, but offers a completely new perception of value that can only come from Shima Seiki," Shima said.
"Despite its tremendous economic value, SSR112 retains such proven innovations as spring-type sinkers for versatility, R2CARRIAGE for high productivity and DSCS digital stitch control for quality and consistency," the company said.
"Even more value comes from the fact that SSR112 customers can expect the same Made-In-Japan quality and durability common to all Shima Seiki products," the Shima statement concluded.
Shanghaitex 2011 will be the first time SSR112 is shown at an international exhibition.
This article is also appears in...