Lindsay Mann reports from LA
Shima Seiki USA held their first Global 3D Knitting Seminar and Workshop this February 29th to March 5th at their showroom in Downtown Los Angeles. I was fortunate enough to escape the New York Winter weather, catch up with old colleagues, and learn how a forward thinking handful of companies are utilizing Shima's technology.
From designers to manufacturers and small to large businesses, there was an impressive variety of industries in attendance. I saw presentations from Target, Ministry of Supply, Supreme Corporation, PDR Knitting, Cotton Inc., the Brooklyn Fashion + Design Accelerator, and Premiere Fibers.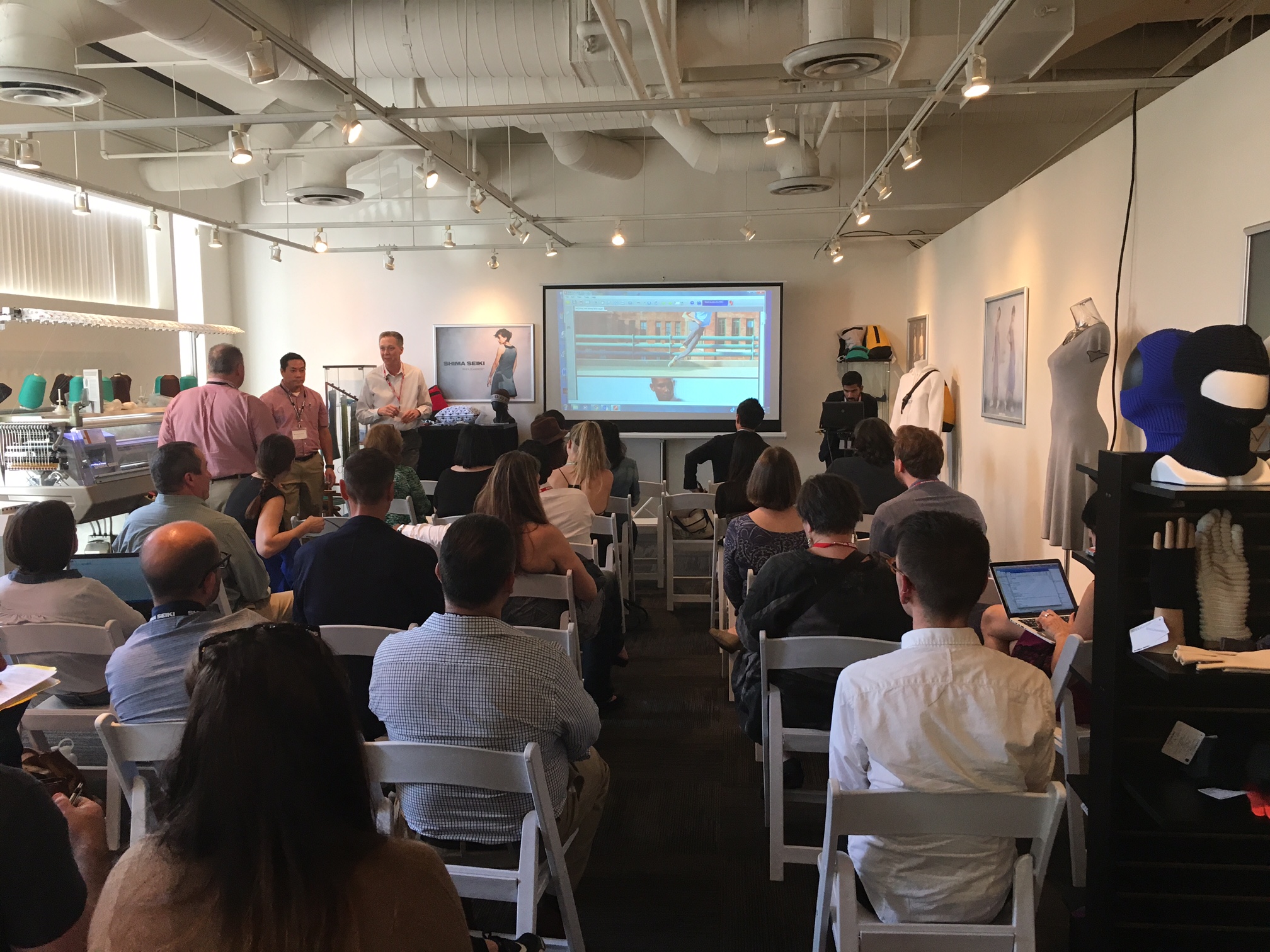 For those unfamiliar with Shima Seiki, they are a Japanese manufacturer of knitting machines, an apparel design system, CAD/CAM systems, and Inkjet Printing machines. Their WholeGarment knitting machine has been one of their most noteworthy innovations because it can knit a garment as one whole piece. The technology has been termed "3D Knitting" as a more approachable explanation, now that 3D printing is mainstream and well understood by the consumer market. Imagine a machine "printing" a sweater and that's roughly what WholeGarment is.
Vice President of Shima Seiki USA, Matthew Llewelyn, elaborated on the benefits of using WholeGarment for knitwear production in that it provides 360 degree stretch, lighter weight, comfort, and full range of motion by being completely seam-free. It's also a more sustainable and less labor intensive form of production; having minimal waste yarn and requiring no linking. This manufacturing technology is ideal for the direction of the market as we are becoming more informed about environmental responsibility and ethical labor practices. In addition to producing a premium quality product, the entire process has good karma written all over it. Everybody wins!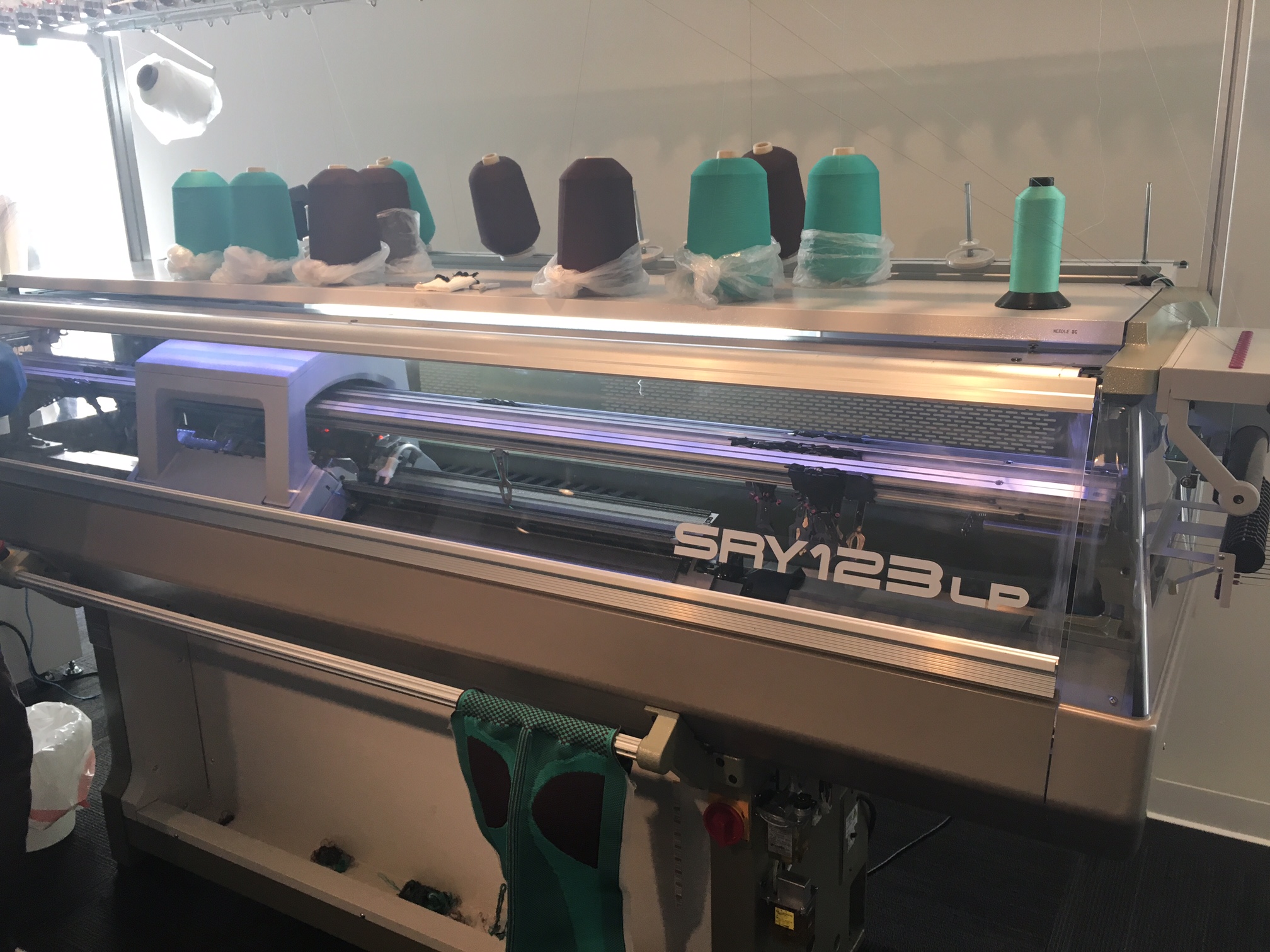 Since the introduction of WholeGarment, three other impressive machines have been introduced by Shima Seiki: the SRY, the SWG, and the MACH2XS. The SRY is an inlay machine that can mimic the look of a woven, combine fine and chunky yarns together, and even make down vests. The SWG is their most versatile machine, capable of knitting WholeGarment, intarsia, and metals; ideal for wearable tech. The MACH2XS is Shima's newest machine, with added spring sinkers allowing for the look of intarsia by short rowing and lower neck drops. Shima's manufacturing technology can be found around the world and across all industries.
After reviewing the latest machinery, Llewellyn explained that in comparison to other industries, the textile industry hasn't evolved much in productivity since the 1970's, even though the machinery has upgraded. He anticipates that Shima's SDS-One Apex 3 Total Design System will have a major impact on improving productivity. If you've never seen the Apex Design System before, inquire with Shima about a demo and prepare to pick your jaw up off the floor. In short, it is a combination of Illustrator, Photoshop, CAD, Primavision, Kaleidostyle, knit data programming, and 3D virtual simulation all in one. That's not even the half of it. Please go see it for yourself. It is the future of design development. Point blank.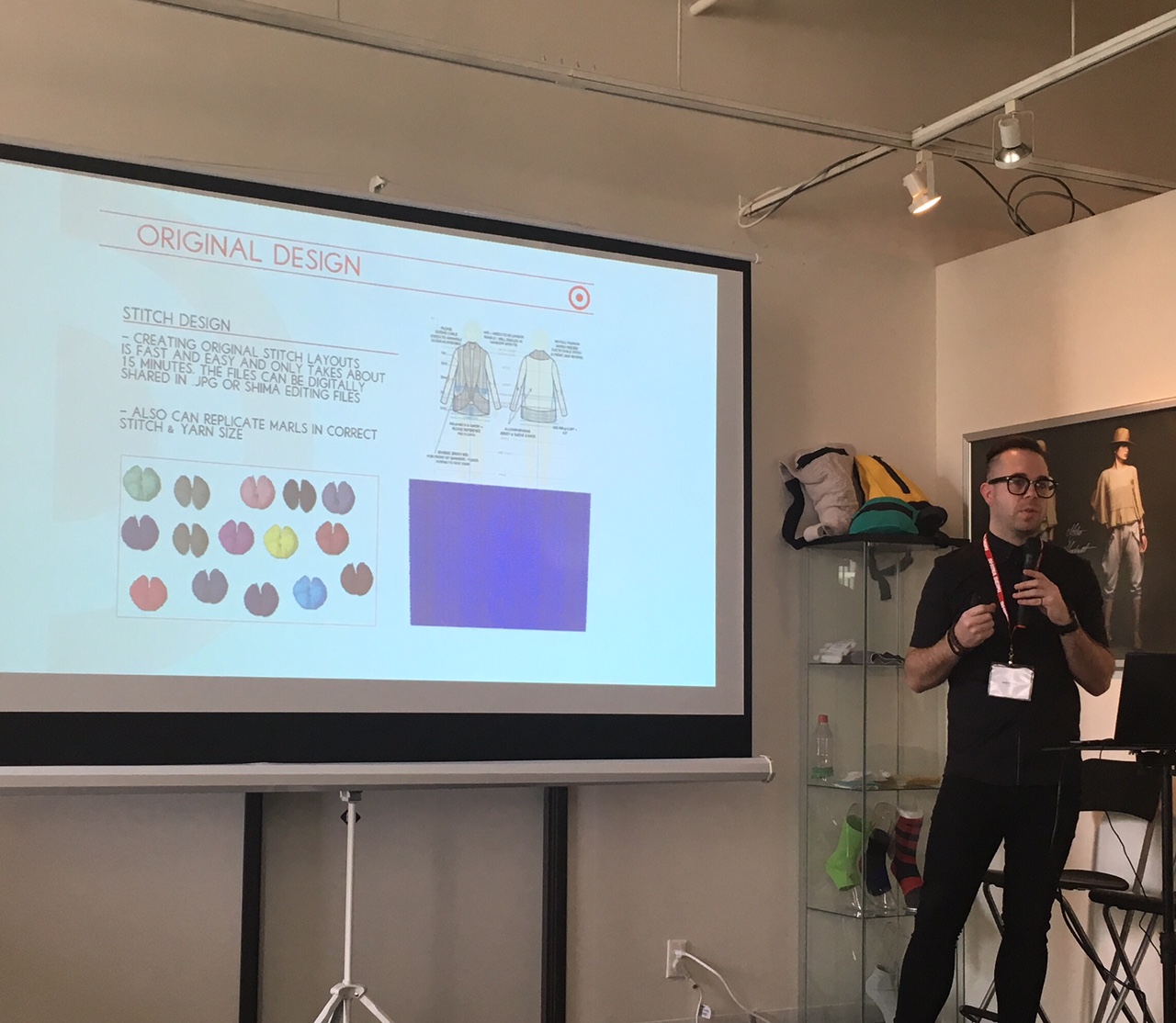 One very large retailer testing the waters with the Apex Design System is Target. Andrew Danals, their Senior Knitwear Designer, shared how they piloted the Shima Program in 2015 when the Apex was tested for streamlining development samples and incorporating 3D presentations of garments to buyers for sweaters and accessories. They found that they saved time, communicated more effectively, cut costs, reduced sampling, and upgraded the way they presented collections to buyers.
By showing 3D samples to buyers, they were able to bypass sampling, and design styles that were most likely to make it into production. The Apex was also used for merchant assorting in CAD form in which they were able to color correct, marl, and develop stitches accurately to layout, scale, and tension, all virtually. For one style they even, "went into production without seeing a sample at all," stated Danals. That is exactly what this system is intended to do and to know that it's being used by one of the largest retailers in the U.S. is a huge step forward.
As a designer, I was most excited to hear Gihan Amarasiriwardena, co-founder of Ministry of Supply speak about, "Engineering Fashion Design." I like to think of fashion designers as clothing engineers, especially in knitwear. Ministry of Supply is a performance professional menswear brand focused on form and function. Their design process includes body mapping as a second skin, using advanced materials for comfort, and digital fabrication to bring their ideas to life. Strain Analysis (how the skin stretches during different movements), how blisters form, temperature changing materials, and carbonized coffee for odor control, are just some examples of the research behind their ongoing development.
Ministry of Supply has also been exploring Shima's technology to accommodate their customer's need for structure, support, and stretch. Their development of a WholeGarment blazer provides zoning at the elbows where movement is needed and denser zones at the shoulders, with spacer knits, for structure. Amarasiriwardena calls these zones "targeted articulation points" which are both aesthetically pleasing and functional design details.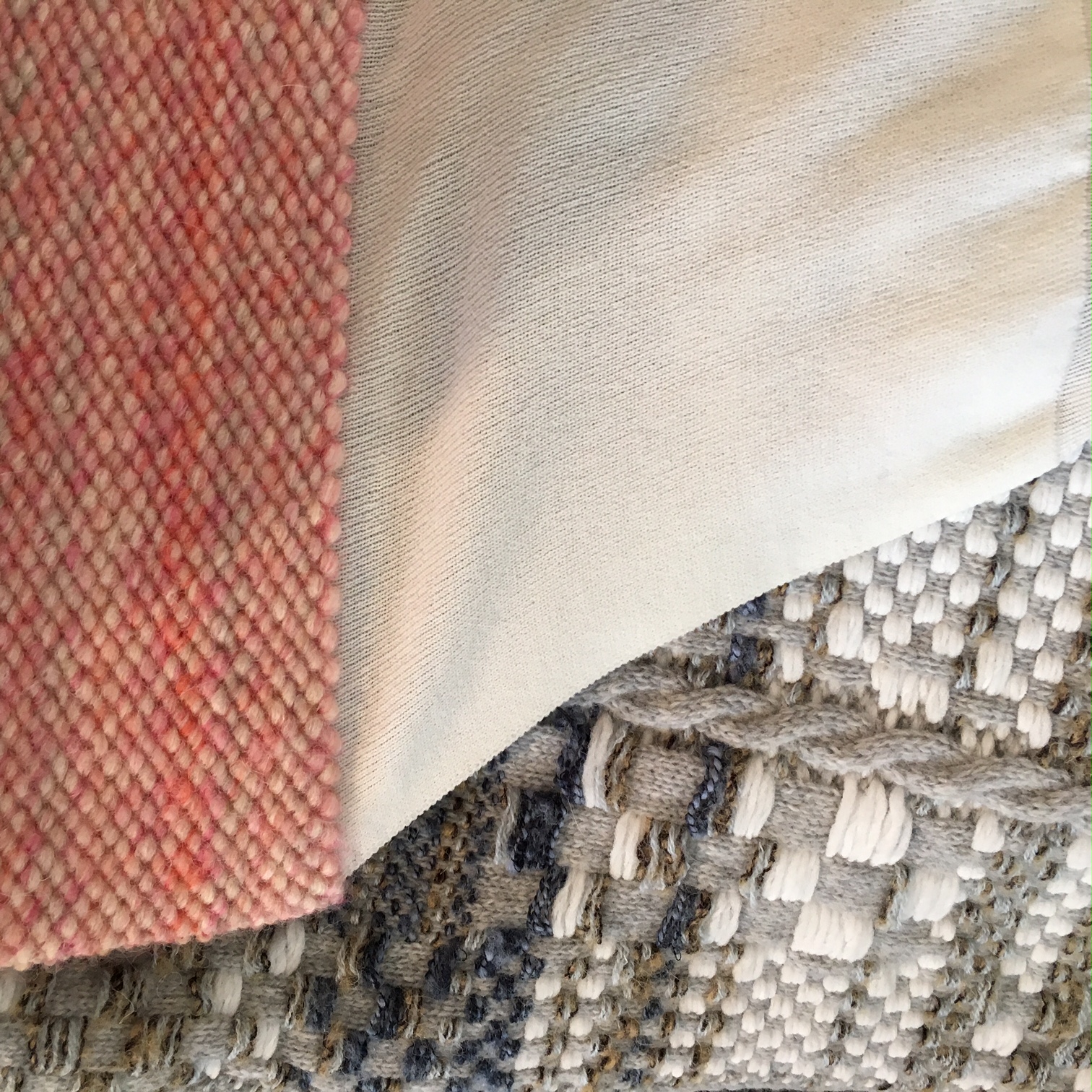 There has been an abundance of technological advancements in materials lately. Animal fibers, plant fibers, manmade fibers, composite blends, metals, etc. are all being customized to accommodate a variety of individual needs. Carrie Yates, from Cotton Incorporated, shared the latest innovations in the cotton industry. While cotton is a natural, biodegradable, renewable fiber, Cotton Inc. has developed a new collection of products so that cotton can perform like synthetic materials. Yates presented this collection and shared design trends for the coming seasons. Cotton Inc. will also be partnering with Shima Seiki to develop an apparel line for the athleisure market.
At Premiere Fibers in North Carolina, Vijay Amirtharaj and his team specialize in the development and production of continuous filament yarn, offering technical expertise and supply chain support throughout all phases of product development. They are experienced in Partially Oriented Yarn, Fully Drawn Yarn, and solution-dyed fibers. Premiere Fibers is behind some of the latest textile innovations for the military and footwear.
It's been a while since I've had the chance to geek out with fellow knit nerds and my incredible network of manufacturers and yarn suppliers. Changes towards sustainable innovation and productivity are moving forward because of companies like these. Lots of connections were made at Shima's G3D Seminar and you can expect some exciting future collaborations. I look forward to witnessing how many industries are about to change because of them.