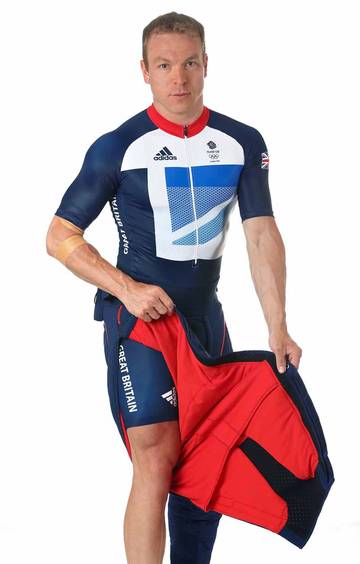 Sir Chris Hoy became Britain's most successful Olympian last night, taking his sixth gold medal in the mens keirin event at the London Velodrome. The highly anticipated victory topped a fantastic day for Team GB who won four golds, taking their tally to 22 gold medals, three more than they won at the Beijing games.
Great stuff but it's the thought of Sir Chris in hot pants that's making temperatures rise here in London.
Sir Chris and other Team GB cyclists have been wearing Adidas Adipower apparel, referred to as 'Hot Pants' by the athletes, which incorporates Fibretronic HEATwear FIR fabric heating panel technology and control electronics to warm the muscles of the riders before they train and race.
HEATwear technology
The HEATwear technology developed by Fibretronic which powers the new Adidas Adipower apparel being used by the British Cycling Team is a smart textile technology which is said to be seamless, feather weight, breathable, and a 100% fabric system that can be integrated into any apparel form for targeted body warming.
The fabric, capable of high heat output, is said to look and feel like a very soft, light-weight and even stretchable fabric to provide full body curve fitting and comfort. Fibretronic HEATwear technology has been used in collaboration with Adidas, British Cycling and Loughborough University to preheat athlete muscles for improved performance.
"We are delighted to work with Adidas on this project and excited our HEATwear technology is being used in London 2012 to enhance athlete performance" says Fibretronic Limited CEO, Steve Leftly.
"There are many opportunities to use our wearable technologies in elite sports and we are committed to leading the component development in this area."
Fibretronic Limited is a leading developer of wearable technology components and driver of key innovations in the new field of fabric integrated electronics. Fibretronics' apparel controls and heating systems are adopted by leading global brands such Columbia Sportswear, Adidas, Alpinestars, The North Face and many others. The company is headquartered in Hong Kong with offices in the USA and New Zealand.
British Olympic cyclists Victoria Pendleton, Laura Trott and Geraint Thomas visited the Adidas London 2012 Media Lounge on the 29th July to unveil the Adipower muscle warming 'hot pants'.
The Official Sportswear Partner of London 2012, unveiled the technology which is being used exclusively by the GB track cyclists at London 2012. According to Adidas, the new Adipower muscle warming garment was born from four years of development between adidas, British Cycling and Loughborough University.
"Similar to the role of tyre warmers in Formula 1 motor racing, which pre-heat the tyres to ensure optimum performance, Adidas has collaborated with British Cycling and developed a muscle warming garment aimed to have a similar effect for the sprint cyclists," Adidas said in a media release.
This article is also appears in...