For years, Indonesia has been one of the most important and strongest markets for Mayer & Cie., and the leading German circular knitting machine builder's Relanit relative technology is popular there.
With this Made by Mayer technology, yarns of coarser or lower quality can be handled easier than with the usual horizontal sinker technology, which is what, Mayer says, is exactly what the Indonesian market demands.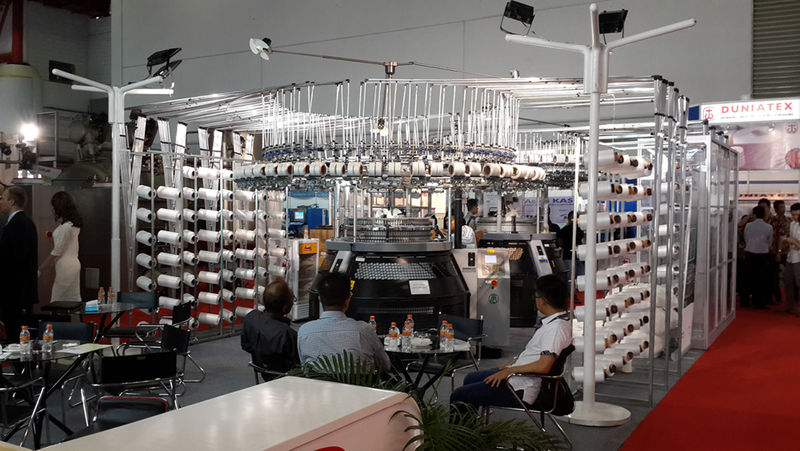 Accordingly, the German company took the latest version of its relative technology to this summer's Indo Intertek show in Jakarta and it turned out to be a Smart move.
"In this market, the present strong devaluation of the Indonesian Rupiah is pressing on prices heavily. The proper solution was the presentation of Mayer & Cie.'s Relanit 3.2 S and MS 3.2 at this year's Indo Intertex exhibition," said Mayer & Cie. Sales Director Wolfgang Mueller.
The Relanit 3.2 S and MS 3.2 models are part of the Swabian circular knitting machine manufacturer's production program in the Smartline category.
The Relanit 3.2 S was introduced as the 'smart' version of the successful Relanit 3.2 II in the fields of the approved traditional Mayer relative technology. With the smart version, all structures of Single Jersey production are possible, and this at an unbeatable price-performance ratio, Mayer reports.
"The MS 3.2 is based on the reliable and very popular S4-3.2 II. Not only its price is very attractive, but also the combination of high production speed and a long durability is also quite impressing. The low energy consumption tops the package off. With this model as well, all structures of Single Jersey are possible," Wolfgang Mueller concludes.
At the Indo Intertex, a total of 850 companies showed their products to 14,000 visitors over four days.
This article is also appears in...