13th August 2009, Manchester
SmartLife awarded patent for knitted transducer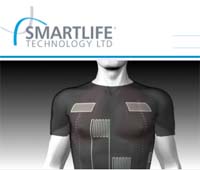 UK based SmartLife Technology Ltd, has been awarded an international patent for a knitted 'linear electronic transducer' which is incorporated into a garment in order to monitor a patient's health.
The invention described in the patent relates to electronic transducers, and particularly to transducers incorporated into a knitted structure. The device disclosed in the patent publication comprises a knitted structure having at least one transduction zone knitted with electrically conductive fibres. Deformation of the knitted structure results in a variation of an electrical property of the transduction zone. By monitoring these variations, it is possible to obtain an indication of deformation of the knitted structure. When incorporated into a garment, particularly one worn close to the skin, bodily movements can be monitored.
SmartLife Technology Ltd is a UK based Medical Technology Company aiming to become a leading global provider within the field of personalised wearable monitoring systems. The SmartLife team, have developed a novel knitted textile based technology platform incorporating flexible integral dry sensors that allow the monitoring of vital health signs such as ECG, heart rate, EMG, respiration, tidal flow and skin temperature, to meet international clinical standards. The patent described above is the latest in a family of patents that protects the company's technology platform.
SmartLife's technology allows the continuous monitoring of a person's vital signs and wellbeing in their daily lives on a 24/7 basis. The construction of the garments ensures the sensors are automatically in contact with the skin, their position is correctly located and the wearer requires little instruction for set-up or routine use.
The technology represents a paradigm shift from traditional high cost patient monitoring in hospitals to affordable unobtrusive remote personalised monitoring in the home and whilst continuing their normal activities.
SmartLife says its intelligent garments enhance performance in sports participation, increase safety for operatives in dangerous and critical situations and offer reassurance to enhance the well-being of the elderly and those with acute health conditions.
As the company says - Imagine a world where your health, well-being and physiological performance can be easily monitored anytime, anywhere.
This article is also appears in...